If you already own a voice assistant at home, then you already have a home droid. Only, Amazon Echo or Google Home do not move around the house with you. However, there are plenty of startups working on robots for your home, and Kuri is one of this year's cute robotic debutants. It might not be as smart as Alexa or Google's Assistant, but this one will follow you around the house to ensure it can always do your bidding.
Kuri was created by Bosch startup Mayfield Robotics, and its purpose — other than looking adorable — is to assist you with your home's smart features. If you're considering buying a robot, then it's likely your home is on the smart side of town.
Like one of Roomba's smart vacuum cleaners, Kuri will map the entire house and remember its layout. It'll also know when it's time to dock itself to recharge its battery. However, this is no smart vacuum cleaner.
So what's so special about this particular robot? Kuri is a voice-controlled machine that's supposed to entertain the user, in addition to controlling smart home gadgets. And it'll remind Star Wars fans of the cute BB-8 droid they've seen in the movie. It might not be your own BB-8 or R2-D2, but Kuri will respond to its master just like they do. As Tech Crunch reports, Kuri uses lights, expressive eyes, and sounds to communicate.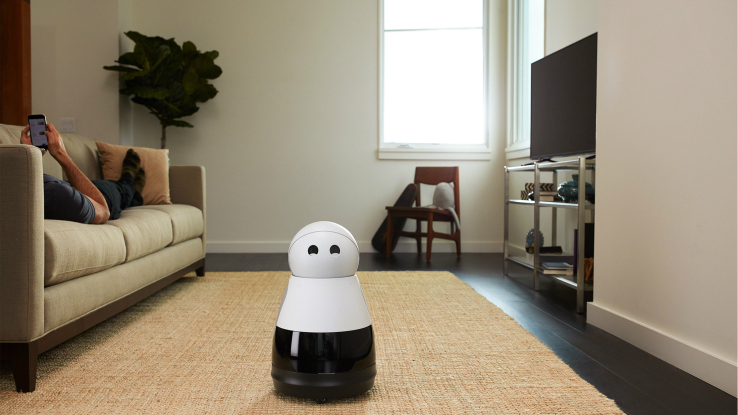 So, while you're going to use plain old words to control other aspects of your smart home via Kuri or play music, it won't talk back — you're probably going to need Alexa for that. This robot is meant to be a companion rather than a voice assistant.
I did mention Star Wars before, but it should be noted that Kuri's movement design was actually created by a longtime Pixar animator, so expect some Wall-E personality traits from this contraption. Other features tucked in the three-foot robot include four microphones, an HD camera behind one eye, and a range of sensors to prevent it from falling over or bumping into objects. Aside from voice, you'll be able to control Kuri via iPhone and Android apps, and IFTTT integration.
The robot will cost $699, but you can preorder it right now for $100 down with the balance due upon shipment. It'll ship much later after CES 2017, however, so don't expect it to arrive anytime soon — Kuri is supposed to launch at some point during the holiday season.
Check out Kuri in action in the following clip.