Apple's "fall" iPhone event is happening tomorrow, and thanks to the usual smorgasbord of leaks, we know exactly what to expect from the event. Apple is going to release three new iPhones, which we suspect will be called the iPhone Xs, iPhone Xs Max, and the iPhone Xc (or iPhone Xr, or iPhone 9).
The iPhone Xs will be a spec bump to the iPhone X but retaining the same screen size and physical design, while the iPhone Xs Max will be a 6.5-inch "Plus" version of the iPhone X. The iPhone Xc will be a spiritual successor to the iPhone 8, with a 6.1-inch LCD screen, the Face ID (and therefore also the notch) from the iPhone X, and probably a slightly worse camera than the top-end models. Most importantly, the iPhone Xc will likely keep the iPhone 8's pricetag of around $700.
While most of the details about all the different models and specs have leaked, one detail is still being kept a secret: the colors. Apple loves introducing new iPhone colors, especially when it's on a more minor upgrade cycle, so there's a good chance that Jony Ive has been sitting with his swatches for months picking new and exciting colors for everyone to buy.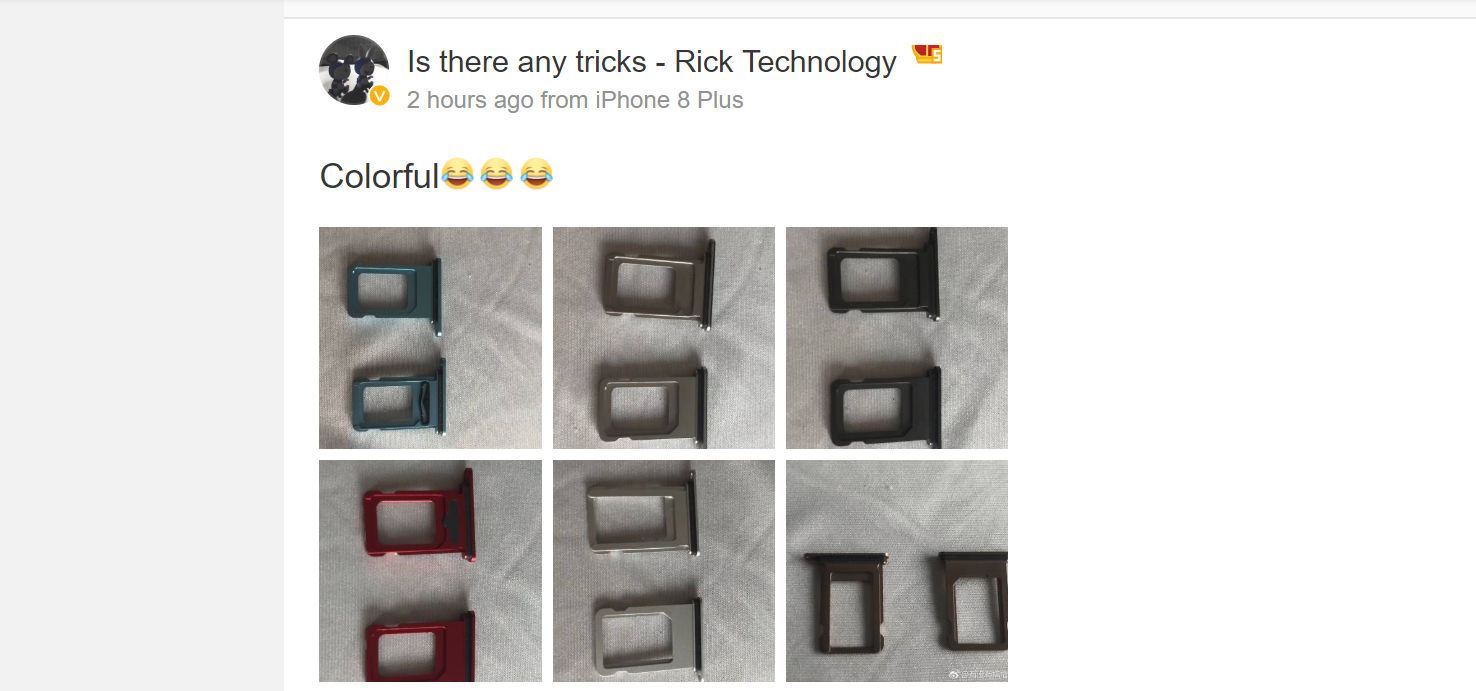 Thanks to a leak from Chinese social media site Weibo, we now have one guess at what those colors might be. A user has posted photos of several SIM trays that he claims are from the new iPhone. Because Apple anodizes its SIM trays to be the same color as the phone's metal case, the trays can — if they're real — tell us what colors Apple is coming out with.
According to the images, at least some of the new iPhones will come in a blue-grey color, gold, red, black, and a silver. Assuming that Apple sticks with the stainless steel bumper on the iPhone Xs — which would make all the sense in the world — then these SIM trays look like they'd be from the 6.1-inch iPhone Xc. The broad variety of new colors, by the way, lends some credence to the iPhone Xc name. The only iPhone that's ever carried a "C" moniker before was the iPhone 5c, which was named that way since it came in a bunch of colors.
Of course, leaks always have to be taken with a grain of salt, especially when all we see is a couple unsourced photos of a SIM tray that, frankly, could belong to another phone or just be a spare part. But if these images are accurate, it would piece together a few more details about Apple's cheaper iPhone, and reinforce the argument for iPhone Xc. Luckily, we only have to wait a day to find out if this is real or not.