I criticized the design of Apple's new display a number of times ahead of the iPhone X's release last month. In the wave of leaks that swept over the web ahead of the phone's unveiling in September, the "notch" appeared to mar an otherwise sleek design. Even when Apple announced the phone and showed it off in photos and videos, I still wasn't sold. Once I got the phone in my hands, however, I sang a different tune and ate crow almost immediately. The iPhone X's notch is awesome. It's a fantastic design feature.
Of course, I'm hardly alone when it comes to liking the iPhone X's notch. Now there's a nifty new way to show off the design feature that sets Apple's iPhone X apart from the pack.
First, a quick note on why the notch exists. Apple decided to ditch Touch ID on the iPhone X in favor of Face ID, and advanced facial recognition system that utilizes a new TrueDepth camera and sensor array. TrueDepth needs space for all of its forward-facing components, but Apple wanted to make the bezels on the iPhone X as narrow as possible. The solution Apple went with, of course, was taking a bite out of the top of the iPhone X's display to make room.
In addition, the iPhone X's notch also creates a new signature design feature. Apple's iPhone lineup had previously been identifiable by the home button, but Apple had to eliminate the button to make room for the nearly all-screen design.
Now that you know why the notch is there, it's time to show it off in a unique way.
Graphic designer Hideaki Nakatani, who goes by @heyeased on Twitter, is likely best known for the black "glitch wallpaper" he made for the iPhone 7 and iPhone 7 Plus after they launched. This cool wallpaper took advantage of an iOS bug to make the dock and folder backgrounds on the iPhone disappear. The result was a terrifically sleathy look that complemented Apple's new matte black and Jet Black color options perfectly. Sadly, Apple eventually fixed the bug, ruining the wallpaper effect in the process.
Nakatani has made a number of new wallpapers since then, but his new "X Style" collection might be some of his best work yet.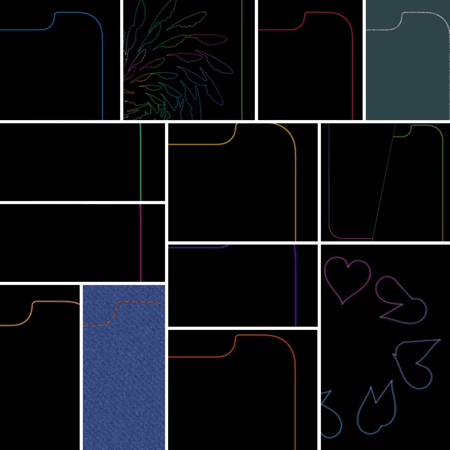 The designer's new collection features two batches of wallpapers that share one particular characteristic. They have a thin border that lines up perfectly with the edges of the iPhone X's display, including the notch. Several of the new wallpapers have black backgrounds apart from the border, though a number of them feature designs or patterns instead.
Here's what the edge's of the iPhone X's display look like when the wallpapers are applied (you can also see a full-screen view in the photo at the top of this post):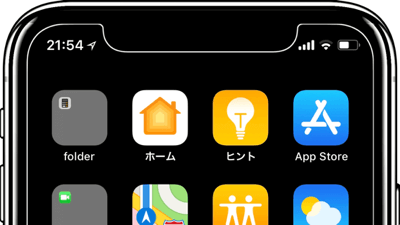 Nakatani's new "X Style" iPhone X wallpapers are free to download from his website, and they're split into two different batches. You can check out "The X" wallpapers on this page, and his "X Monitor" wallpapers can be seen here. Tap on any thumbnail in Safari on your iPhone to open a wallpaper, then tap and hold on it to save the image to your phone. Note that when you apply the new wallpaper to your home screen, you need to set it as "Still" rather than "Perspective."