I think it's fair to say that the November launch of Apple's iPhone X marked the most exciting new iPhone release in years. Of course, the star of the show was the device's edge-to-edge OLED display, a design that completely did away with the tried and true home button and replaced it with Face ID. The iPhone X, in short, finally introduced a fresh new take on an iPhone design that had more less remained stagnant for quite a few years.
The iPhone X's new design notwithstanding, a new report from Consumer Intelligence Research Partners (CIRP) relays that Apple's flagship iPhone was not the most popular iPhone model during the recent holiday quarter. According to data tabulated by CIRP, the iPhone X accounted for approximately 20% of all iPhone sales last quarter. Apple's two iPhone 8 models, meanwhile, cumulatively accounted for 41% of iPhone sales during the quarter.
"At 61%, the three newest iPhone models together represented a somewhat smaller share of total US iPhone sales in the quarter, compared to 72% for the iPhone 7 and 7 Plus a year ago," CIRP co-founder Josh Lowitz said in a press release.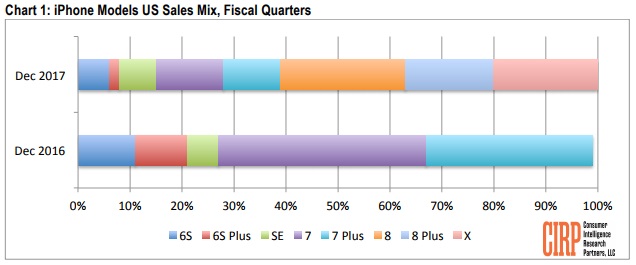 Still, it's probably wise not to draw any sweeping conclusions from the data above. First and foremost, the iPhone X launched much later than Apple's iPhone 8 models. Remember, the iPhone 8 launched on September 22, 2017 while the iPhone X didn't launch until November 3. Put simply, the window during which the iPhone X was available during the 2017 holiday quarter was much smaller relative to the iPhone 8. Further, iPhone X supply was initially constrained at launch, though Apple did manage to ramp up supply much faster than analysts were anticipating.
All in all, we'll have a clearer picture on how iPhone X popularity stacks up once Apple posts its earnings for the March quarter in a few months. While we may be able to glean some data from Apple's upcoming earnings report on February 1, the iPhone X's limited availability during the December quarter will likely make any subsequent analysis incomplete.