Something fairly astonishing happened late last month. For the first time ever, an Android-powered smartphone managed to outperform Apple's latest iPhone in a "real-world speed test." This new type of speed test was concocted by YouTube vloggers and while it's not scientific at all, the test is a fairly good way of judging how one smartphone's performance compares to another in terms of handling day-to-day tasks. Apple's iPhones have always been models of efficiency, and no Android phone had ever even come close to beating an iPhone until last month.
Apple likely isn't very concerned with the iPhone losing in some vlogger's speed test, but the company is surely concentrating on continuing to achieve big performance gains with this year's new iPhones. After all, new iPhones always pack a tremendous power boost compared to their predecessors. Now, a new leak suggests that the next-generation processor coming in the new iPhone 8 features incredible performance that is practically off the charts.
A leaker who goes by the name "Ice Universe" on Thursday night posted a leak that seems too good to be true. The leaker, who got his start on Weibo but often now posts on Twitter as well, has a decent track record in line with some of the other more popular mobile leakers out there these days. He's had some big misses in the past, as have his peers, but he has also posted plenty of info and images that have turned out to be genuine.
Earlier this week, Ice Universe tweeted that Apple's upcoming new A11 chip that will power the iPhone 8 will likely be clocked at 3GHz. He also said the iPhone 8's A11 processor will feature Heterogeneous Multi-Processing (HMP) technology, which allows all of a processor's physical cores to be utilized simultaneously. On Thursday night, the leaker followed up with a new tweet that seemingly reveals preliminary benchmark test results for the A11.
Apple A11 Geekbench4,:4600,8500 and 4300,7000,This is two different clock frequencies, and the final result may be between the two

— Ice universe (@UniverseIce) July 27, 2017
Primate Labs' Geekbench 4 test is among the most popular tests used to measure a smartphone's overall performance. The first number in each of the test results Ice Universe posted represents the single-core result, while the second number represents the results of the Geekbench 4 multi-core test. In this case, the leaker says Apple's new A11 chip destined for the iPhone 8 scored between 4300 and 4600 in single core testing, and between 7000 and 8500 in multi-core tests. He notes that the two sets of results differ because the A11 was set at different clock speeds for each test.
On their own, those numbers might not mean much to you at all. But let's see how they compare to Apple's current iPhones. The charts below show single core results, and then multi-core results.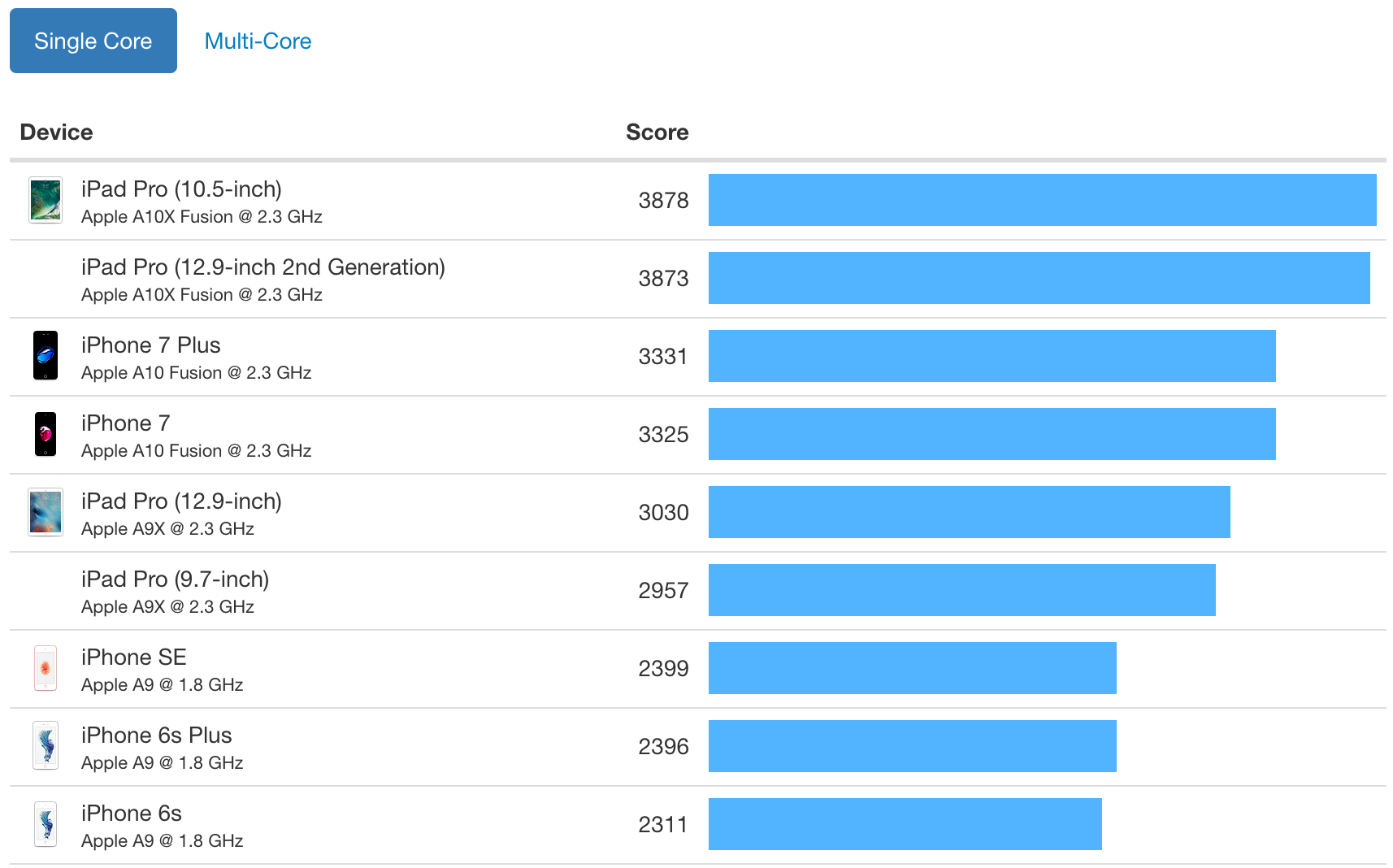 Long story short, these A11 benchmarks show performance in the crucial single-core test that's even more powerful than Apple's latest iPads, let alone earlier iPhones. In multi-core tests, the A11's results crush the iPhone 7 Plus and iPhone 7, though they fall a bit short of iPads.
Now let's see how Apple's purported A11 benchmarks stack up against top Android phones.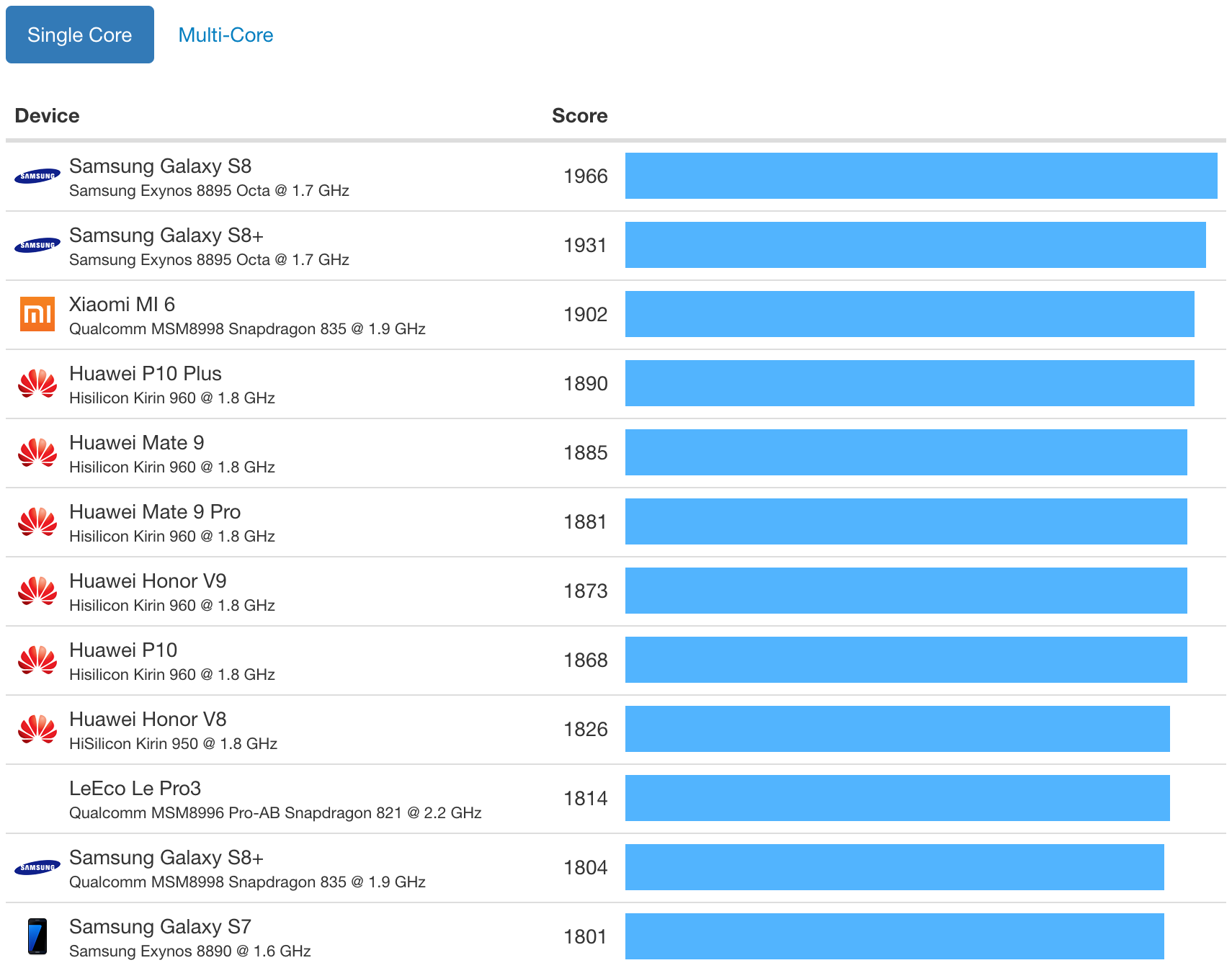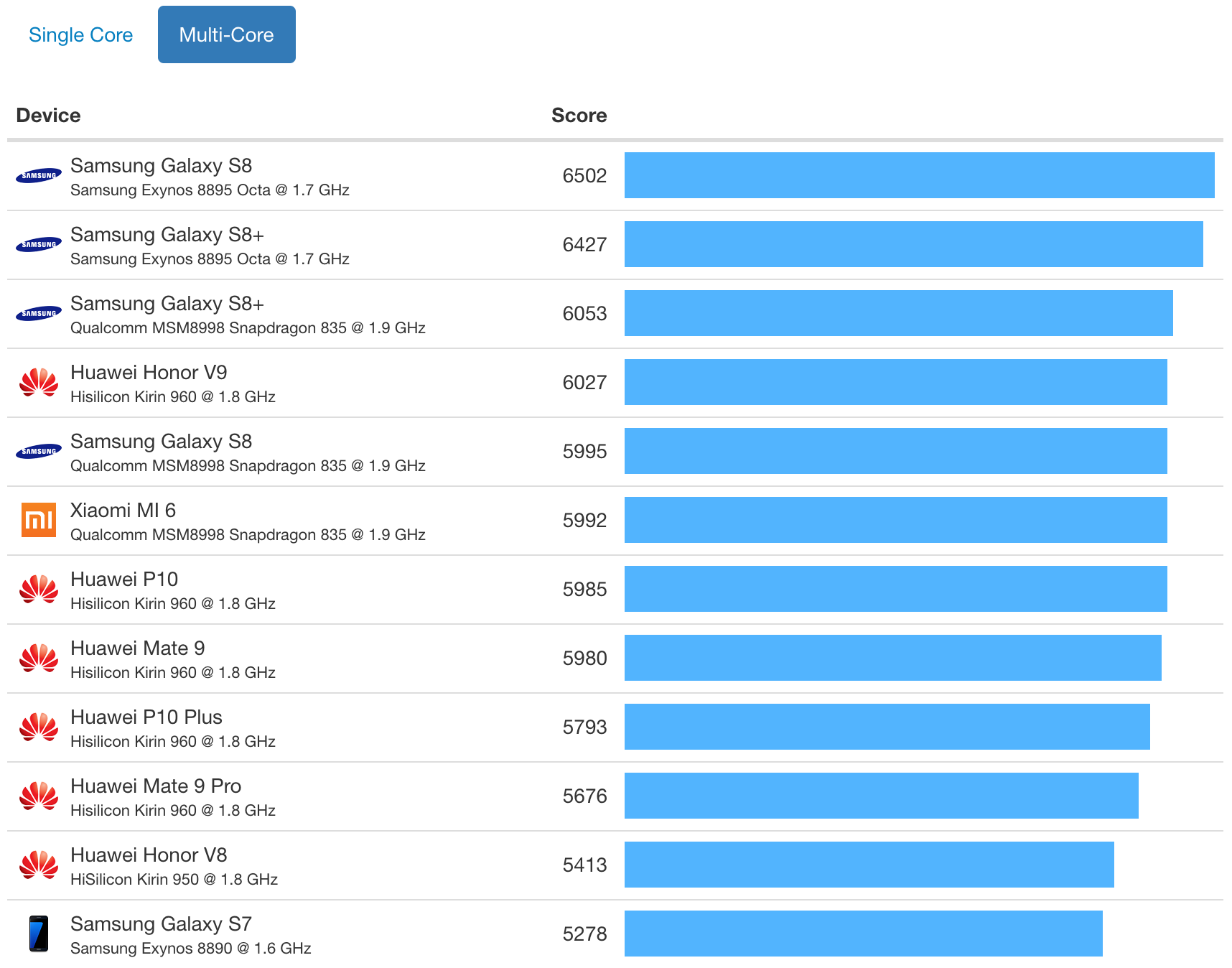 Yup.
All three of Apple's next-generation iPhones — which are currently being referred to as the iPhone 7s, iPhone 7s Plus, and iPhone 8 — will be powered by the new A11 processor. Regardless of whether or not this leak is accurate, we can obviously expect to see huge performance gains courtesy of the A11. If the leak is indeed accurate, then we now know roughly how impressive those gains will be.
Apple is expected to unveil its new iPhone 8 alongside the iPhone 7s and iPhone 7s Plus during a press conference in September.