Sure, Apple may have held back a handful of top-secret iOS 11 features during its big WWDC 2017 keynote on Monday. After all, the company can't include anything obvious in its early iOS 11 builds that might pull back the curtain prematurely on iPhone 8 details. But we can't even think about the iPhone 8 right now because Apple just unleashed a truckload of hot new iOS 11 features.
Whether or not you were following along live as Apple unveiled iOS 11 during its big WWDC 2017 keynote, you're obviously going to want a recap of all the biggest new iOS 11 features coming to the iPhone and iPad. In this post, you'll find everything you need to know about the most exciting new features coming in iOS 11.
Messages
iOS 11 gets a redesigned app drawer that make iMessage apps and stickers much more accessible. Messages in iCloud is another new feature that will synchronize all of you conversation history across any new device you sing into. This also means that less needs to be stored on the device, freeing up precious storage.
Apple Pay
Apple Pay will support person-to-person payments in iOS, and it'll be integrated into Messages as an iMessage app. Users will be able to send and receive money just like they can with Paypal or Venmo.
Siri
Apple used deep learning to give Siri a much more natural sounding voice, and there's a new male voice option. More importantly, Siri gets a new visual interface that makes results much more easy to digest. Siri can also translate into different languages now, just like other virtual personal assistants.
SiriKit gets a ton of new features in iOS 11, offering all kinds of new APIs for third-party app integration. Siri's contextual capabilities have been expanded as well, and a user's (encrypted) data is now synchronized across devices.
Camera
HEVC video encoding for videos is now used in the Camera app, and JPEG capture has been updated with new tech that allows photos to take up half as much space on your iPhone or iPad.
On the iPhone 7 Plus, users also get new features like HDR, enhanced Portrait Mode quality and more.
Control Center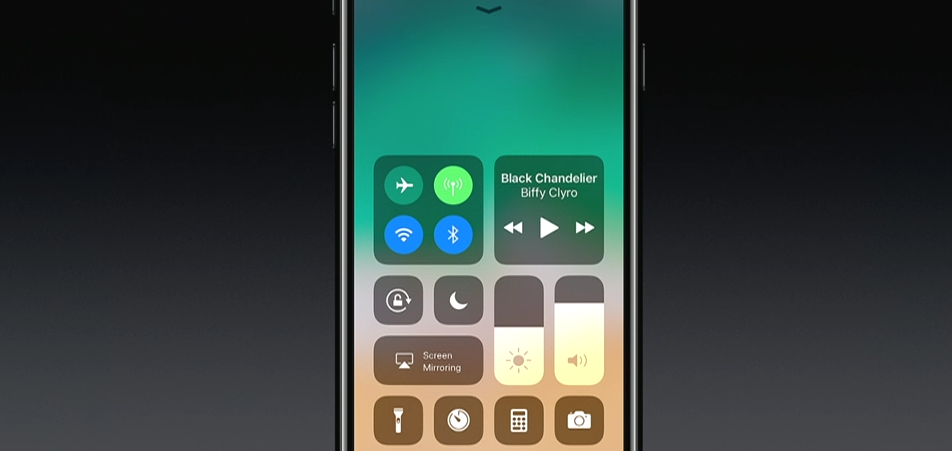 iOS 11's Control Center has been completely redesigned. All of the features have been squeezed onto a single page, and 3D Touch will expand each different card, giving access to more options.
Lock Screen
Lock Screen and Notification Center have been combined, which is a nice consolidation that further simplifies the UI a bit.
Maps
Apple's Maps app in iOS 11 gets huge enhancements for indoor mapping beginning with malls and airports, allowing users to quickly and easily navigate shopping centers and airports when traveling. Speed limits and lane guidance have been added to Maps navigation.
Do Not Disturb While Driving mode will automatically black out the user's display while driving, and notifications will not be displayed while driving. Auto-responses will be sent to anyone who texts, and certain users can be made allowed to break through (white list).
HomeKit
Speaker support has been added to HomeKit, and AirPlay 2 supports multi-room configuration and playback. More than a dozen wireless speaker manufacturers will support the new protocol, as will any speakers controlled by an Apple TV.
Apple Music
Apple now has 27 million Apple Music subscribers, and they'll all now have access to music history for friends who have configured their playback to be public.
A new MusicKit for developers offers Apple Music APIs that can be used to integrate with third-party apps.
App Store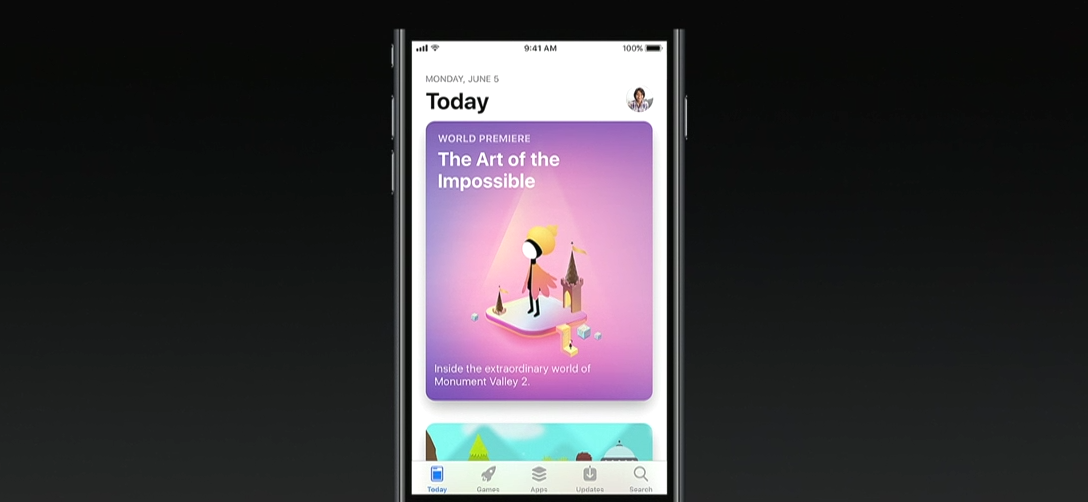 Apple announced that there are now 500 million weekly visitors to the App Store who have downloaded more than 180 billion apps to date. As for new features in iOS 11, developers will appreciate that Apple will review newly submitted apps much faster than before.Phased releases will also be supported, so that updates can be released in phases.
For consumers, the App Store has been completely redesigned.
A new Today tab will help users discover new apps, and a new Games tab gives games a dedicated tab. In-app purchases can be features on their own now as well.
A new Apps tab features all apps that aren't games, and an Updates tab shows installed apps that have available updates or have been updated recently. Finally, a Search tab offers a new dedicated search interface.
Augmented Reality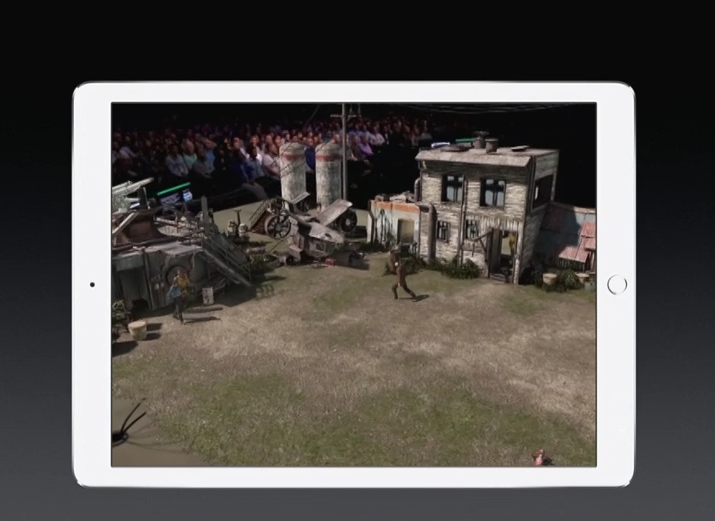 iOS 11 offers enhanced augmented reality features courtesy of ARKit, a toolkit for developers. It allows apps to use computer vision for object recognition, and virtual objects can be placed on the display that are actually context-aware.
Thanks to Apple's massive ecosystem of iOS devices, ARKit will be the largest augmented reality platform in the world when iOS 11 is released.
UPDATE: Apple also announced new iPad-only features in iOS 11:
The apps dock on the bottom of the iPad home screen will be available if you slide up on any screen, and it can hold many more apps.
A new app switcher view can be accessed by dragging the dock up and then continuing to drag upward.
Split view is enhanced with new app pairings that allow users to open multiple apps at once.
Drag and drop support allows users to drag and drop content between apps, and also drag UI elements inside apps to enable all sorts of different functionality.
A new Files app provides an oft-requested file manager on the iPad.
—
Apple will release iOS 11 beta 1 for developers (and anyone else who has the beta configuration profile installed on their iOS devices) sometime this afternoon. As has been the case in years past, the first public beta will be releases sometime later this month once all of the major bugs are addressed. Then the final version of iOS 11 will be released this coming September ahead of Apple's iPhone 8 and iPhone 7s launch.