Forget about that 8th-gen Coffee Lake line of chips that powers Apple's recently-unveiled 2018 MacBook Pros, because Intel just unveiled a couple of other 8th-gen chips, the kind that will power the ultraportable MacBook, thin-and-light Windows machines, and just maybe that brand-new MacBook Air Apple is supposedly working on.
On Tuesday afternoon, Intel unveiled the new chips just ahead of the IFA 2018 trade show in Berlin. We're looking at the 8th-gen U-series chips (formerly known as Whiskey Lake), and the Y-series (formerly known as Amber Lake).
The new chips are optimized for light laptops, meaning they're ready to deliver improved efficiency that should boost battery life, while also offering a boost in performance. They also support Gigabit Wi-Fi out of the box and come with LTE support (the Amber Lake chips).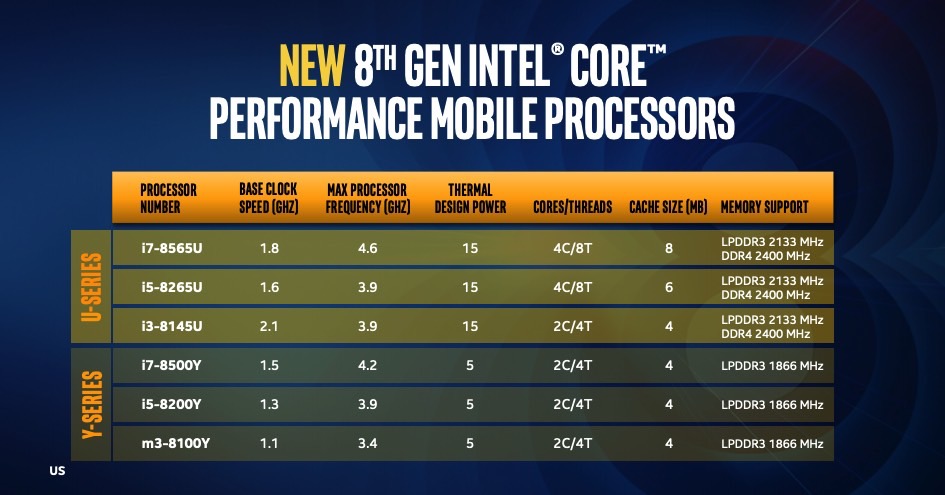 Compared to a five-year-old PC, the chips deliver twice the performance, although the comparison seems pretty annoying. Yes, old PCs are slower than newer ones; what else is new? Intel says that the chips also deliver "double-digit gains in office productivity" for everyday activities.
When it comes to battery life, the new U-series chips can deliver between 16 and 19 hours of life on a single charge. The same U-series chips will also support Dolby Vision HDR and Dolby Atmos audio.
What's more interesting is that they'll support popular games like World of Warcraft: Battle of Azeroth, World of Tanks, and others, which isn't bad for devices not meant for gaming.
Both Whiskey Lake and Amber Lake chips come in I7, i5, and i3 variations, and it's likely we'll soon see them in brand new notebooks. And considering that IFA 2018 is just down the road and that Apple has not refreshed its MacBook Air and MacBook series, we do expect to see plenty of devices packing Intel's newest laptop processors.