The promise of virtual reality has always been to escape the bounds of your living room or office and enjoy an entirely new world where the same rules don't apply. High-end VR headsets like the HTC Vive have largely delivered on that promise, but if you've ever dabbled in VR you'll know that sometimes you wish you could bring real-world objects with you into the digital realm. HTC's new Vive Tracker promises to allow you to do just that, and I've taken it — and a handful of the compatible accessories — for a spin.
Just to get it out of the way, I'll say that I already think the HTC Vive should be your default choice for a virtual reality headset, period. The games, compatibility, support, and hardware quality are simply better than the competition. Having played with both the Vive and Oculus for more hours than I wish to admit, I can safely say the Vive's room-scale VR is the most immersive virtual reality experience available today. With that in mind, adding some funky smart trackers to mix should just be icing on the cake, right? Well, the short answer is "yes," but the longer answer is a bit more nuanced.
I went hands-on with a pair of Vive Trackers, Hyperkin's new "Hyper Blaster" which is a Nintendo light gun lookalike, some Tracker-compatible wrist straps, and both the Paddle handle and Racket handle for various sports titles. All three peripherals have built-in mounts for the Vive Tracker, and installing the tracker — which looks like a little black crown — takes about ten seconds.
The idea here is that when playing a game that supports these accessories, you'll use them in place of the standard Vive controllers. Because these tracker peripherals are so specialized for the games they are designed to work with, the experience should be that much more immersive.
The trackers themselves are simple gadgets, with a single button and a microUSB charging port. They last for between four and five hours of play time per charge, which is more than enough for a few play sessions before needing to be plugged in.
Just like the standard Vive controllers and the headset, the Vive Trackers are detected by the Vive Base Stations and tracked in real time. But what makes them particularly powerful is their ability to relay control commands to the games you play via whatever accessory you have them plugged into.
For example, the Hyper Blaster actually has several hardware buttons built into it, as well as a tactile trigger. The Tracker interfaces with the plastic pistol through a port that automatically connects when you attached the two together, and when you pull the trigger or press a button, that input is registered by the Vive. This allows accessories like the Hyper Blaster to work seamlessly with the Vive without any built-in electronics or even a battery; it's all handled by the Tracker.
I played a few different games with the Hyper Blaster, including the lighthearted Duck Season and Operation Warcade. With the Tracker equipped, Hyperkin's handgun worked flawlessly. It responded instantly to all input and felt as though it were a standalone controller connected directly to the Vive itself. If you've ever used the Vive and a Vive controller before, you know how important the feeling of zero latency is when manipulating objects in VR, and the Vive Tracker paired with the Hyper Blaster felt perfect.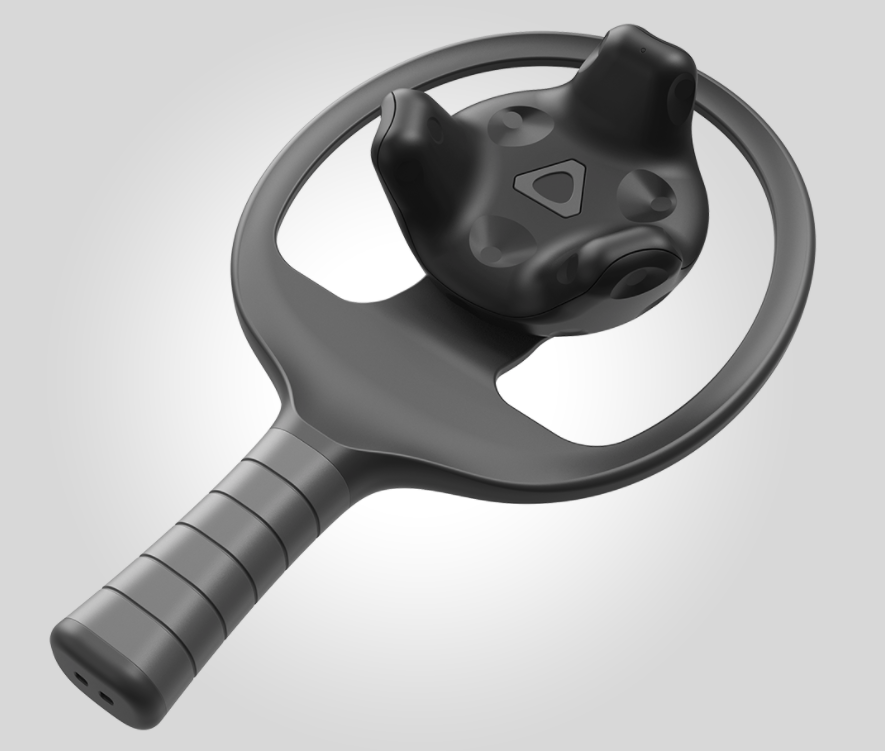 When I'm in the mood for VR, I do tend to play a lot of shooters, and I could easily see the Hyper Blaster becoming my new go-to controller in games that support it (there are already quite a few). That's not to say the standard Vive controllers don't do a good job, but they're more general purpose inputs, and Hyperkin's little pistol feels really, really nice.
Next, I tried out the sports accessories, along with a few of the games that support them. I tested the racket and paddle on Virtual Sports and Eleven: Table Tennis VR, respectively, and then spent some time with near-full-body VR tracking — with Trackers strapped to my feet and Vive controllers in both hands — so that I could embarrass myself in Final Soccer VR.
Both the racket and paddle are surprisingly well-made, with thick, heavy plastic and rubberized grips around the handles. At first I was afraid they'd be akin to the cheap plastic peripherals that everyone with a Nintendo Wii seemed to have a dozen of, but thankfully that's not the case. They're sturdy and strong, and the tracker responded great when I was using them in VR. Unlike the Hyper Blaster, they don't have any built-in buttons, so you'll need to keep a Vive controller nearby to navigate menus and the like. I don't play a lot of sports in VR, but if you're really into that sort of thing I could easily see someone really falling in love with them.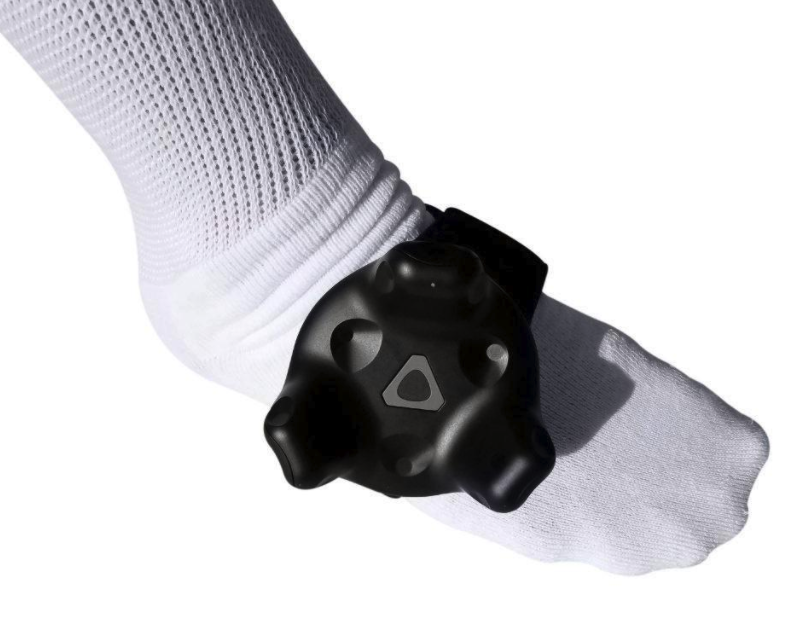 The wrist (or leg) bands are called Track Straps, and are from a company called Rebuff Reality. You just screw the tracker right onto them and strap them on whichever limb you need to track, depending on the game. For Final Soccer VR, you can use them on your hands (as a goalie) or feet for kicking, and then just hold the standard Vive controllers for hand movement. They're obviously incredibly simple accessories, but they work reasonably well for their intended purpose.
I will say that, unlike having a tracker attached to a rigid peripheral like a gun or racket, tracking something like a foot is a bit more sketchy. Sometimes it would feel like my virtual foot wasn't a perfect 1:1 with my real foot, but that's because the tracker can really only tell the Vive where it, itself, is, and attempt to guess the position and orientation of the foot it is attached to. It's an interesting attempt at full-body tracking, and I think it'll continue to get better as developers spend more time with it, but don't expect perfection right out of the gate.
As for the cost, here's how the Tracker and various bundles break down:
The Vive Tracker (and obviously the bundles above) will begin shipping this month. If you're already a VR early adopter, you probably already know whether you want to spend the additional time (and money) to make your experience even better. I only got to test the Tracker on a handful of games, but lots of games on Steam already support it in various ways, so you probably won't have to look far to find a reason to pick one up for yourself.