Google is testing several new features for Google Maps, including a significant user interface update that merges driving and transit menus into a single Commute option. But that's not all everyone's favorite maps app has in store. Google is also working on a feature many people have been dying to see in their favorite navigation app, and it's finally almost here.
The feature, currently in testing, is called "Current Trip," Android Police explains. What it does is to allow Google Maps users to return to the navigation route they've just set up in Google Maps without losing it. 
What happens in Google Maps now is that you can't use the app to perform other searches without interrupting the trip you're on if you're already using navigation. But, Google is testing a way to return to your previous driving directions even after you've used Google Maps for something else, like searching for a nearby restaurant.
As you can see in these images, the user interface has been updated to reflect that Google Maps directions are active. For starters, there's a walking icon in the notifications bar that shows that the user is getting directions, in spite of using the app for something else. Then, inside Google Maps, you have a navigation bar at the top (Aktuell Resa is Swedish for Current Trip) which features a button with the time estimate on it that would allow you to return to the usual Google Maps navigation interface.
Here are more screenshots with the language set to English.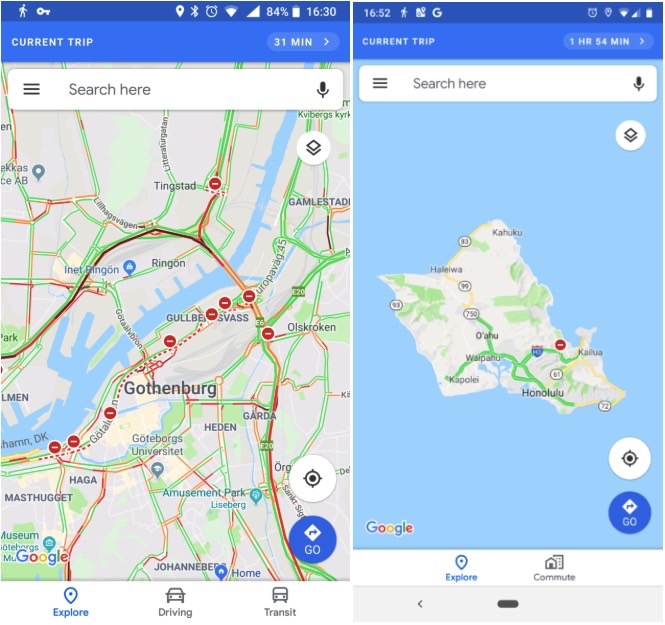 You'll note in the image on the right that the user still has access to both the new Commute tab and the Current Trip feature, which are also both in testing. 
Android Police points out that the Current Trip feature only works with transit directions for the time being, but hopefully it'll be enabled for all navigation modes after it's released in the public version of the app.