The home projector market is likely far bigger than you think, and Epson is the market leader by a wide margin, with a 53% market share in the United States. The company offers a good mix of high-quality affordable projectors and high-end models, but the latter category is today's focus. Epson's just-announced Home Cinema LS100 Laser Display is a brand new ultra short-throw projector the likes of which you've never seen before. It's capable of projecting a display up to 130 inches diagonally onto a wall or an screen at remarkably close distances. What's more, Epson says that if you use a good high-quality ambient light rejecting projector screen with the LS100, the quality of the image is practically indistinguishable from a standard LCD TV.
That comparison to LCD TVs is important, because the Home Cinema LS100 Laser Display comes with a fairly hefty $2,999.99 price tag. Compared to LCD TVs, however, $3,000 is nothing.
A decent 75-inch TV will likely cost you somewhere between $2,500 and $2,800, which isn't bad when you consider that a 75-inch TV display panel is about 33% larger than a 65-inch panel, since sizes are measured diagonally. Then, if you want to go any larger than 75 inches, you can expect to pay anywhere between $4,000 and $10,000.
With that in mind, $3,000 for a 130-inch screen doesn't seem all that bad.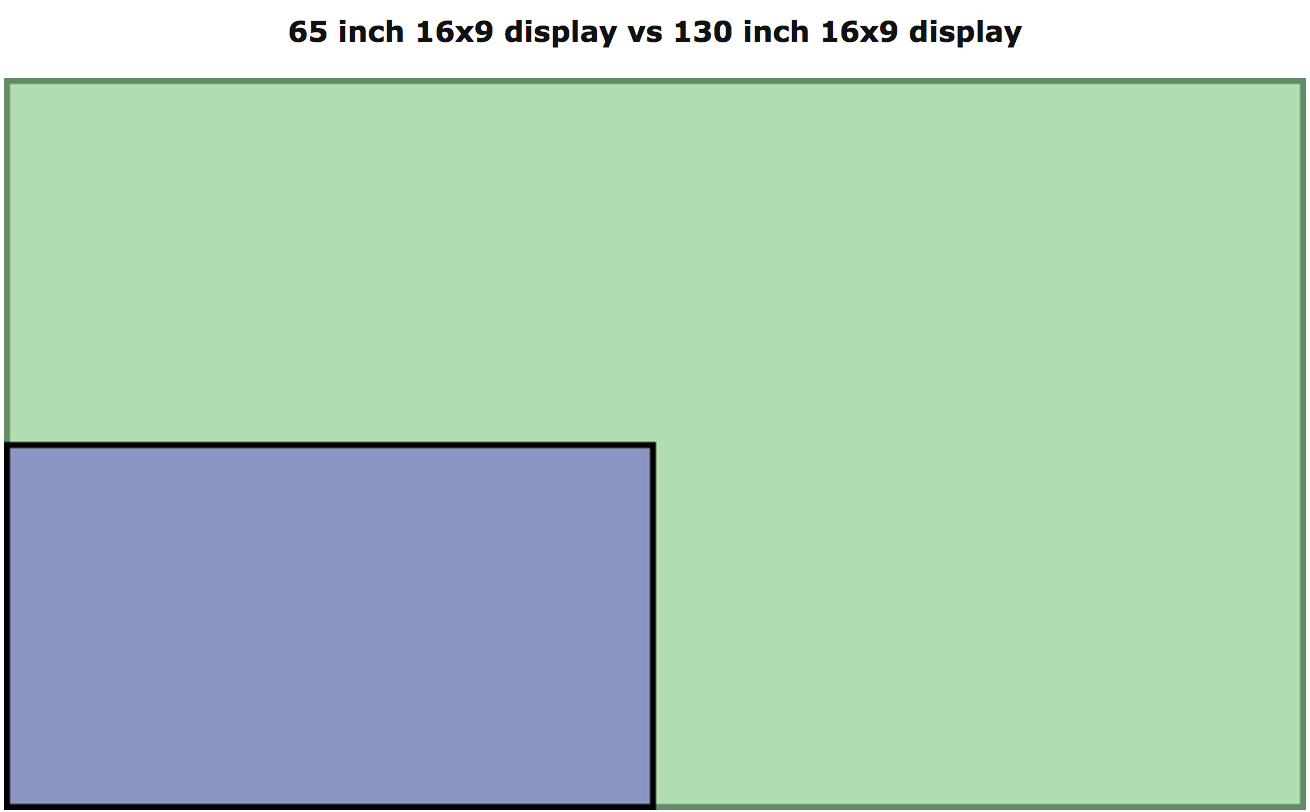 For those who are curious, a 130-inch screen is exactly 300% larger than a 65-inch display. You can see how they compare in the diagram above. That's a massive difference, obviously. What's more, the Home Cinema LS100 Laser Display is a projector, so you can adjust the screen to any size you want, be it 55 inches, 75 inches, 95 inches, or whatever else.
In terms of numbers, the LS100 is indeed an impressive projector. Brightness is rated at 4,000 lumens, which means it'll be quite visible even with the lights on. That's right, you won't need to stuff this projector in a dark basement to get a good picture out of it. It also features an impressive 2,500,000:1 contrast ratio, so blacks are surprisingly deep for a projector.
The lamp-free laser means this projector will last for about 30,000 hours of viewing. So if you spend 4 hours a day watching TV, it'll last for 20 years. Epson's instant-on and instant-off tech also removes the need to wait for the projector to warm up when you turn it on or cool down when you're done watching. Three HDMI ports let you connect any and all of your devices, including cable or satellite boxes, Apple TVs, Fire TVs, Rokus, and Chromecasts.
Epson's new Home Cinema LS100 Laser Display is being shown off this week at CEDIA Expo 2017, and it'll go on sale this fall for $2,999.99 from Amazon and other retailers.