Getting rid of an old smartphone has always been unnecessarily complicated, but eBay is here with a new solution. On Monday, the company unveiled a new program called eBay Instant Selling, which lets users list their phones for sale and immediately receive a payout. eBay says the entire process "takes only a matter of minutes."
"Millions of Americans have unused phones in their homes and simply don't realize how much their devices are worth, probably because trade-in values are typically so low," said Alyssa Steele, Vice President of Hard Goods, eBay. "With Instant Selling, people can find out exactly how much their phone is worth, and sell their phone within a matter of minutes to immediately help fund the holidays, or maybe something off their personal wish list."
If you want to try out Instant Selling, or see if your phone qualifies, here are the steps you need to take:
Visit eBay.com/s/phone
Enter your device info, determine if it's eligible for Instant Selling
Add images. Click List and accept terms
Receive your instant voucher, which can be used toward the purchase of a new device on eBay
Ship your phone quickly with a dedicated eBay shipping label you print off yourself
Although many phones are currently listed on the Instant Selling page, eBay notes that the only brands currently eligible for the program are Verizon, AT&T, and unlocked iPhone models (16GB iPhone 6S – 256GB iPhone X) and Samsung Galaxy models (S7 – S9+). Devices on T-Mobile and Sprint, as well as Google Pixel and LG smartphones, will be added to the list in November, but no specific date was provided.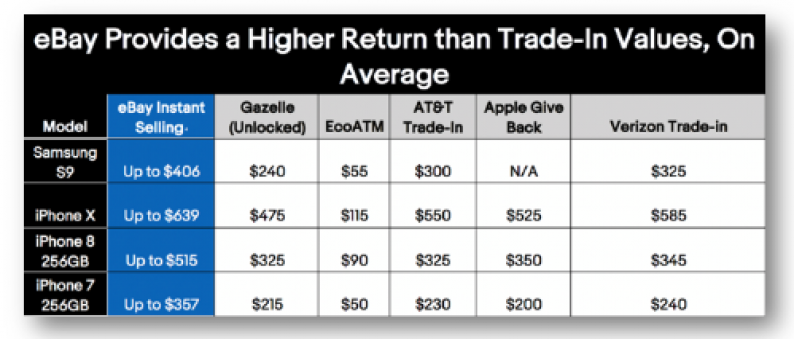 eBay claims that it provides up to a 40% higher return than the likes of Gazelle, EcoATM, or carrier trade-in programs, on average. It's still worth poking around before you commit, but another option is always a good thing.