In the age of smart homes, hubs, and total integration, the right lighting is often overlooked. While it's definitely more fun to fiddle with your smart fridge or HD video-equipped doorbell, perfectly adjusted lighting is essential to, as "The Dude" Lebowski would put it, "tie the room together."

If you are looking for a way to give your home lighting a unique and customized feel, the Leviton DZMX1-1BZ dimmer is the perfect fit with your smart setup. This universal dimmer is compatible with Samsung SmartThings, Vera, Wink, and Amazon Echo, as well as any other official Z-Wave controllers and hubs. For those not in the know (no shame there,) Z-Wave is the way your smart home devices communicate with each other.
Compatibility is the key to a flawless smart setup, and with Z-Wave support, this Leviton dimmer feels at home with just about any lighting setup. Beyond smart compatibility, the dimmer also works with nearly every light bulb imaginable, including LED, CFL, incandescent, magnetic low voltage, and halogen bulbs. With virtually endless customization, the Leviton DZMX1-1BZ dimmer (catchy) is the perfect way to illuminate your home the way you want it.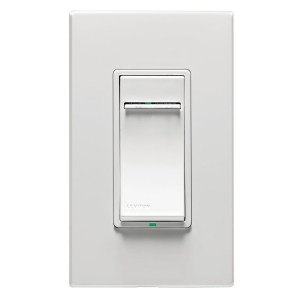 This dimmer features Leviton's Decora brand design and is sleek and simple, blending seamlessly with just about any home. For an additional flavor of customization, white, light almond, and ivory faces come with the dimmer to match the physical appearance of the dimmer to the tone of your room and walls.
Of course, being a smart device, the real question is how well does it function within a smart home? Depending on your smart hub of choice, the Leviton can be programmed virtually to your liking. The dimmer boasts 49 different fade rates and customizable user presets to affect the lights' maximum and minimum brightness. Once at the preset, the physical rocker on the switch can be pushed up or down to alter the light, just like a normal dimmer. If you link the dimmer to an automation hub, the brightness of the lights can be controlled directly from your phone, or at your bidding by Amazon's Alexa, which is simply illuminating (pardon the pun.)

As far as smart devices go, the Leviton DZMX1-1BZ is fairly simple, though the name would suggest otherwise. It combines basic and expected function with hefty Z-Wave enabled automation to create a product that perfectly fits its market demand. If you're looking for an affordable solution to your smart home lighting problem, this dimmer is definitely worth trying out.