Whether they're counting your steps or helping you keep caloric tabs on that late-night McDonald's trip, fitness trackers have taken the guesswork out of personal health. Now, we've taken the guesswork out of fitness trackers.
After some intensive research and comparisons, we've found the best fitness trackers money can currently buy. Understanding that everyone is unique in their fitness needs, we hunted down a diverse selection of trackers and looked for the best in pure monitoring capability, style, and affordability.
The end result? There really is a fitness tracker for everybody. Let's take a look at the best fitness trackers of 2017.
Best overall – Fitbit Charge 2
---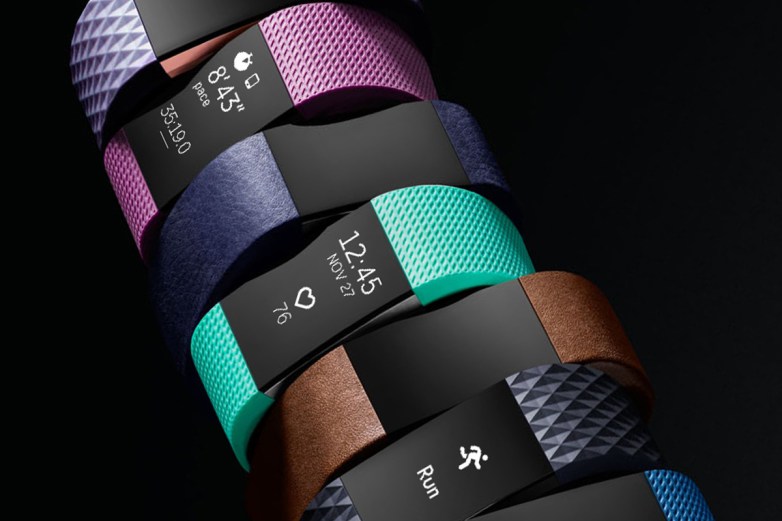 You know that guy at work who constantly brags about topping 10,000 steps on his Fitbit? He may actually be on to something.
Jokes aside, Fitbit stepped up its game with the new Fitbit Charge 2, delivering a sleek and stylish fitness tracker that's jam-packed with coveted features, all at a surprisingly affordable price point. While the aforementioned step counting is as sharp as ever, there's so much more to love about this device from Fitbit.
For starters, the Fitbit Charge 2 is one of the more aesthetically pleasing fitness trackers, boasting a slender OLED display, steel body, and interchangeable bands to match your personal style. The tap-sensitive display is markedly better than its predecessor — the Fitbit Charge HR.
Speaking of the Charge HR, the Fitbit Charge 2 kept its forerunner's most important feature: an optical heart rate monitor. The wrist-based monitor offers a 24/7 look at your cardiac activity, including some stellar features in the Fitbit app that chart out your heart rate for the day. In typical Fitbit fashion, the app can also assigned you a "Cardio Fitness" score that gives you something to aspire to. By taking your body mass index (BMI) and your average resting heart rate, the Fitbit app will assign you a score and let you know how well you're doing for your age and gender. Admittedly, this can be somewhat demoralizing at the start, but it's always good to have goals, right?
Let's talk more about the Fitbit app; it's fantastic. For many people, it's the single biggest draw to the Fitbit brand and it's completely warranted. The easy to use app tracks literally everything, including steps (duh), stairs, nutrition, water consumption, and even your standing time. In fact, if you stand too long, Fitbit will nudge you to stop standing still and start knocking out those hourly steps. If there's any single unblemished selling point for the Charge 2, it's got to be the Fitbit app.
Of course, it's not always about getting the heart pumping. The Fitbit Charge 2 also houses a handy feature called "Relax" that helps you catch your breath properly. Sounds nice, doesn't it? Really, there's no frills here; it's a simple timed breathing guide that helps you properly recover from you toughest workout.
Unfortunately, nothing is perfect. Even though the Fitbit Charge 2 is the best overall fitness tracker on the market, there's still some pitfalls that Fitbit should address. The most glaring is that the Charge 2 isn't waterproof. At all. Yes, it'll hold up to sweat and a fair amount of rain, but taking this tracker for a quick swim or accidentally wearing it in the shower will ruin it… and likely your day.
A far less egregious issue (but still annoying) is the lack of native GPS. Essentially, if you want to map out your runs, you're going to have to lug your phablet along with you. While that's not a deal breaker for most, it's certainly alienates a corner of the diehard fitness market.
The battery life is a middle-of-the-road 5 days, which isn't bad, it's just not great. The heart rate monitor also gets a little finicky with more elevated heart rates, but that's fairly par for the course when it comes to wrist-based heart monitors. Other than the glaring GPS and waterproof omissions, these issues are fairly minor nitpicks that you'd likely find with any fitness tracker sold today.

The Breakdown
Stellar mobile app
Functional and practical features
Wrist-based heart rate monitor
Modern, stylish design with many color options
Respectable battery life (5 days)
Relatively affordable ($129)
Despite its minor flaws, the Fitbit Charge 2 is the best all around fitness tracker on the market. With an unparalleled app, stylish design, and renowned tracking proficiency, this device checks all the right boxes for the everyday consumer. For an affordable $129, you can't find a better fitness tracker today.
Best for fitness buffs – Garmin Vivoactive HR
---
If you're looking for a fitness tracker that can hang with the most vigorous workout routine, it's time to check out the Garmin Vivoactive HR.
This beast of a fitness tracker from Garmin is designed with the fitness buff in mind. The always-on display allows you to sift through an impressive 15 activity modes, including golf and skiing, to get the most out of whatever your workout of choice is. You can also design your own workout and add it to the roster.
Much like the Fitbit Charge 2, this fitness tracker features a wrist-based optical heart rate sensor. This monitor tracks your heart rate constantly and charts out your daily cardio records to help you keep tabs on the health of your heart. Much like the Fitbit, it's not perfect, especially with elevated heart rates. If it becomes bothersome, you can pair your Vivoactive HR with a Garmin chest strap and get a considerably more accurate heart rate reading.
Now, let's get to the best part; the Garmin Vivoactive HR is waterproof. That's right, you can take this puppy swimming up to 5o meters, something our top pick overall was unfortunately lacking. The only downside is that the optical heart rate monitor shuts off when you hit the water, meaning you may miss an important spike in your daily cardiac data, but this isn't unusual with heart rate monitors. Still, if swimming is an important part of your daily workout, it may be worth shelling out the extra money for the Garmin Vivoactive HR.
This tracker also includes on-board GPS — another feature the Fitbit was missing. While this isn't as big of a deal as water resistance, the Garmin's GPS is a strong selling point to runners who don't necessarily want to keep track of their phones on a run. The battery life is also impressive, lasting up to 8 days without GPS use, placing it among the best in its class.
So why wasn't this our top pick? Unfortunately, the Garmin Vivoactive HR is far from perfect.
On a shallow level, it just doesn't look as good as the Fitbit. Although the large display is nice for checking phone notifications at a glance, the end result is an oversized, somewhat clunky design that bears a vague resemblance to a calculator watch from a distance. Still, aesthetics are no real reason to knock points off of a quality product.
The most glaring issues with the Garmin Vivoactive HR lie in its software. The Garmin app is a confusing mess compared to the sleek and intuitive design of the Fitbit app and truly hinders the potential of this well-built fitness tracker. There's also numerous reports of syncing hiccups that can quickly become an annoyance. The reality is that a well designed app and fluid software are often more sought after by the general consumer than even the handiest hardware.

The Breakdown
Waterproof up to 50 meters
Integrated GPS
Wrist-based heart rate monitor
Impressive battery life (8 days)
Wide range of activity modes
The Garmin Vivoactive HR may have some rough patches in its software and app, but its water resistance and native GPS make it a must own for any true fitness die-hard.
Best for style – Garmin Vivomove Premium
---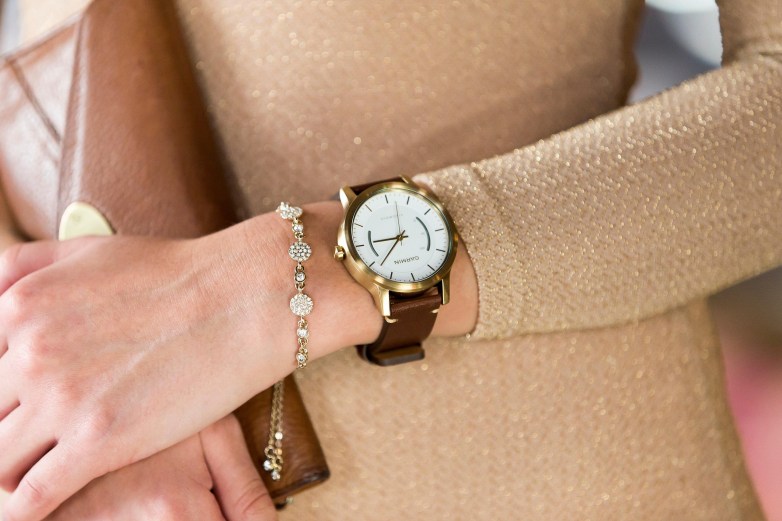 If you've always wanted to track your steps while you burn up the wedding dance floor, this is the tracker for you.
The Garmin Vivomove Premium is designed for one thing: style. This classy looking timepiece is the 007 of fitness trackers, going undercover with ease in any situation. But does it do anything other than just look good?
Admittedly, the Vivomove is mostly about style, but the Garmin also offers solid, yet bare-bones fitness tracking, limited to measuring steps, sleep, distance, and calories. Surprisingly, the Vivomove is also waterproof up to 50 meters, just like the Vivoactive HR. The most impressive piece on the Vivomove is the battery, which lasts a year. Yes, an entire year.
Unfortunately, this tracker is plagued with the same issues that the Vivoactive HR was. Namely, software connectivity issues and a confusing app. It also is missed some key "fitness tracker" features, like phone notifications and a heart rate monitor.
The Breakdown
Highly fashionable luxury watch
Unparalleled battery life (one year)
Waterproof up to 50 meters
Measures steps, sleep, distance, and calories
Multiple style options
It's not the most practical fitness tracker by a long shot, but if you're in the market for a stylish watch, you might as well get one that tracks your steps and your sleep.
Best on a budget – Xiaomi Mi Band 2
---
For those looking to try a fitness tracker not wanting to drop the big bucks, there's the Xiaomi Mi Band 2.
Right off the bat, of course this $37 tracker isn't going to hang with competition. However, the Xiaomi Mi Band 2 packs quite a punch for the price. This affordable band includes automatic step counting and sleep monitoring, as well as a heart rate monitor that you can check when your pulse spikes. It's also got a passable display to give you all the information you need, with a touch-sensitive button to navigate.
As you may have guessed, this insanely affordable fitness tracker is far from perfect. Namely, there's no exercise tracking — a staple in every other fitness tracker. The accompanying "Mi Fit" app is also nowhere near as intuitive as say Fitbit's, but that's to be expected. However, none of the negative are enough to outweigh the incredible value for anyone looking for an affordable tracker. Just keep in mind that if you're looking for anything more than the basics, you may want to check out the other selections on our list.
The Breakdown
Highly affordable
Step counting and sleep tracking
Decent mobile app
Low-profile design
Impressive display navigation for the price
This is a classic case of getting exactly what you pay for — an affordable, no-nonsense tracker that covers the basics, and not much else. Still, at such a cheap price point, the Xiaomi Mi Band 2 is a perfectly competent step and sleep tracker.