The Beats Studio Buds are the first true wireless earbuds from the manufacturer to feature active noise cancellation. The Studio Buds were well-known even before their announcement and release. This was due to leaked documents and images. Also, several athletes were also spotted wearing them before their release.
With the Studio Buds, Apple appears to be trying to appeal to Android users.
Unlike recent headphones from the Beats brand, the Studio Buds feature less integration into the Apple ecosystem. It lacks the Apple W1 and H1 chips, which, according to Beats, enables it to offer a universal experience for iOS and Android OS users.
The Studio Buds feature a neutral sound profile, unlike the bloated bass profiles typical of Beats headphones. This makes these earbuds well suited for listening to diverse audio content.
The Studio Buds launched at a starting price of $149.99, $100 less than the Apple AirPods Pro, for pretty much the same sound quality.
BGR may receive a commission
The design

Unlike its predecessor, the Powerbeats Pro, the Beats Studio Buds feature a very compact and minimalist design. The Studio Buds each weigh 5.1 grams, which means they are super lightweight.
They feature a stemless design, like the once rumored AirPods. But they lack the ear hooks found on the Powerbeats Pro.
The branded 'b' button on the buds functions for playback control and toggling between transparency mode and active noise canceling mode. It's also helpful in handling calls.
When Studio Buds initially launched, this button could not be used for volume control. This was a downgrade from the Beats Powerbeats Pro, which featured on-device volume controls. Now, using a firmware update, users can configure volume control settings in the Beats app.
Users can also customize long-pressing the 'b' button through the Beats app on Android devices or the Bluetooth menu on Apple devices. You can use this function to enable voice assistant, volume control, or switch between listening modes.
The sleek, egg-shaped charging case is a cross between the AirPods Pro and Sony WF-SP800N cases. The case features a USB-C charging port, and an indicator LED on the front.
A USB-C to USB-C charging cable is included in the Beats Studio case. It does not support wireless charging, unlike other recent releases from Apple.
The Beats Studio Buds are rated IPX4 for water and sweat resistance. The Beats Studio Buds come with three sizes of silicone ear tips, so you get to choose whichever is the best fit for your ear canal.
They come in three color variants – Black, White, and Beats Red. The packaging is made from 92 percent plant-based material.
What about battery life and connectivity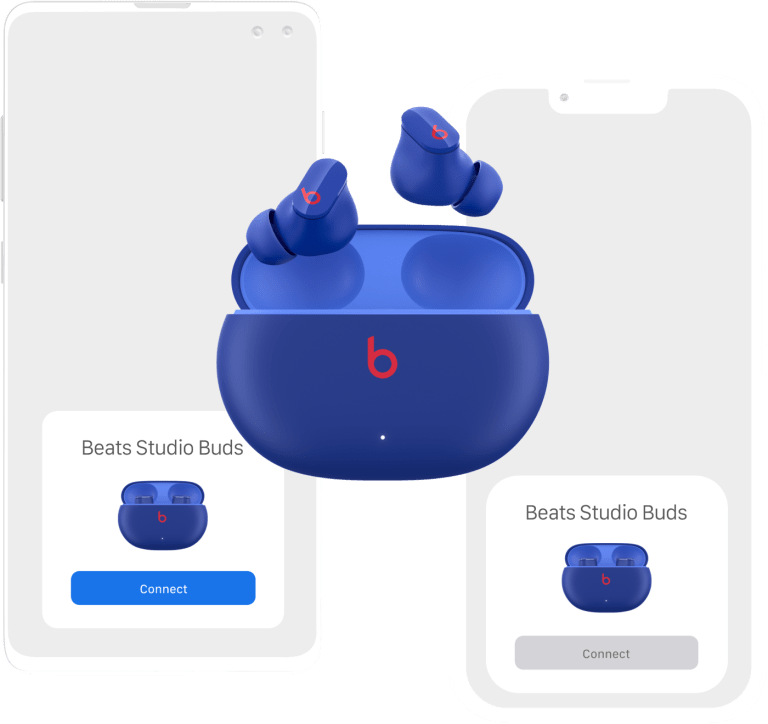 According to Beats, the Studio Buds offer up to eight hours of regular playback and five hours of playback with active noise cancellation. The battery life is not great compared to most true wireless earbuds that aren't Apple or Beats products.
The charging case provides two additional charges, which equates to a total of 15 hours of playback with active noise cancellation turned on. This delivers 24 hours of playback when active noise cancelling is turned off.
Fast fuel charging also gives up to an hour of playback after charging for five minutes.
For connectivity, the Studio Buds are designed to connect to Apple and Android devices with a single tap. Opening the earbuds case close to your device will cause a pop-up on your screen, prompting you to pair both devices.
This is possible due to the absence of the W1 or H1 chip. The lack of these chips also means that these in-ear headphones can't work with hands-free Siri, which is pretty discouraging for Apple users.
The W1 and H1 chips also facilitate features like audio sharing, instant pairing, and automatic pairing across all Apple devices signed into an iCloud account.
This simplified connection, however, is a breath of fresh air for Android users for whom connecting to other Apple earbuds is usually a hassle. The Studio Buds' wireless chip is compatible with Bluetooth 5.2. But, users will still not be able to pair with multiple devices and enjoy automatic switching between said devices.
These in-ears also support Find My for Apple users and Find My Device for Android users.
Beats Studio Buds audio quality and noise canceling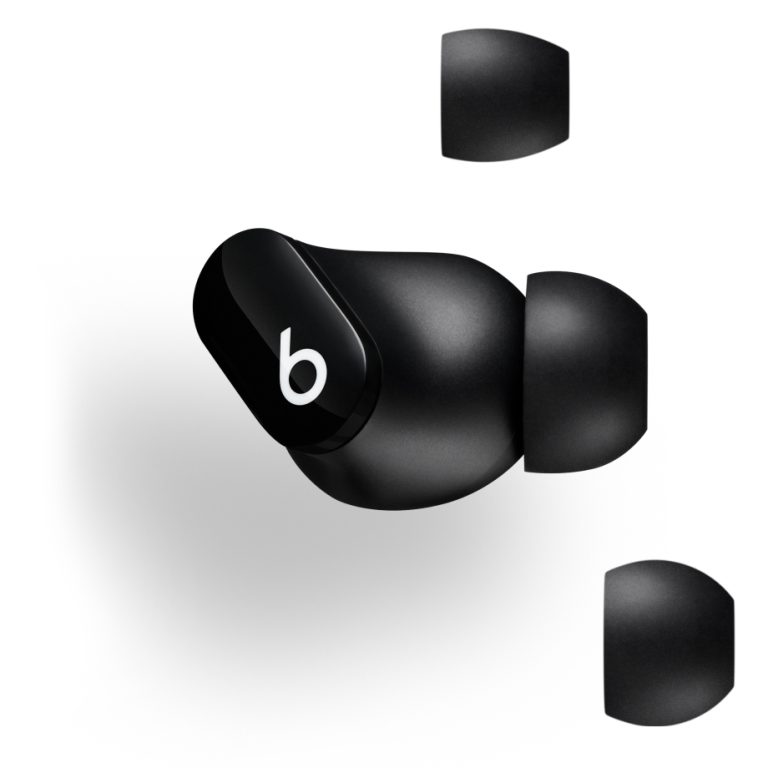 The Beats Studio Buds supports spatial audio but does not feature head tracking like the AirPods Pro.
They have a neutral sound profile, unlike the thumping bass profiles we're used to with other Beats models. This results in excellent sound quality, fantastic clarity and detail, and average bass quality.
The sound quality of the Beats Studio Buds is on par with that of the AirPods Pro. Using the Studio Buds with Apple Music shows a significant reduction in Lossless audio quality. Noise cancellation on the Beats Studio Buds is moderate compared to its competitors. The Studio Buds do not do a superb job of muffling ambient noise with ANC turned on.
Transparency mode on the Studio Beats is adequate as ambient sound does not get distorted or muffled. The call quality of the Beats Studio Buds is poor when using the earbuds outside where there's wind noise or in places with a lot of background noise. The mics perform well in filtering out ambient sound during phone calls.
Beats Studio Buds – True Wireless Noise Cancelling Earbuds – Compatible with Apple & Android, B…
Price:
$149.95
Available from Amazon, BGR may receive a commission
FAQ
Do Beats Studio Buds fall out?
Yes, they do. The Beats Studio Buds do not have stability fins. Hence, they will likely fall out of your ears with vigorous head movements.
Do Studio Buds hurt your ears?
The Beats Studio Buds may hurt your ears if the ear tips do not fit perfectly or the buds aren't worn correctly.
Do AirPods or Beats sound better?
The Beats Studio Buds have a great sound quality that rivals the AirPods Pro. When it comes to noise cancellation, however, the AirPods Pro performs much better than the Studio Buds. The Beats Studio Buds are also well suited for use with both Android and Apple devices.
Is Beats owned by Apple?
Yes. Apple acquired Beats Music and Beats Electronics in July 2014 for three billion dollars.
Are Studio Buds waterproof?
The Beats Studio Buds are rated IPX4-rated sweat and water resistant. They are not sweatproof or waterproof. Water and sweat resistance may reduce over time and with use. The Studio Buds charging case is not waterproof, sweatproof, water resistant, or sweat resistant.
How long do Beats Studio Buds last?
The Studio Buds offer a playtime of eight hours. With the charging case, you can recharge the earbuds two more times, which equates to 16 additional hours of playback.