What makes the perfect "everyday" computer? You probably have a different definition of the ideal day-to-day laptop than me, but I'm willing to be there's some crossover: minimal weight, enough battery life to last most of the day away from the plug, a clear and crisp screen, good keyboard and mouse, and enough power that you're not left waiting.
If you take those as the important criteria and forget about Mac vs PC vs anything else, then a lot comes down to price. You shouldn't overpay for a laptop you're not going to use to the max, and that's why I would argue that this $500 Chromebook is the laptop most people should buy right now. At the very least, it's the most capable sub-$500 laptop you can buy right now.
I'm not going to rehash the argument over whether Chromebooks are a viable main PC these days. Provided that you don't need some specialized Windows or Mac application to do your job, every basic task that you can do on a MacBook or PC can be done on a Chromebook. You can browse the web, edit photos, create spreadsheets to your heart's desire, and watch an infinity of Netflix. Sure, storage is lacking, but I'd argue that storing all your precious family photos on one device that's easy to lose is a dumb move in the first place.
So let's talk about what makes this particular Chromebook good. It all starts with the design, and it's impossible to avoid the similarities to a MacBook. That's a good thing: it's as thin as any other lightweight laptop, has the same notch carved out in the front, and feels sturdy enough to throw in bags without worrying at all.
The other physical design parts are also excellent. The keyboard is the same chiclet style as you'll find on most laptops today, but with a pleasing amount of key travel (more than the new Retina MacBook, anyway). There's the bare minimum of ports: one USB-C on each side, a dedicated volume and power key, a microSD slot, and one headphone jack. Dual USB-C means you can plug the charger in on either side, and gives you just enough ports to charge the laptop and plug in a hard drive at the same time.
The screen is good enough to get its own shout-out. It's a 1080p panel that might feel a little low-res compared to other "Retina" displays, but the truth is you probably won't notice the difference on a screen this small. It's bright enough to use in direct sunlight — where I'm typing this review — and the color accuracy is excellent for a cheap laptop. The only real complaint is the bezel around the edge, which is normally-sized for a Chromebook, but a little on the large side compared to the other, much more expensive laptops I think it deserves to be compared to.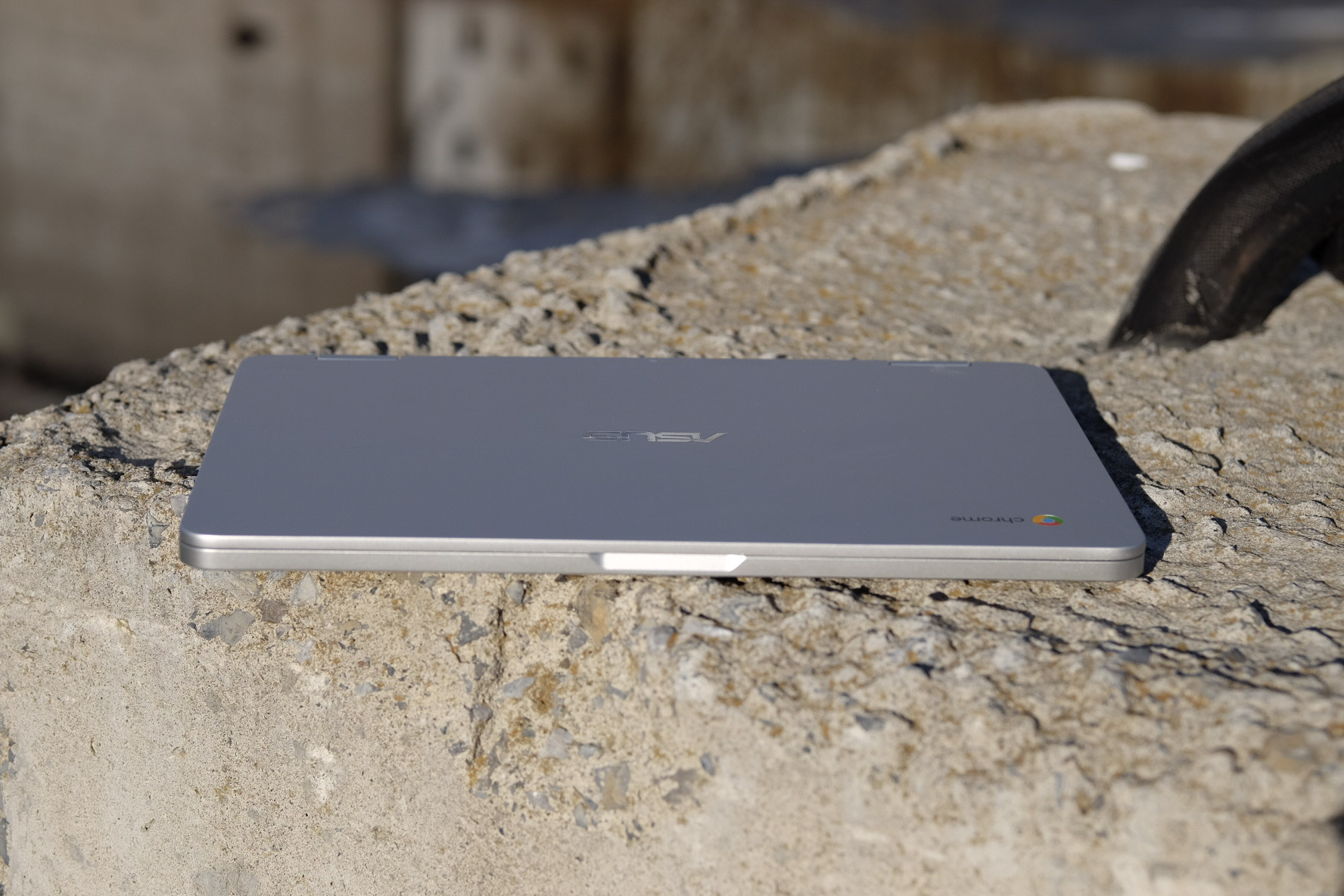 It's also a touchscreen, and thanks to the hinge, it can flip all the way around to turn the Chromebook into a heavy tablet. I'm not sure exactly who wants to use a three-pound Android tablet, but a much more useful feature is that you can flip it around and use the lower portion of the laptop as a stand, which is ideal for watching movies in bed or on an airplane.
Probably the best part about this Chromebook is the internals. It has an Intel Core m3 processor, and the difference compared to cheaper laptops with no-name processors is noticeable. Using it for work, I regularly had 20+ tabs open in Chrome without any noticeable slowdown. Android apps, which you can run if you download the beta version of Chrome OS, are much slower, but that's what you get for running a beta operating system.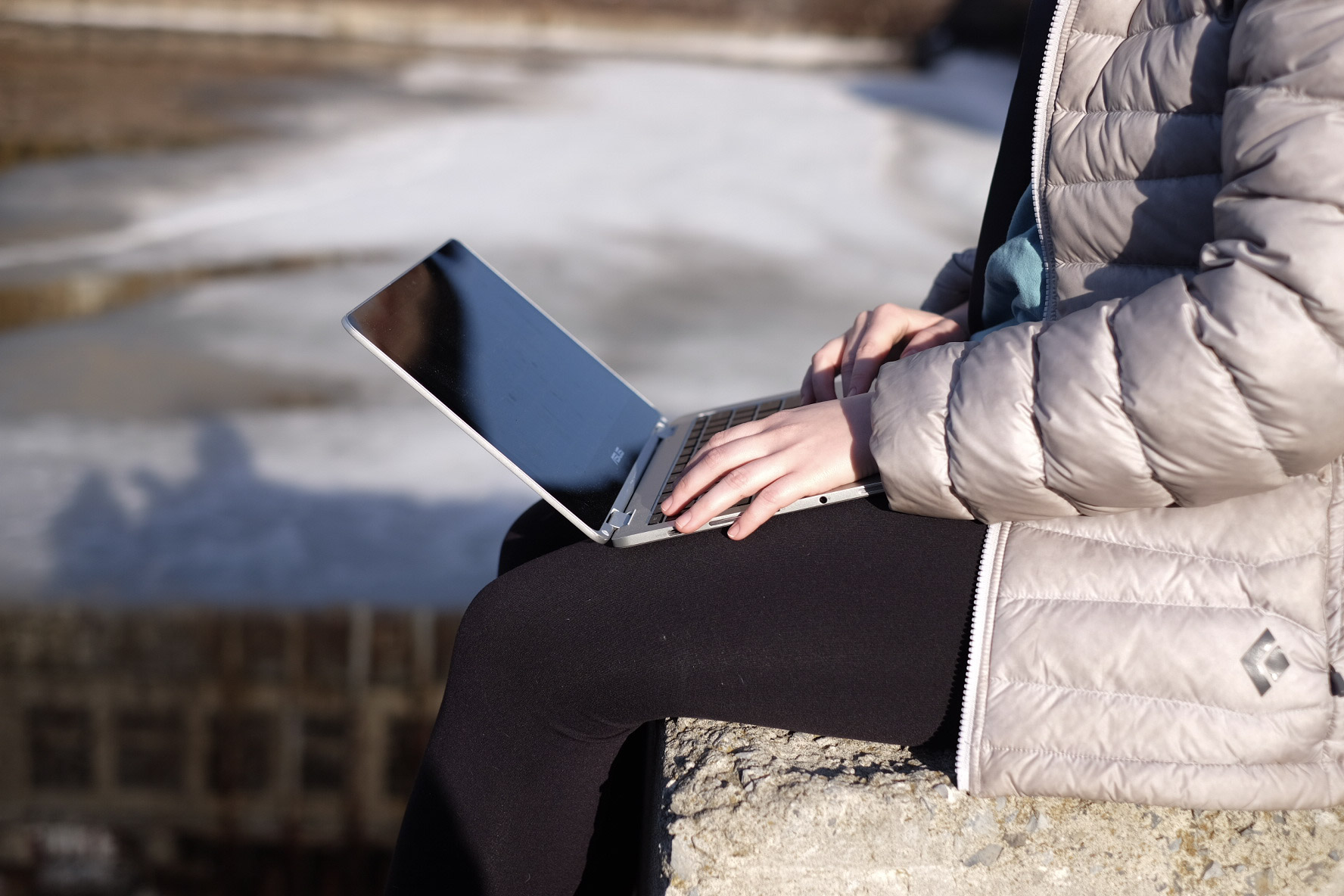 Chromebooks in general have great battery life compared to Windows laptops, and the Asus C302 is no exception. I was getting around 8 hours of regular work, and if you dial down the screen brightness and just watch videos, that stretches to 11 hours. It's much better than you'll get from any comparable Windows laptop, and easily on par with the Retina MacBook that I keep mentioning.
My biggest complaint are the speakers, which aren't particularly loud or clear. It's fine for watching a video by yourself, but trying to show my friends a video clip on the laptop is a frustrating experience. Forget trying to use it for music for a party, or in a room with people talking.
But honestly, if the speakers are the biggest complaint with a laptop, you know you're in a good place. From top to bottom, this is a premium Chromebook — heck, a premium laptop — with the kind of price you're used to paying for a six-pound Windows brick at Best Buy. Unless you have particular computing needs, I'd say the combination of $500 price, powerful processor, all-day battery life and crisp touchscreen is all the laptop you'll ever need.