Arm early on Tuesday announced new GPUs, display, and video processors for mobile devices and smart TVs that will allow vendors to offer high-end visual experiences to buyers who aren't necessarily looking for the latest high-end mobile devices. While Arm's designs won't be available immediately, they set the stage for mainstream mobile experiences of the near future. And let's not forget that 5G is going to be available in the near future as well, and those 5G speeds will definitely improve mobile entertainment, especially when it comes to 4K streaming and gaming experiences.
The Mali-G512 and Mali-G31 GPUs should make their way to mid-range and entry-level mobile devices, as well as DTVs next year. Arm also announced the new Mali-D51 display processor and the Mali-V52 video processor that will also be available to vendors next year.
Arm shipped 1.2 billion Mali CPUs last year, Jakub Lamik, Arm's vice president of product, told me in a meeting at MWC last week. Mali GPU designs are currently powering 50% of smartphones as well as 50% of mobile VR. Furthermore, Arm is also taking the DTV business very seriously, as Mali GPUs power 80% of DTVs according to Arm's exec. In the future, experiences such as playback support for 16 concurrent video streams will be possible thanks to Arm's newly unveiled innovations.
Arm's new designs are supposed to enhance the graphics power of mainstream mobile devices next year and allow richer user experiences. Think 4K HDR and 360 video, 3D gaming, as well as AR and VR support. Machine learning is also a significant feature of the new GPUs. That means AI tricks like object detection and recognition, enhanced photography, or instant translation services will be available on mainstream devices soon, not just high-end smartphones. Lamik pointed out that 90% of the AI-enabled devices available today are based on Arm technology.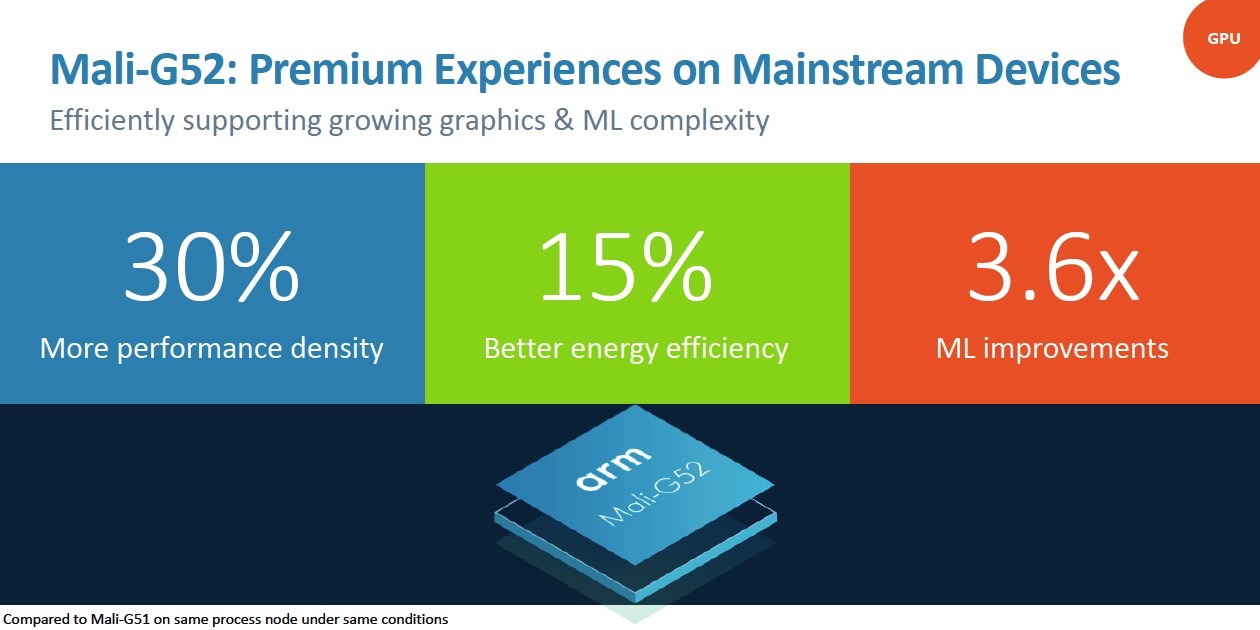 Compared to its predecessor, the Mali-G52 packs 30% more performance density (that's performance per square millimeter) and delivers 15% improved energy efficiency, while ML performance should go up 3.6 times. What Arm did to achieve these performance and efficiency gains were to double the number of execution engine lanes while only increasing the chip's size by 20%.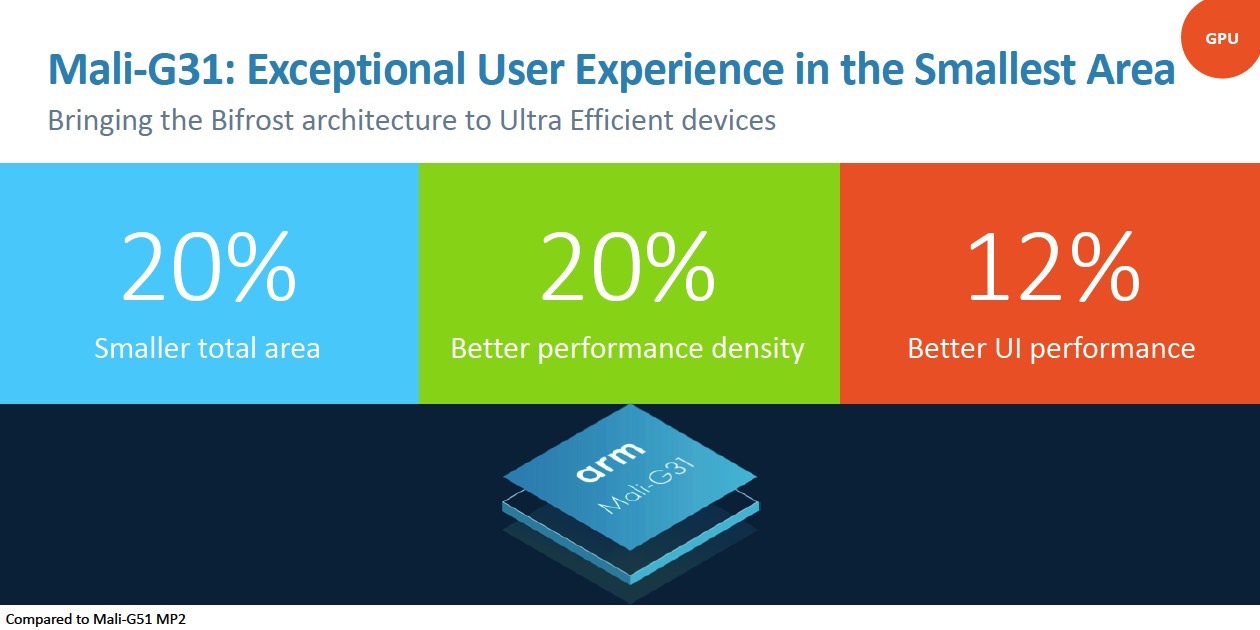 The Mali-G31 GPU, meanwhile, is designed for entry-level mobile and digital television experiences. It's Arm's smallest processor to support OpenGL ES 3.2 and the latest generation of Vulkan. It's also an ultra-efficient GPU built on the Bitfrost architecture that's 20% smaller than its predecessor — performance density increases by 20%, while UI performance increases by 12%.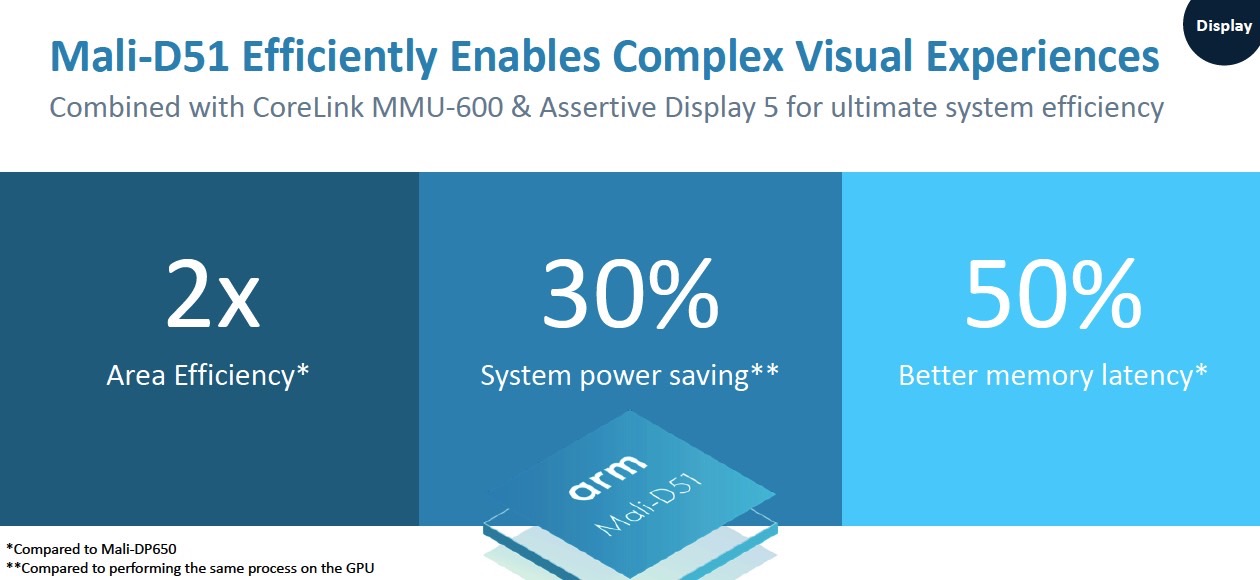 The Mali-D51 is Arm's most efficient display processor to date. It's the first mainstream display processor built on the Komeda architecture — expect 30% power saving features and 50% better memory latency. Arm explained that display processors are more efficient than GPUs at handling specific AR and VR tasks, including lens correction, post-processing, and algorithms.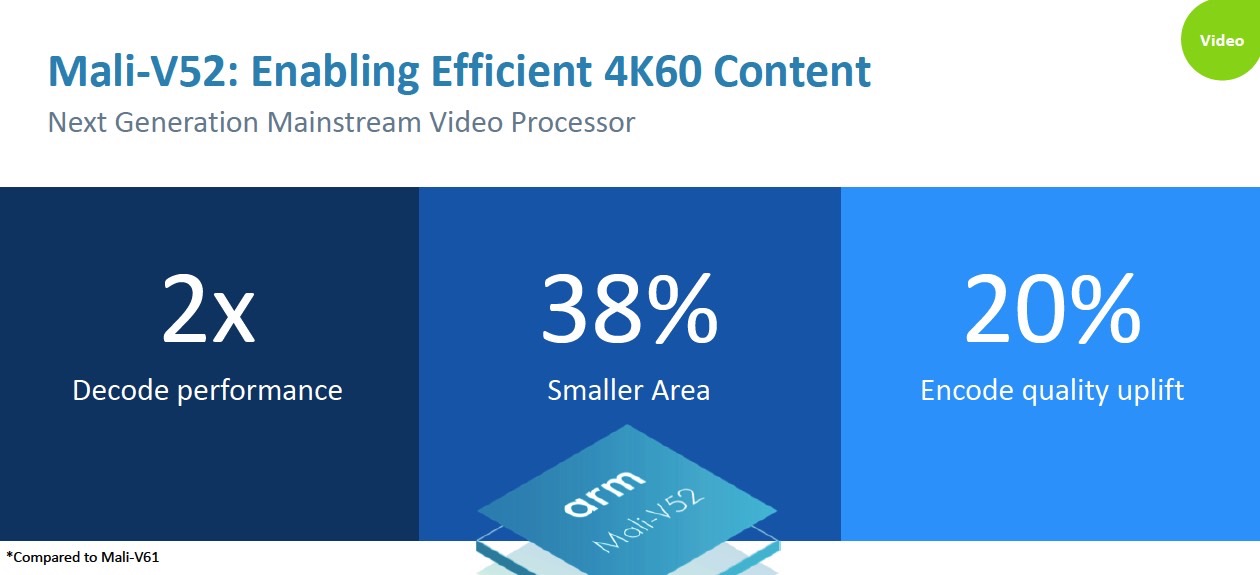 Finally, the Mali-V52 video processor brings 4K experiences to mainstream devices. We're looking at 20% better upload quality and 38% smaller silicon area.
What this means for customers is that they can expect better graphics experiences from budget-friendly devices, which should be particularly exciting to those smartphone users who aren't shopping for the next high-end flagship smartphone. In fact, Arm made it clear to me that they're really going after the mainstream, offering China as an example where the smartphone business has been booming. This year alone, more than 1 billion people are expected to use smartphones in the country. On top of that, more and more Chinese vendors are setting their eyes on international markets. Huawei and Xiaomi are examples of smartphone makers looking for growth in other markets other than China, with a special focus on the US and Europe.
However, Arm's new chips will be available in mid-range and entry-level devices only in Q3 2019, at the earliest, so don't be looking for Mali-G52 or Mali-G31 on any devices this year.