With just hours to go before its latest hardware reveal event, Apple has seemingly spoiled every surprise that it had left by updating files on its site. The latest leak comes from All Things How, which dove into Apple's sitemap only to find multiple mentions of both a 40mm Apple Watch and a 44mm Apple Watch.
Listed alongside the Apple Watch Series 3 models that launched last year, the new models are simply referred to as "Apple Watch" (though we have to assume that this is the "Apple Watch Series 4" that has shown up in leaks in recent weeks). This might suggest that Apple is finally dumping the "Series" naming scheme this year, but we'll know for sure soon enough. Either way, these are clearly new models of the Apple Watch.
The links shared by All Things How indicate that Apple will unveil both GPS and GPS + Cellular configurations of the 40mm and 44mm Apple Watch models at the September event on Wednesday. Several bands also showed up in the links, including Indigo Craie Orange Double Tour Band, Pure Platinum Black Sport Band, Summit White Sport Loop, Anthracite Black Sport Band, Black Sport Loop, Seashell Sport Loop, and Pink Sand Sport Band.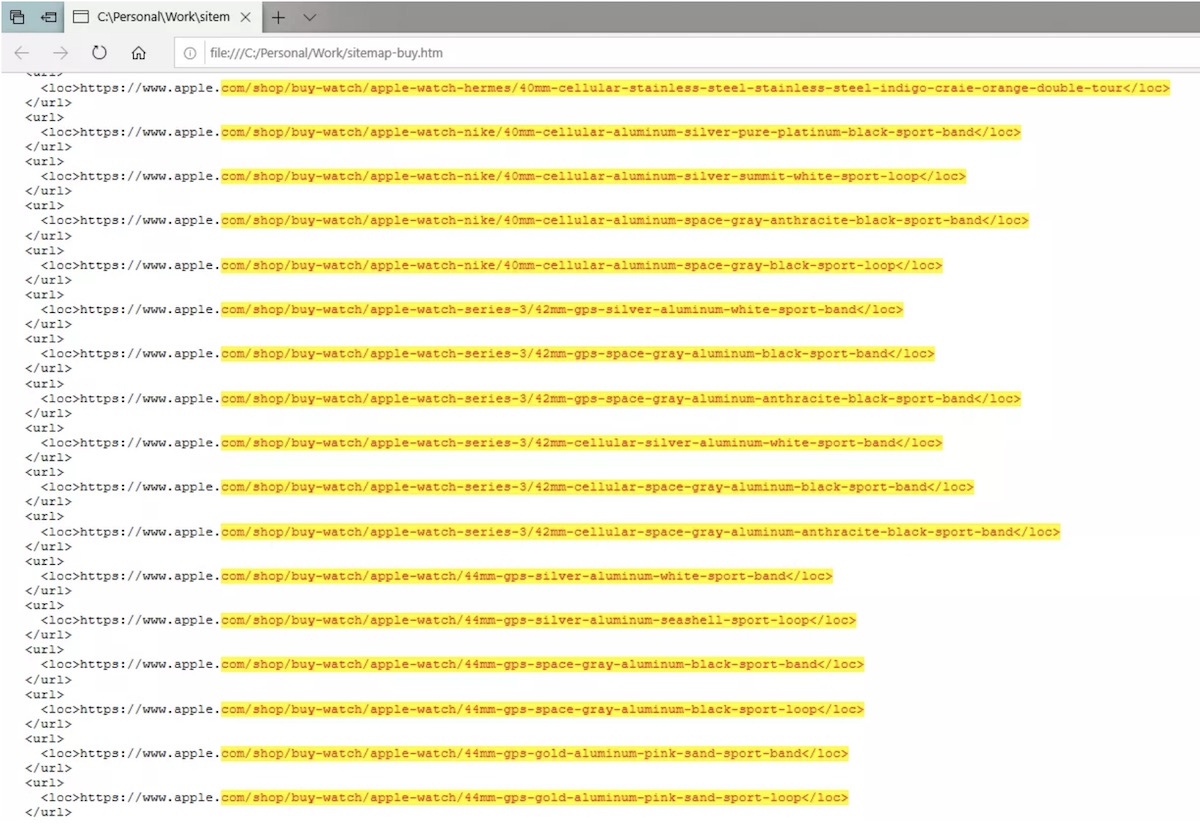 The new Apple Watch will be available in three color options: Silver, Space Gray, and Gold. The increased size of the cases would seem to back up the recent reports (and images) which show an edge-to-edge display on the new Apple Watch models. For comparison's sake, the standard sizes were originally 38mm and 42mm.
Apple is expected to debut the updated Apple Watch design at its September event, which begins at 10 AM PT on Wednesday from the Steve Jobs Theater in Cupertino, California. The Apple Watch Series 4 (or whatever it's called) will be revealed alongside the iPhone Xs, iPhone Xs Max, and colorful iPhone Xr.