Android Oreo is far and away the best version yet of Google's wildly popular mobile operating system. It takes everything great about earlier Android builds and mixes in a number of important new features and refinements. Some features like faster boot times and background activity restrictions help improve speed and battery life. Other new additions such as login autofill and picture-in-picture offer convenience. Then you have our favorite new features: Android Instant Apps, which lets people begin using an app right from a browser or the Play store without having to install it; and further enhancements to the "seamless updates" feature first introduced in Android Nougat. This great feature installs Android updates in the background like a software update on a PC, so people can continue using their phones while updates are being installed.
Oreo is a terrific update indeed, but barely anyone on the planet knows it because almost no one actually has access to the 5-month-old OS. Yup, fragmentation is rearing its ugly head yet again.
Fragmentation is among our least favorite topics to discuss here on the site, pertaining to the Android ecosystem. Sadly, it's also one of the most important topics as well. The same strategy that helped Android become the world's most widely used mobile platform also prevents the vast majority of Android users from gaining timely access to Android's latest features.
Google just released updated Android version distribution on its developer site. Here are the new numbers as of January 8th: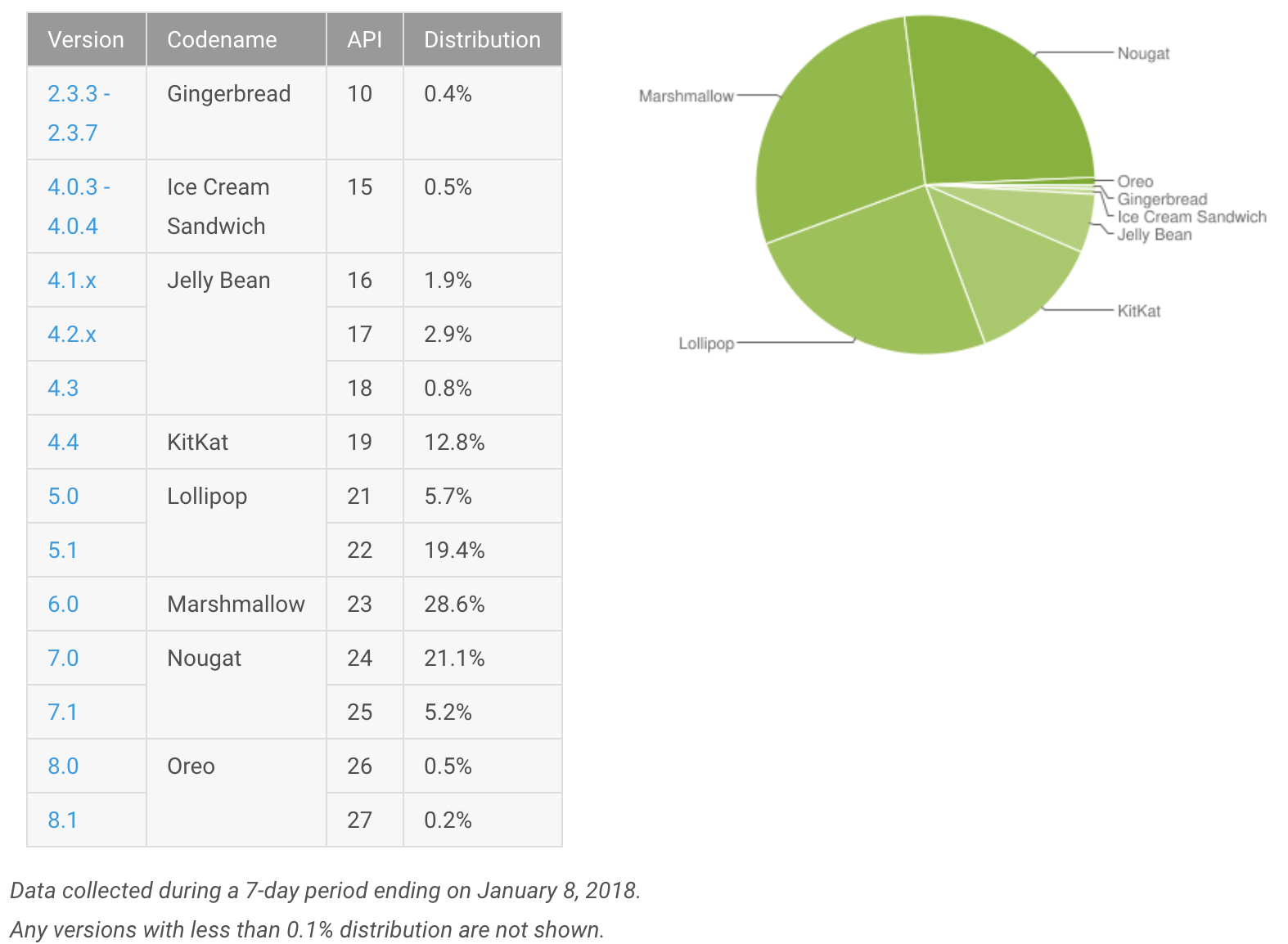 Yikes. As you can see, the latest version of Android is currently in use on just 0.7% of Android devices around the world. Meanwhile, the most popular version of Android is Marshmallow, which was released in October 2015. Seriously. 2015. It's 2018 and the most widely used version of Android is from 2015.
We've discussed this issue privately with sources at Google time and time again over the years. Sadly, all indications are that this problem will never be fixed.
Google is ramping up its own hardware efforts and Google devices obviously get updates much more quickly than third-party phones. But Google devices make up a miniscule fraction of a percent of Android devices in use. The vast majority come from Google's various hardware partners, and they make their own modifications to the open source Android platform. It takes time to ready these software additions for a new version of Android, and more time still to test the software. Then there is often another phase of testing from wireless carriers before an update can finally be released.