It wasn't that long ago that outfitting your home with a security system required an appointment with some fancy monitoring company, a likely pricey estimate, and then lots of drilling, wire-running, and testing. Today, thanks to the exploding popularity of smart home devices, you can order a security system in a box, slap some sensors on the walls, and turn your house into Fort Knox in less than an hour. I know this because I spent a good chunk of my week testing the Abode home security system.
Let me start off by saying that I'm something of a smart home skeptic. Sure, I've played around with automated lightning systems and smart thermostats, but none of it ever really felt like a solution to a problem I actually have. I'm not saying smart home stuff doesn't make life better for some people, I've just never been one of them. That is, I suppose, until now.
I got the opportunity to try out the Abode security system in home, using the Abode starter kit (which includes two window/door sensors, a motion-sensing camera, a wireless remote key fob, and the gateway hub that ties it all together) along with two additional door sensors and a glass break sensor meant to alert you to a broken window.
Abode boasts that you can be up and running in just five minutes, which is a bit silly considering that finding a decent place to put the gateway, plugging it into my router and power source, and letting it perform its initial boot took about that long on its own. That said, actually mounting the sensors and camera was an absolute breeze, and the Abode app walks you through the process with ease.
There are no tools required (though you'll probably want a screwdriver to install the batteries in the camera, lest you use your fingernails or something) thanks to the adhesive mounts, and the gateway and app instantly connected and recognized each individual sensor as I installed them. This is of course what you should expect from a smart home security system that promotes itself as being foolproof to set up, but what I didn't expect was just how impressive the range of the sensors would be.
I live in a big, old house, which means even my top-of-the-line $400 router fails to push my wifi signal from my office (at the front of my house) to my back door. Since I installed the Abode gateway in my office, I was quite worried that putting a sensor on my back door would be a no-go. Thankfully, that wasn't even remotely true, and the sensor connected instantly without issue. I'll chalk that up to the "AbodeRF" technology which the company says has proven reliable up three city blocks away when tested in bustling Palo Alto.
Everything about the Abode system is customizable. You can add as many different sensors as you want, and while I didn't test them, the company offers sensors for temperature, smoke/fire, water leaks, and occupancy, as well as streaming cameras.
That level of customization extends to the settings for the system itself, allowing you to tweak the delay between active modes, the volume of the chimes and alarms produced by the gateway, and the frequency of notifications pushed to your email or mobile app. You can also link the system to IFTTT to create automations based on specific triggers, which is great if you want to link your security system to your other smart home gadgets.
Changing settings and adding automations requires logging into the Abode web dashboard. It would have been nice to have them all right within the app itself, but that's certainly something that could be added down the road.
As for how the system actually works, I've been impressed with not just its accuracy but also its speed. There's really no delay between notifications on doors or windows opening, and when I put the system into its most sensitive "Away" mode, it went into panic mode as soon as I stepped in front of the motion camera. Thankfully, I took Abode's advice and placed the camera high on my wall so my cats and dog won't trigger a false alarm as I snooze.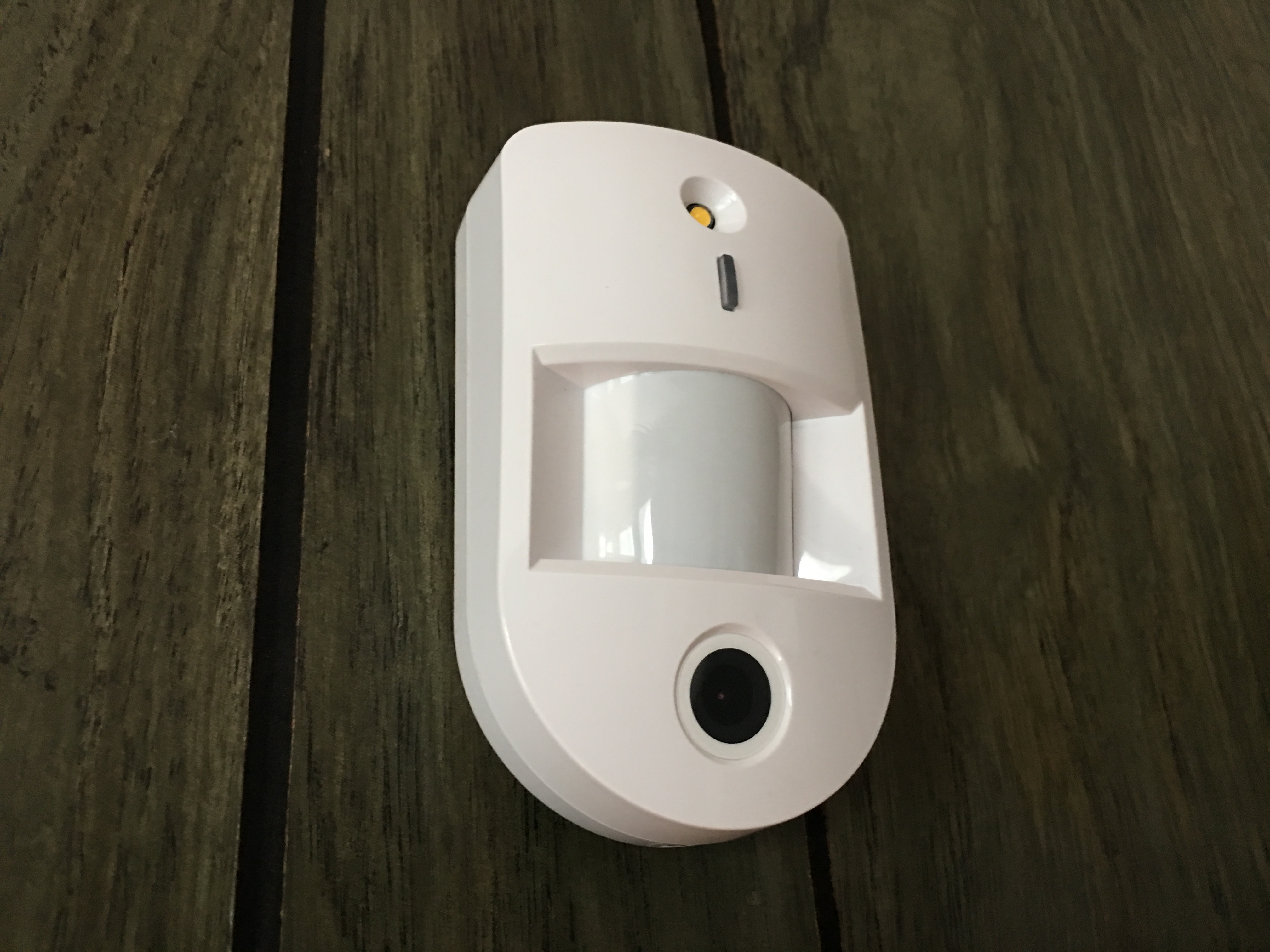 I also took the opportunity to test out the acoustic glass break sensor by, well, breaking a glass. I grabbed glass jar, plastic bag, and hammer, and sat about 15 feet away from the little white listening device. As soon as I hit the jar, sending the high-pitched screech of cracking glass into the air, the sensor activated. It could not have been any more perfect, but I was still curious about false alarms, so I streamed a half-dozen "glass break sound effect" videos to my living room TV and, with the volume cranked, subjected the sensor to the artificial shattering sounds. It didn't make a peep.
If there's one thing I'd change about the Abode, it's the alarm and notification sounds in the gateway hub. The alarm is absolutely deafening, which is great for a security system, but the "door chime" noises it makes could be, well, more door-chime-y rather than the stale beep it currently produces. You can mute the chimes entirely, but I do kind of like knowing when someone is coming or going, and would love if the sound were customizable in some way. Of course, that's obviously a pretty minor nitpick in what is overall a really solid package.
I like the Abode system because it's great for self-monitoring, but the company does offer monitoring plans as well. For $10 per month you get cellular backup in case of internet downtime, and two full weeks of timeline storage (as opposed to three days with the free plan). For $30 per month you'll benefit from 24/7 professional monitoring whether you're home or away, and three months of timeline storage. Even if you don't want to commit to a plan, you can still buy on-demand professional monitoring for $15 per week (or $8 for three days) if you're going on vacation and want a little extra peace of mind.
At $299 for the starter kit, Abode is an investment, but not a huge one. If you're looking for a great self-monitoring security solution with an emphasis on ease of use (and ease of setup), it's going to be hard to beat.