We often think of dinosaurs as the coolest creatures to have walked the Earth before mankind began its bizarre march towards the present, but you don't have to look back millions of years to find some stunning animals that have since gone extinct. The remains of a woolly rhino were discovered back in 2015, and researchers have been working hard at rebuilding the ancient beast to get a better idea of what it looked like when alive some 30,000 to 50,000 years ago.
The specimen's name is Sasha, and while scientists couldn't determine whether the rhino was male or female from its remains, they have still managed to reconstruct much of its body. Amazingly, Sasha's hair even managed to survive thousands of years of being stuck in the frosty ground where it was discovered, and after a thorough cleaning we're able to see what the animal would have looked like when it roamed during the ice age.
Sasha is thought to only have been around seven months old at the time of death, but still measures nearly five feet long. By contrast, rhinos that we see today hit that size after about a year and a half of age, indicating that either the woolly rhinos grew much more rapidly or topped out at much larger sizes when fully grown.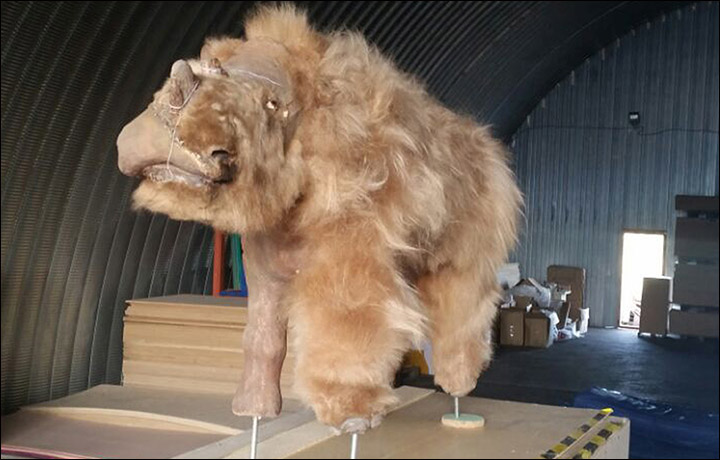 "We can only guess how mammoths and the woolly rhinoceros lived by the plants that where around then, by minerals, which can be determined in the composition of animal bones, and in the isotopes of oxygen and carbon, which also can be extracted from the bones," senior researcher Yevgeny Maschenko explains. "At that time, 35-50,000 years ago, the climate was colder and drier, and there were no climatic zones that now exist. There was no tundra vegetation, and there were very good conditions for such herbivores, with a lot of grass, cereals, and this is how all these giant animals could live there because there was enough food."
At present, scientists don't have many clues as to why the species went extinct. There are plenty of theories, but not much hard evidence to back any of it up. For now we'll just have to enjoy what still remains of them, like adorable Sasha.