"Ballot selfies" have been a surprisingly contentious issue this election cycle. Most states resist taking photos in a polling place or specifically of a filled-in ballot, which is at odds with the Snapchattification of life these days.
Despite a last-minute legal battle, ballot selfies are still illegal in New York City. That makes this Eric Trump tweet not just bad, but objectively illegal.
DON'T MISS: Apple is working on the biggest mobile game-changer since the original iPhone
Eric Trump appears to have tweeted out a photo of his filled-in ballot earlier this morning, along with the caption "It is an incredible honor to have voted for my father! He will do such a good job for the U.S.A! #MakeAmericaGreatAgain." In the photo, you can see part of a completed ballot for Donald J. Trump, with "New York" at the top confirming Eric's polling place.
The tweet has since been deleted, but screenshots are making the rounds showing the illegal photo. No enforcement action has yet been taken against the younger Trump.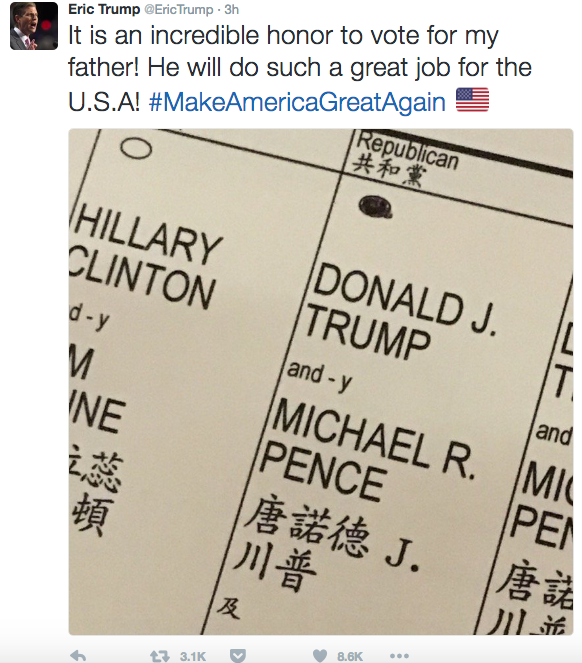 In the state of New York, it's a misdemeanour to show your ballot to another person after voting with the intention of revealing which way you voted. That's precisely what Eric Trump appears to have done here.
A last-minute change was pushed through to allow ballot selfies in New York, but a judge ruled last week that it's too late to make procedural changes to the voting system. "A last-minute, judicially-imposed change in the protocol at 5,300 polling places would be a recipe for delays and a disorderly election, as well intentioned voters either took the perfectly posed selfie or struggled with their rarely used smartphone camera," the judge ruled.
The Verge has a comprehensive breakdown of the laws on ballot selfies state-by-state, so check before you take any illegal photos.