There's an old expression that goes, "you get what you pay for." Not that it needs much explaining, but the gist is that the amount of money you pay for a product or service has a direct correlation to the quality of the goods you receive. Needless to say, that isn't necessarily true. Across every industry there are companies that have made it their business to produce high-quality products that undercut rivals. From smartphone accessories and other gadgets to food, furniture, and even cars, you can always find fantastic quality at reasonable prices if you know where to look. In fact, there are plenty of instances where you can find low-cost products that are even better quality than their premium counterparts.
In the case of Tempur-Pedic's new LuxeAdapt mattress, however, you get what you pay for.
I spent more than a decade sleeping on an old innerspring mattress that had been purchased from some old furniture store that was going out of business. Then I decided a couple of years ago that it was time for an upgrade. Since memory foam mattresses are all the rage right now, and since every mail-order mattress these days comes with a money-back guarantee period that lasts at least three months, I decided to focus my search on memory foam.
Over the past two years I have slept on at least half a dozen different memory foam mattresses. Some were purchased and some were sent to BGR as review samples. I was hesitant at first, but I ended up being surprised at how comfortable foam mattresses can be. Early generations of memory foam mattresses felt awkward and they often tended to trap heat. But modern memory foam has come a long way, and now I find some foam mattresses to be even more comfortable than high-priced luxury innerspring mattresses.
I had finally found a mattress I really liked when Tempur-Pedic reached out after reading my review of another mattress. The company had just announced a new flagship mattress called the Tempur-LuxeAdapt, and they wanted me to test it. I'm glad I agreed, because it ended up being the most impressive mattress I have ever slept on.
Before the LuxeAdapt, I had never tried sleeping on a Tempur-Pedic mattress before. This is significant because although the company sells memory foam mattresses, they're not like any other memory foam mattress I had tried before. In fact, I was actually pretty nervous about the firm LuxeAdapt mattress when I first felt it.
Every other memory foam mattress I've ever tried has had a similar feel. Like traditional innerspring mattresses, the top surface has a cushy feel with plenty of give. It also has some spring, so when you press down on it and release, you can feel resistance pushing back. The Tempur-LuxeAdapt is completely different. Compared to a normal mattress, the LuxeAdapt feels still as a board and it has no spring whatsoever.
I was concerned, but I decided to give it a shot anyway. To say my concerns were misplaced is an understatement — I can't even remember the last time I've slept as consistently well as I have been on this bed.
The best way I can describe the sleeping surface on the Tempur-LuxeAdapt mattress is to liken it to one of those old pin art boxes that used to be everywhere. Here's an image to refresh your memory: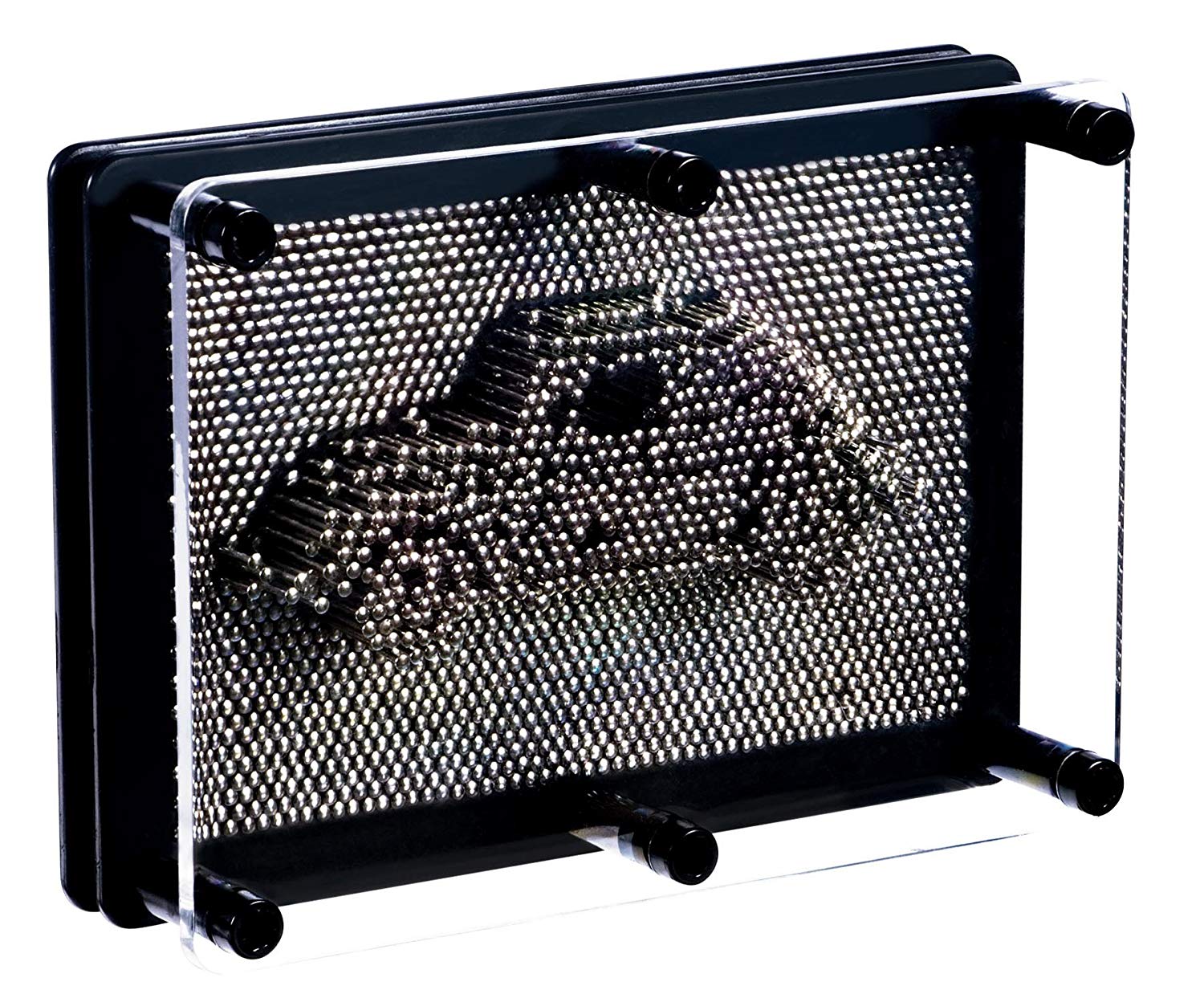 When you reset the pin art box, the metal pins create a perfectly flat surface. Then you press something into it like your hand or a small object. The pins you touch produce the same shape, while the rest of the pins remain flat. That's what happens when you lie down on a LuxeAdapt mattress. The surface cradles your body anywhere contact is made, and the rest of the mattress remains flat. There's also no spring whatsoever, which means there's barely any motion transfer for your partner. One important note on that subject, though: The lack of "springiness" is great for sleeping comfortably… but it isn't very good for doing anything else comfortably.
It's a peculiar feeling that I wasn't expecting, and I was initially concerned that I wouldn't sleep well at all. That concern lasted for about 30 seconds, because that's how long it took me to fall asleep the very first time I tried this mattress. The LuxeAdapt is so comfortable that I find myself falling asleep faster and staying asleep longer. What's more, my body is supported much better than it has been on any other mattress. I know this because it's the first time in more than a decade that I've gone months without having any back pain when I wake up in the mornings. Even on the best mattresses I had tried previously, I would still wake up with some lower back pain at least once or twice a week. That hasn't happened a single time since I began testing the LuxeAdapt mattress.
One concern many people still have with memory foam mattresses is that they trap heat. While that may be true in some cases, the LuxeAdapt sleeps nice and cool. There are three top layers of the mattress called the SMARTCLIMATE Dual Cover System, the Original TEMPUR Comfort Layer, and the TEMPUR-APR+ Support Layer. You'll find all sorts of interesting information on Tempur-Pedic's website about the materials that make up these layers. All you need to know is that they absorb and disperse heat very well. The end result is less tossing and turning from temperature fluctuation, so you sleep more soundly all night long.
The Tempur-LuxeAdapt mattress is expensive. A Queen costs $3,999 and the King model I'm sleeping on carries a $4,699 price tag, which totals more than $5,000 after taxes. It's worth every penny, and then some. In my life I can't remember ever having slept as well as I have been sleeping on this mattress. It took a short while to get used to the feel of Tempur-Pedic's memory foam, but even during that initial transitional period I was still sleeping like a baby every night. And beyond quality of sleep, people who suffer from back pain may also see benefits upon switching to the LuxeAdapt mattress. My pain was never severe but it was bothersome, and it has vanished completely since I began sleeping on a LuxeAdapt.