Unless you're getting the name of a Tinder date you've only see twice permanently inked on your body, tattoos are usually pretty harmless. Sure, they're going to look like a total mess when you're older, but who cares, right? Live in the moment! That is, unless you're thinking about getting a sclera tattoo, because as a Canadian model recently discovered, it's probably one of the dumbest things you can do.
The woman, Catt Gallinger, wanted to color her eye purple… for some reason. So, rather than just accepting that one of the most vital organs on the human body isn't meant to be any color of than what it comes as, she decided to have a tattoo artist slam a tiny needle into the white part of her eyeball to permanently turn it purple. It didn't take long before her body told her just how bad of a decision she made.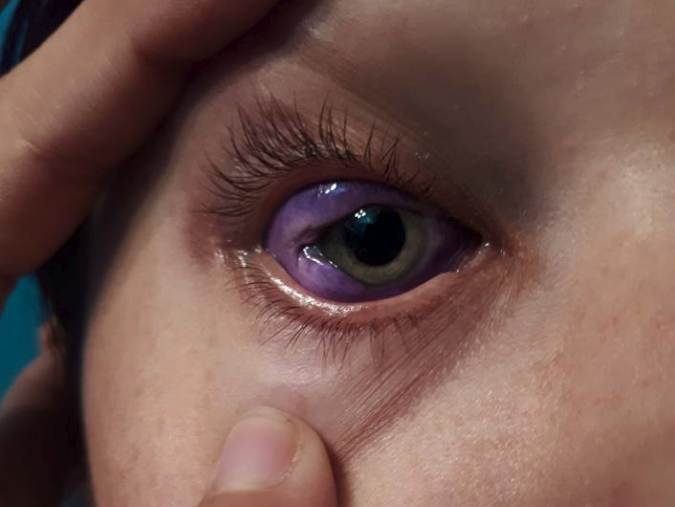 Shortly after having the tattoo done, her eye began spewing the ink back out and became hugely swollen. Gallinger says it's extremely painful, and doctors tried a number of different things to mitigate the problems it caused, including steroids and antibiotics, and neither have helped. She's now at risk of losing her sight in that eye permanently, and will require attention from a specialist.
However, Gallinger says it's not the idea of tattooing your eye that caused her so much pain, but rather the quality of the procedure itself. "This was caused by undiluted ink, over injection, not enough/smaller injection sights [sic]," she wrote in a Facebook post updating the status of her eye.
In a subsequent post, Gallinger says that a doctor and surgeon told her that her eyesight likely won't improve no matter what. "There is hemorrhage and sclera tearing from the size of the needle used, depth and amount of ink," she said. "They are also concerned that the equipment was not sterile and that there is an infection stuck in with the excess of ink."
Needless to say, if you're considering such a procedure, it's probably a good idea to second, third, and fourth-guess it.