At this point, just about everyone reading this has likely heard of Casper even if you've never tried one of the company's mattresses. Casper wasn't the first "bed in a box" brand, but it undoubtedly played the biggest role in popularizing the concept. It works like this: rather than go to a store to buy a traditional innerspring mattress and pay to have it delivered to your home, you can buy a memory foam mattress online and have it shipped for free. It comes in a box that leaves you wondering how a whole mattress can actually fit inside, and then you open it to find your new mattress compressed, rolled up, and vacuum sealed in plastic. Cut open the plastic and poof, your mattress expands and takes shape before your very eyes. And here's the best part: You can sleep on it for up to three months and if you don't like it, you can donate it or have it picked up by a junk collection company to get your money back.
There are dozens of bed in a box brands out there these days, but have you ever heard of a "couch in a box" company? I hadn't until Burrow contacted me a few months ago, but now it's a brand I'll never forget.
A bed in a box makes sense since memory foam can easily be compressed and shipped. That means even a king size mattress can fit in a box that's less than 5 feet tall and only a couple of feet wide. A couch, on the other hand, isn't something that fits easily into a box. It's not made of memory foam like a mattress, it's made of wood, metal, and other materials. So how does the "couch in a box" concept work with Burrow sofas?
First of all, Burrow couches don't technically come in a box, they come in several boxes. The love seat the company supplied me with to review shipped in three different boxes, and an accompanying ottoman came in a fourth. The boxes are labeled and simple instructions walk you through the assembly process. That's right, you have to assemble your sofa.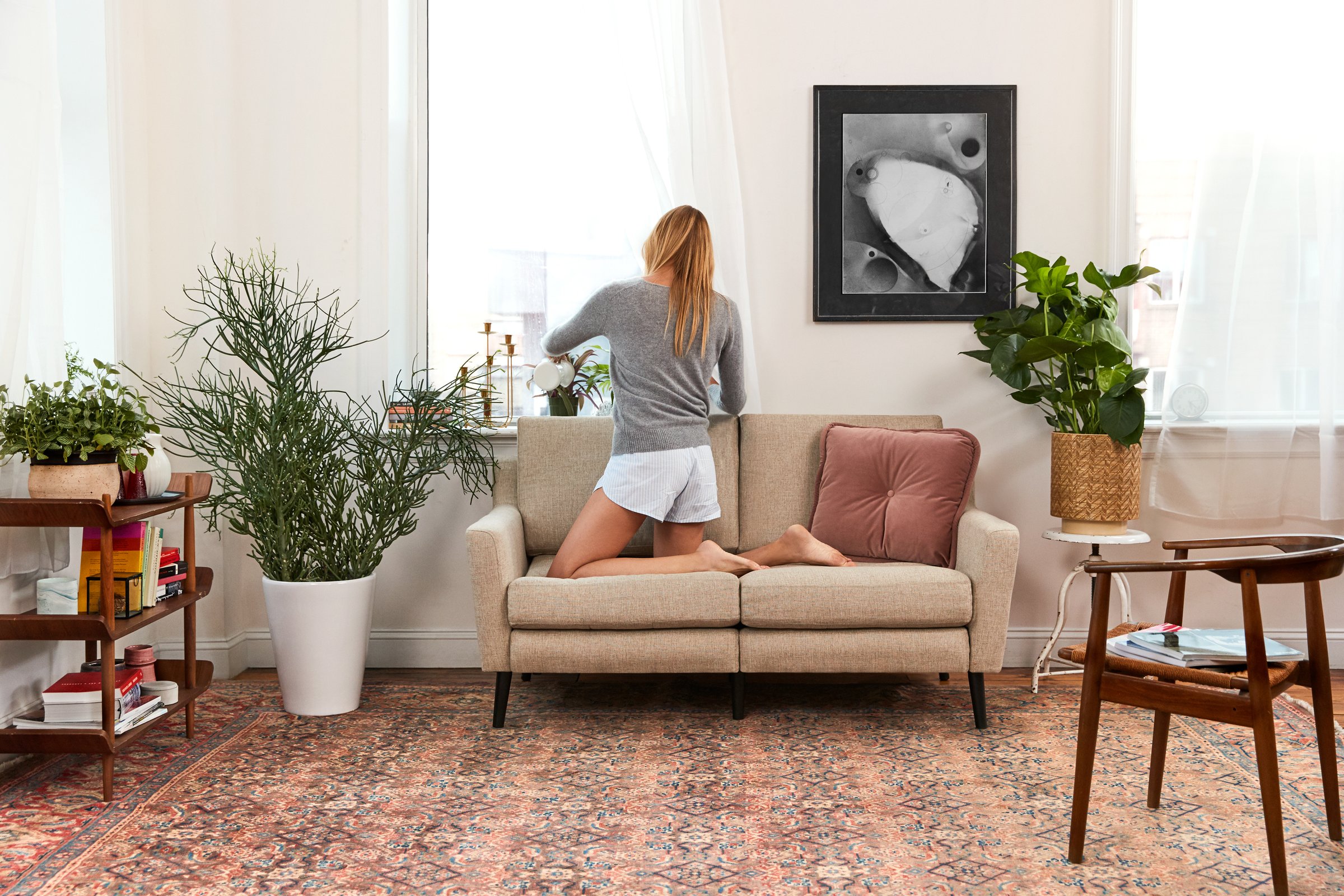 Don't worry, because this is nothing like the frustrating process of putting together Ikea furniture. Not only do all of the pieces fit together perfectly, but you don't even need any tools at all. The seat and back pieces lock using built-in latches, as do the arms on either end. The only pieces that require screws are the feet of the sofa, but you don't even need a screwdriver because they're all thumb screws that fit in easily and are hand tightened.
Once all the boxes were open and the pieces were laid out on my floor, the entire assembly of a loveseat and an ottoman took me about 10 minutes from start to finish. It really couldn't have been any easier. Here's a quick video that sort of takes you through the process:
Burrow couches come in four different sizes, and the Burrow online shop makes it easy to customize your couch. There are five different fabric choices, each durable and stain resistant so you don't need to worry about spills. In addition to fabric color, the online configurator lets you choose arm height, the finish of the wood legs, and whether or not you want a chaise seat in place of one of the standard couch seats. You can also add a matching ottoman.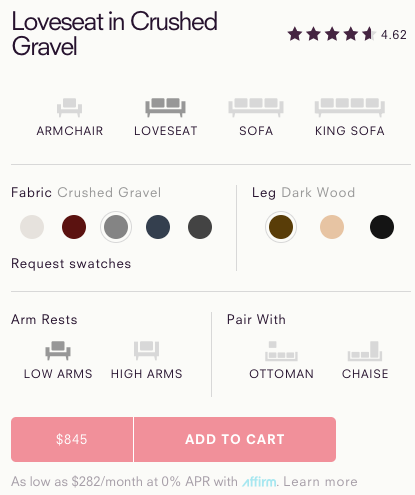 Since each couch is made to order, shipping obviously takes some time. That said, most couches seem to be delivered much more quickly than a made-to-order couch you would buy from a traditional furniture store. A love seat I just configured at the time of this writing said it would ship the week of October 8th, which is just two weeks away. The one that I ordered to review took about a month to be delivered, which is still faster than the two months I waited the last time I ordered a sofa.
Also of note, there's one more way that Burrow's "couch in a box" model is similar to bed in a box brands: a free trial period. Despite the fact that all Burrow sofas are custom designed and made to order, you can return your couch for a refund within 30 days if you're not happy with it.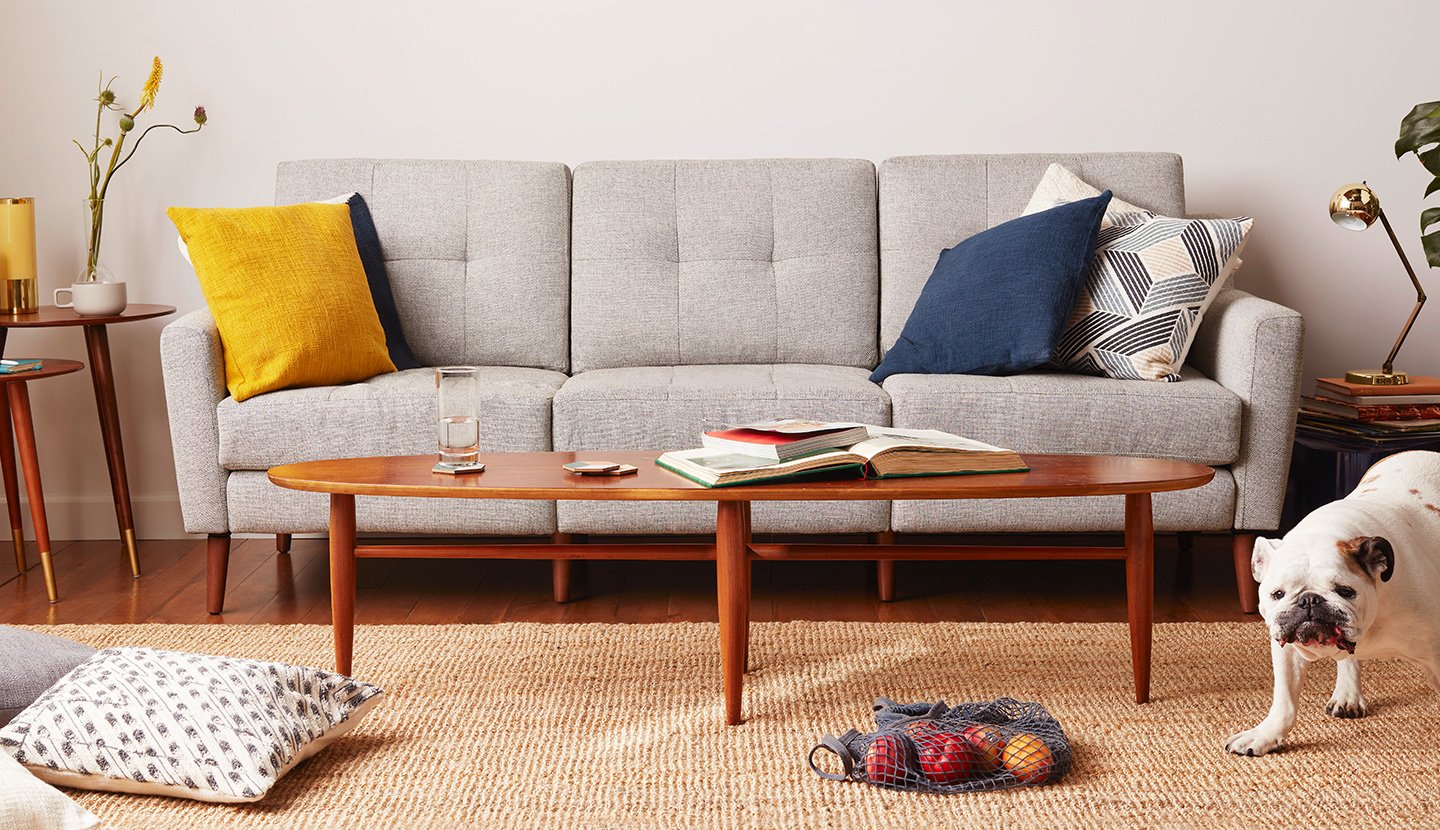 Once everything was said and done, I came away impressed with the loveseat I designed and ordered. The finished product came together perfectly in terms of fit, and the couch itself looks great. The seats are definitely on the firmer side, which is good in the sense that you don't sink into them. I'm hoping they do soften up a little bit over time though, which is likely as the sofa sees some use.
The fabric looks high-end and it feels good, too. I wouldn't put the feel on par with some of the other sofas I've purchased from the likes of Pottery Barn or Room and Board, but it's much nicer than fabric I've seen in many stores. I also love that the seat cushions and seat backs are reversible, with one side that's tufted and one side that's flat. You can completely change the look of your sofa in about 10 seconds. Another cool feature is the USB port that's tucked away between the arm and the seat, allowing you to plug in your phone to charge without having to run a long cable to a wall.
Burrow sofas start at $495 for an arm chair and climb to $1,945 for a four-seat king sofa with a chaise. All orders ship for free, and they all come with that fantastic 30-day trial period.