So you traveled to a different time zone or reset your Fitbit, and now the time is wrong. Not only is the time wrong, but you're not quite sure of how to fix it. Well, you're in luck. Here's how to set the time on a Fitbit.
At its core, the Fitbit is designed to help you keep track of your fitness goals, improve your health, and keep track of time. However, you can't change the time on your Fitbit directly. While this might be a hassle, this article provides a step-by-step guide to aid you through the process.
Is your Fitbit updated?
The Fitbit lets you know whether or not the Fitbit app needs to be updated as soon as you plug your Fitbit into its charger and open the Fitbit app. You should know that updating your Fitbit app and device to the latest version goes a long way.
To update your device:
Select the square with text lines in it (the Account icon).
If necessary, choose the proper Fitbit device.
Then, search for a pink "Update" or "Update Tracker" bar. If you can't find one, your device is already updated.
If a choice to update appears, select it.
Although it takes about an hour for the update to be completed, it's worth your time. This is because updating your Fitbit can sometimes fix errors with the clock, so you'll be killing two birds with one stone.
Steps to set the time on a Fitbit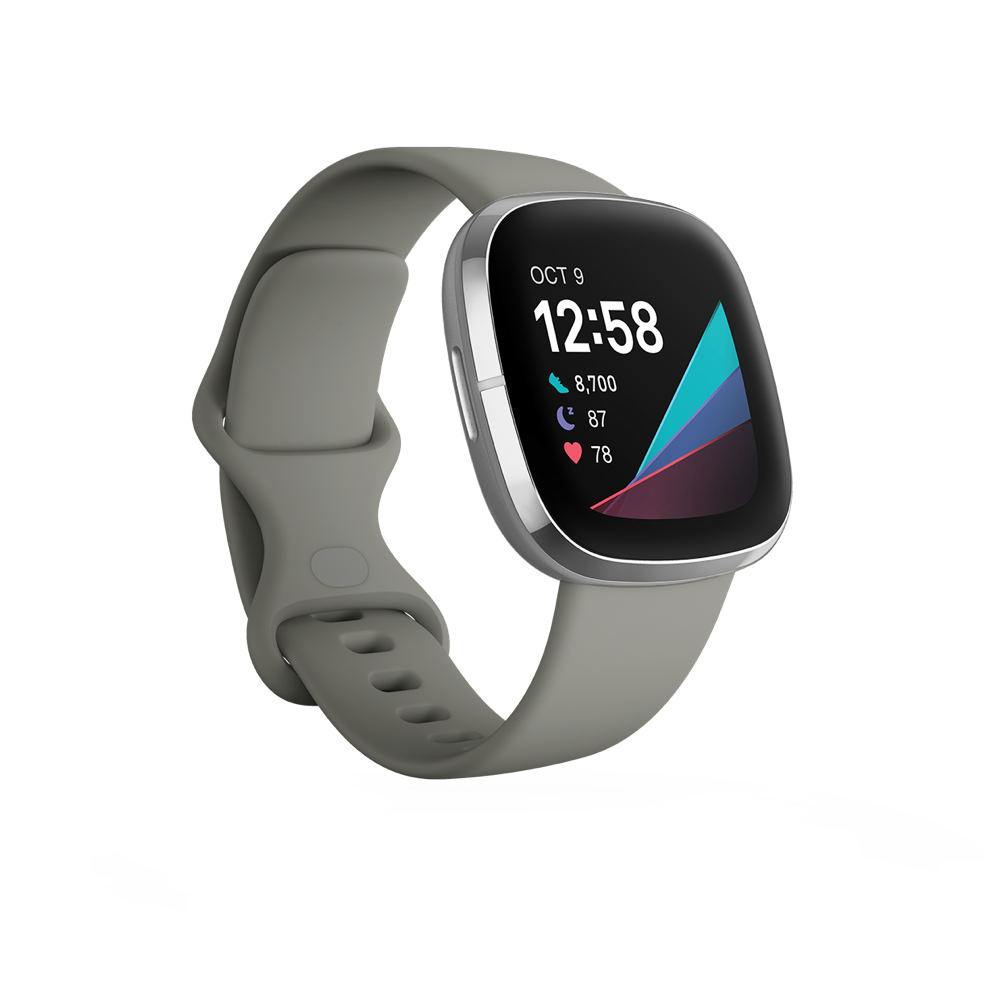 Be sure to sync your Fitbit to your smartphone, tablet, or computer. This will make it easier to monitor and update changes in your location and time zone.
However, if your device is out of sync for some reason, you can follow either of these two steps below to re-sync your Fitbit to it.
STEP 1
Turn on your Fitbit device tracker
Switch on your Bluetooth in the pairing device of your choice.
Launch the Fitbit app on your smartphone, tablet, or computer.
Select the Fitbit icon of your phone on the Fitbit mobile app. A pop-up menu will come up to inform you of the last time you synced your Fitbit.
Tap the icon similar to two arrows forming a circle for a manual sync.
STEP 2
Using a smartphone
Open the Fitbit app on the device of your choice.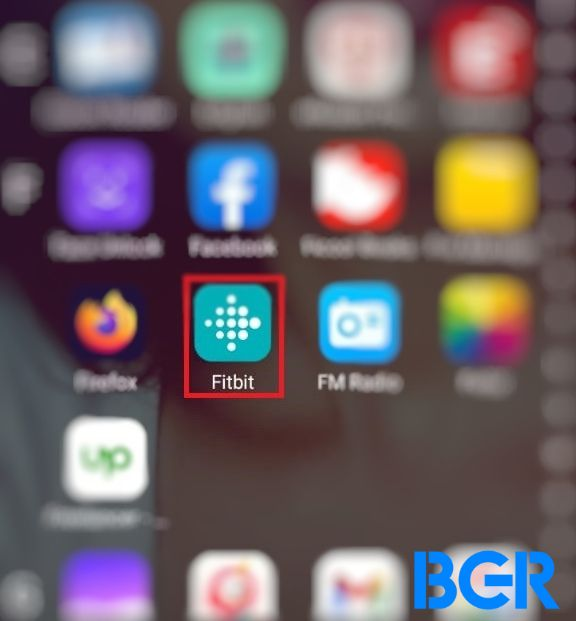 Tap the account icon at the top menu section on the Fitbit app dashboard.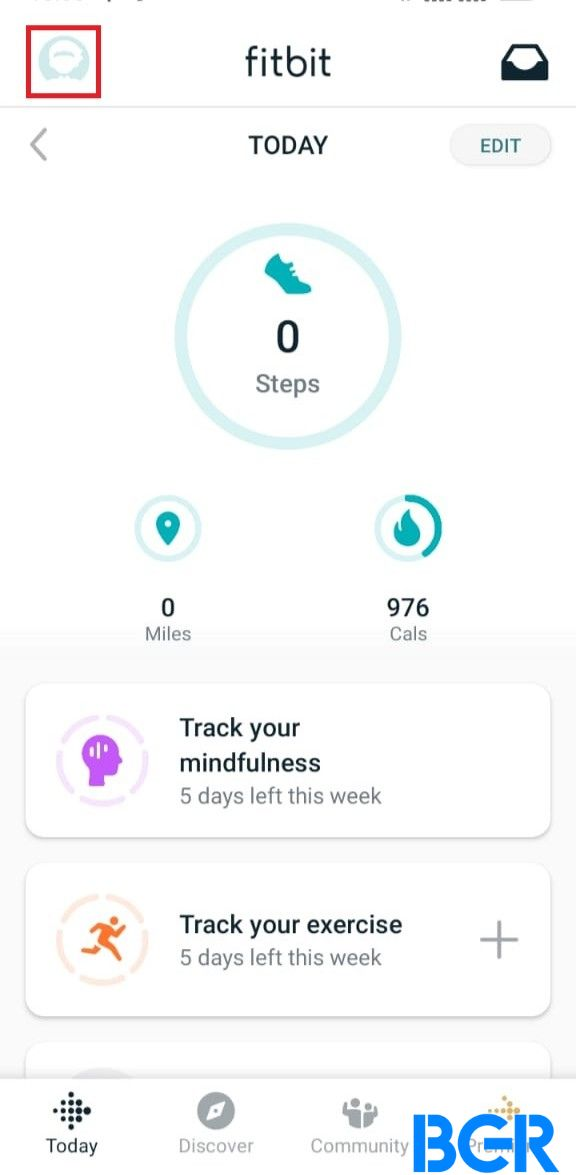 Select the right device, then choose "Advanced Settings" or "App Settings."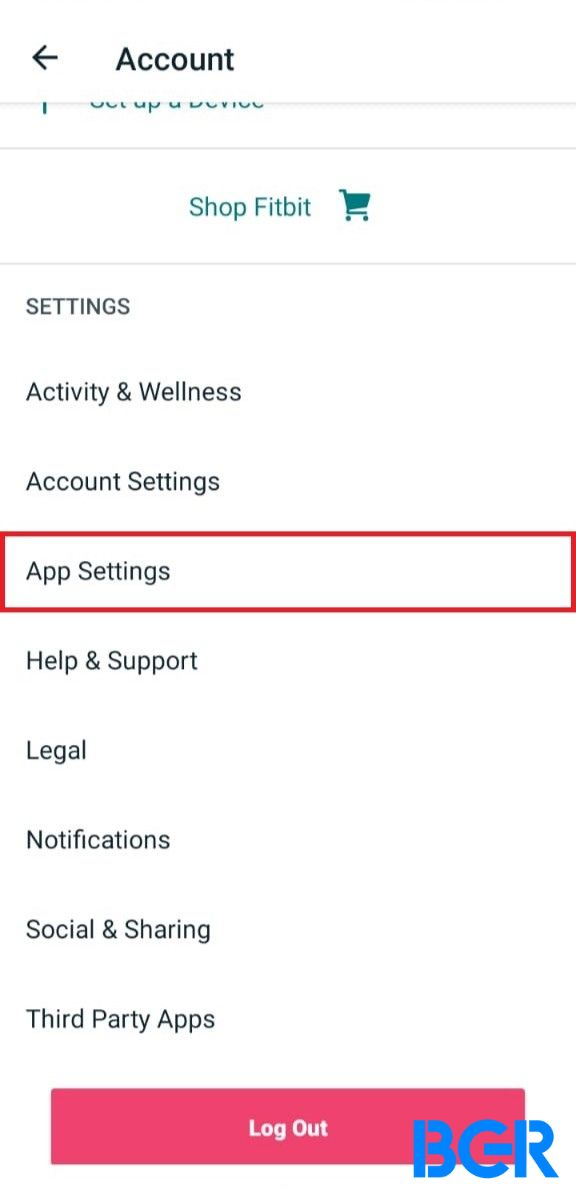 After choosing advanced settings or settings, turn off the automatic time zone feature.
For iOS devices, tap "Time Zone" and switch off the "Set Automatically" feature.
For Android, turn off the "Automatic time zone" option.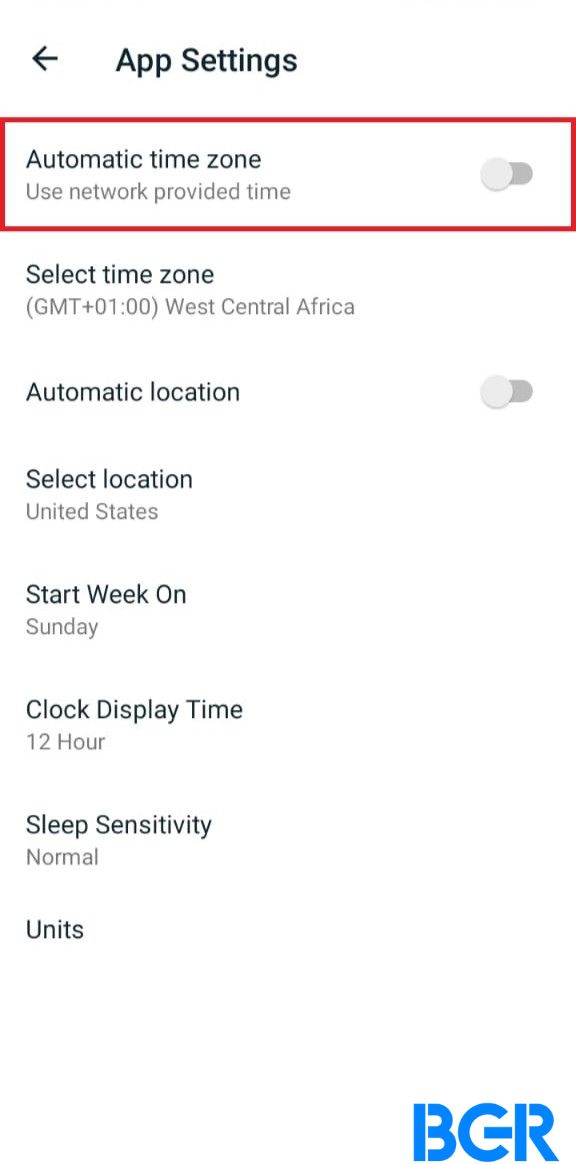 Once this is done, tap "Time Zone" or "Select time zone." Then, select your correct time zone.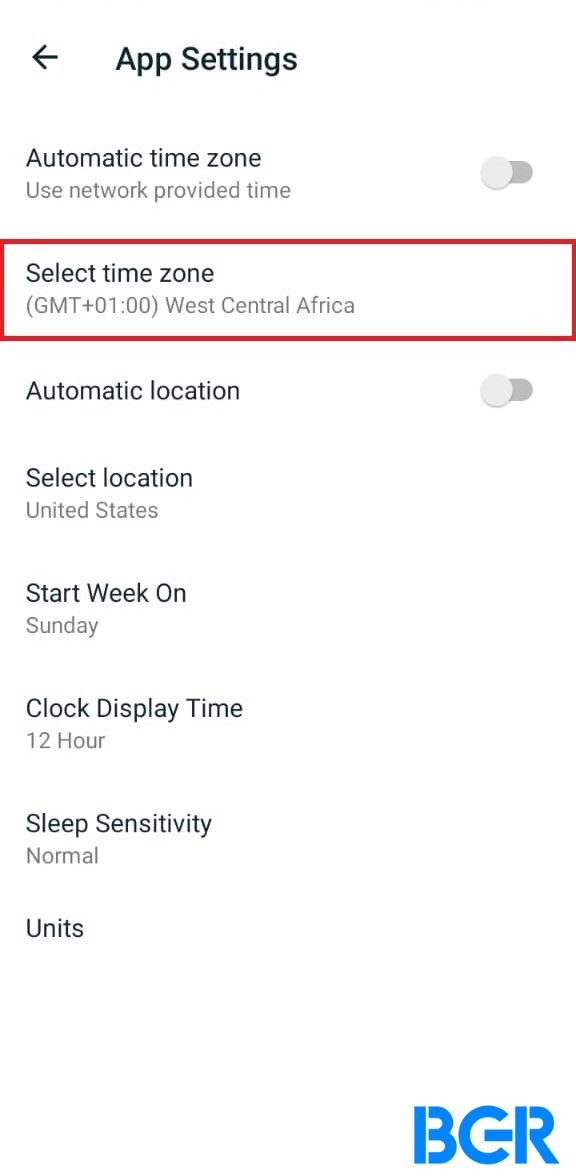 Return to the Account page and select the "Sync Now" option, or return to the main dashboard and swipe down to sync.
Using a web browser
Enter accounts.fitbit.com in a browser and log in to your Fitbit dashboard.
Click the gear icon in the top-right corner of your screen. Then, click the app "Settings" in the dropdown menu provided.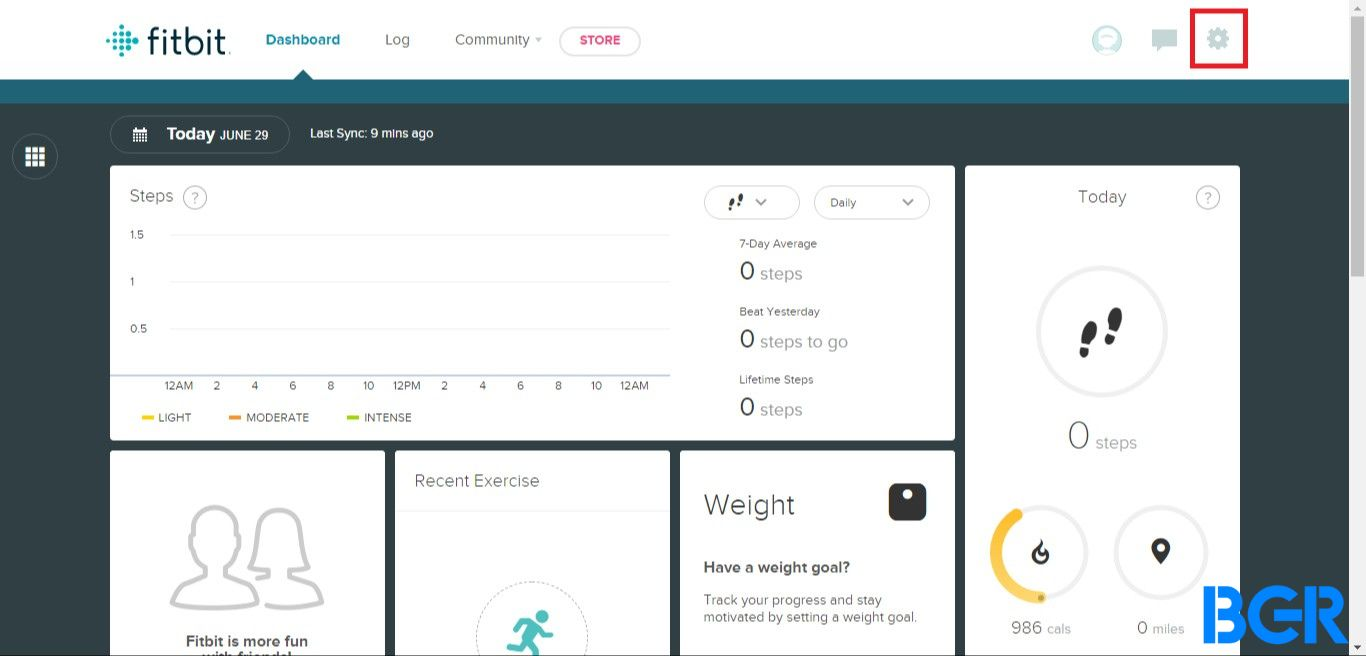 Select the "Personal Info" page on the left side of the screen if you are not already on the page.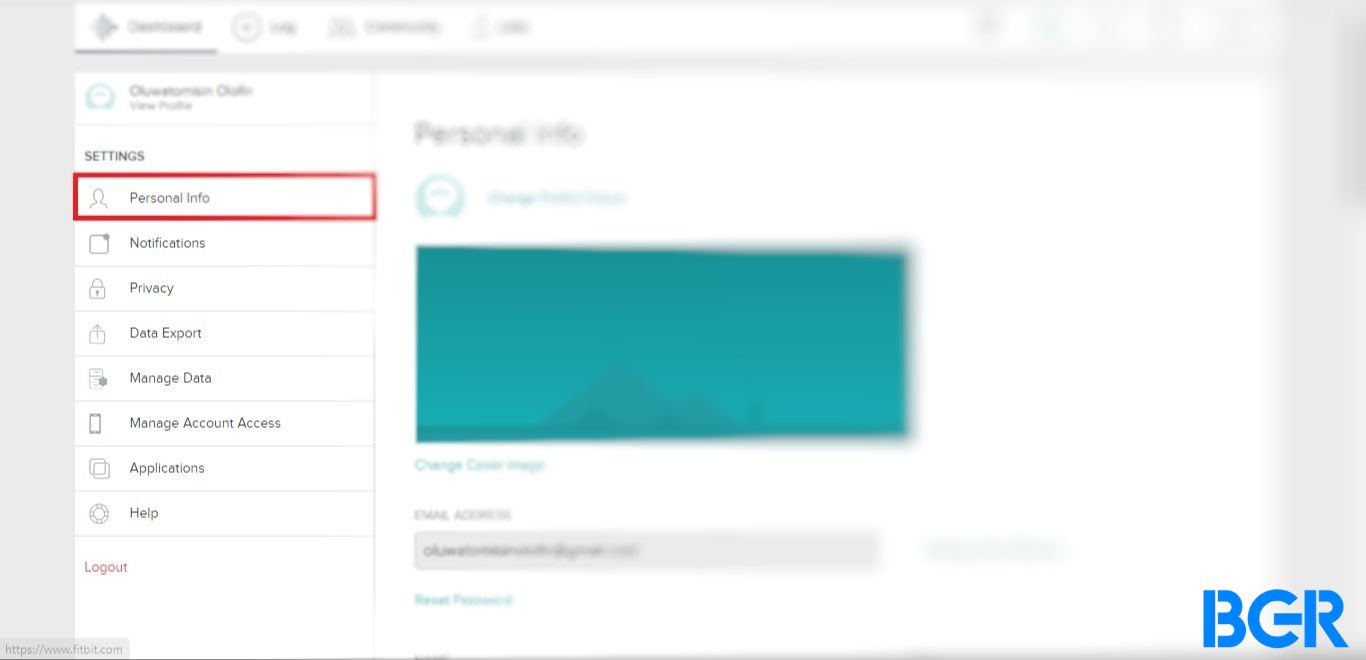 Scroll down to the "Advanced Settings" section, and choose your correct time zone.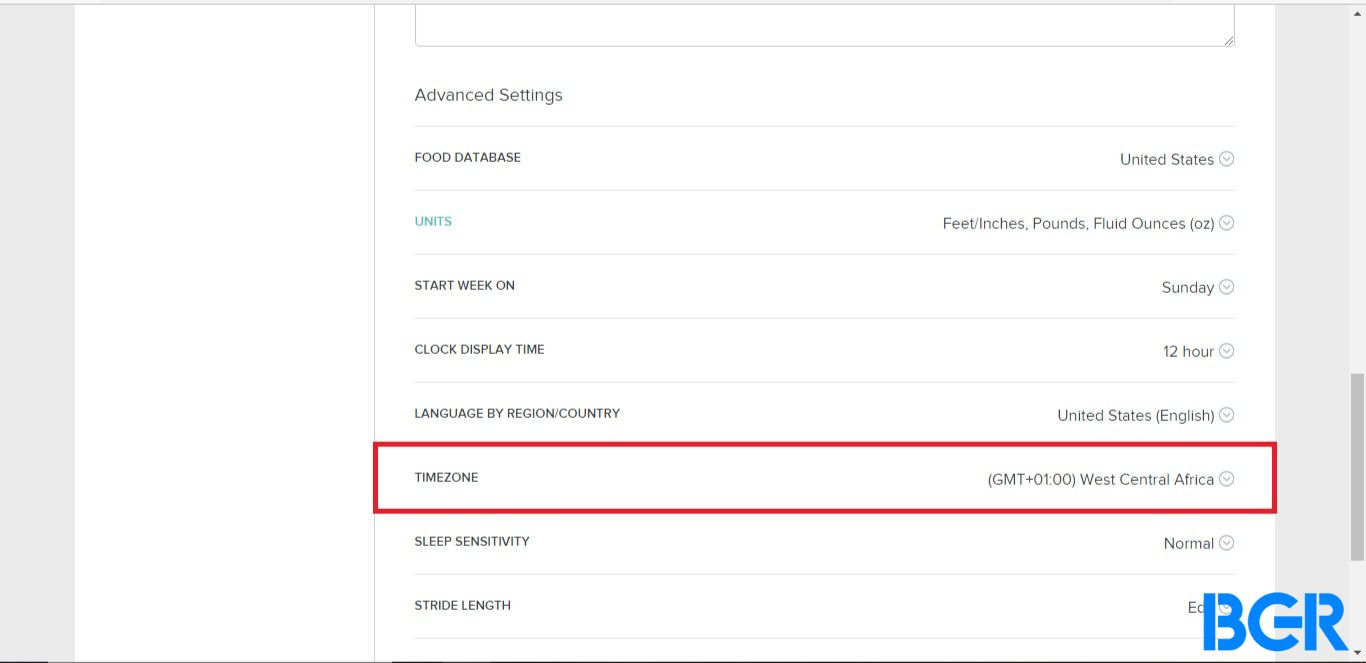 Finally, click "Submit" to save the changes. Then, sync your Fitbit tracker.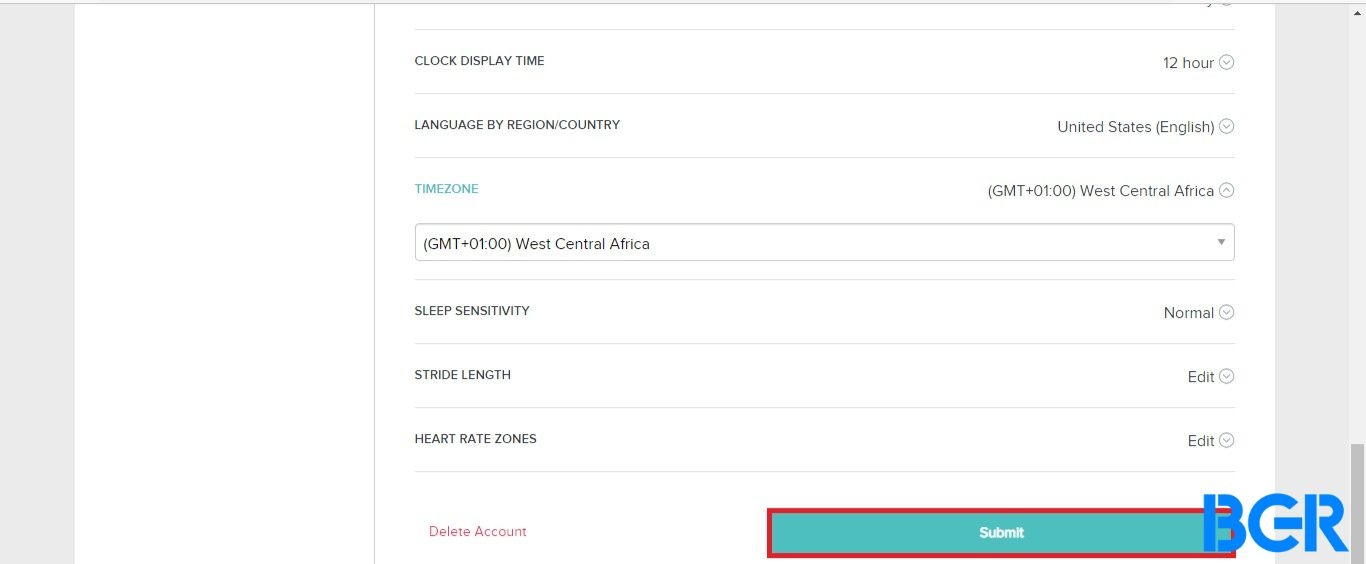 Your Fitbit device is now synced to the app. It should now display the correct time zone you've chosen. You can double-check to confirm that the time zone setting is working.
How to change your Fitbit time between the 12-hour and 24-hour clock formats
Follow these steps to customize the time/hour format on your app.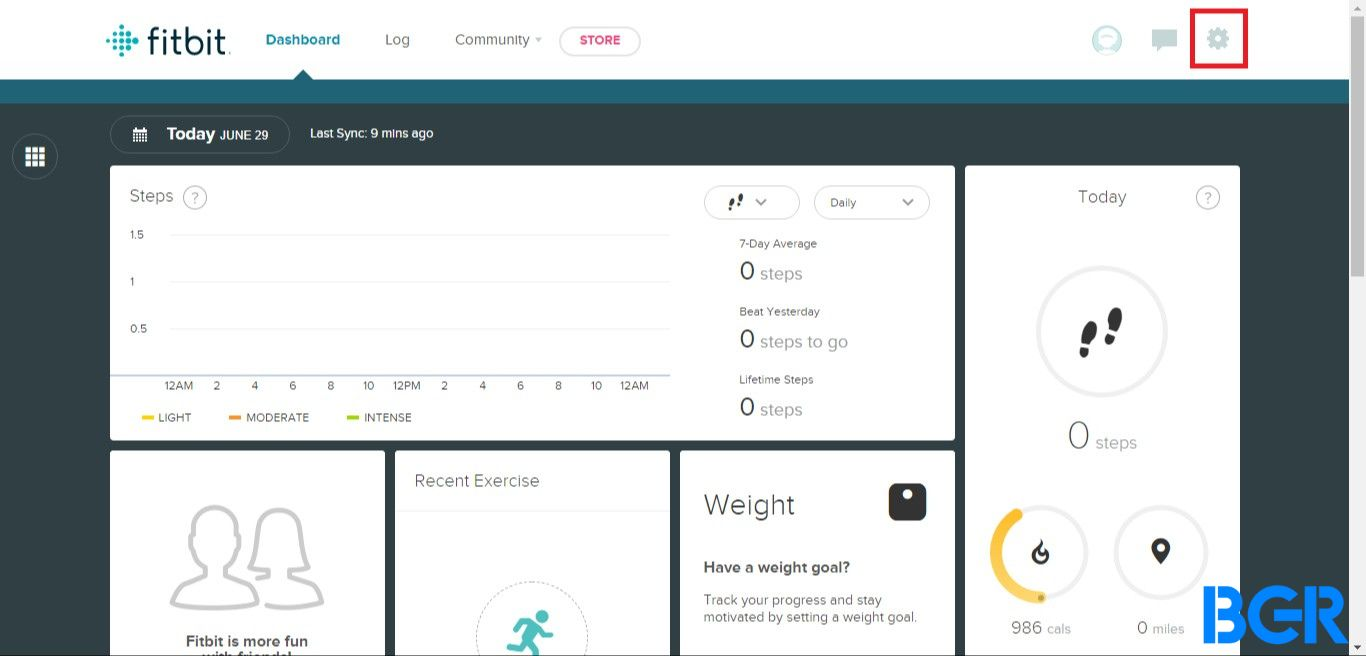 Select "Settings," then the "Personal Info" tab.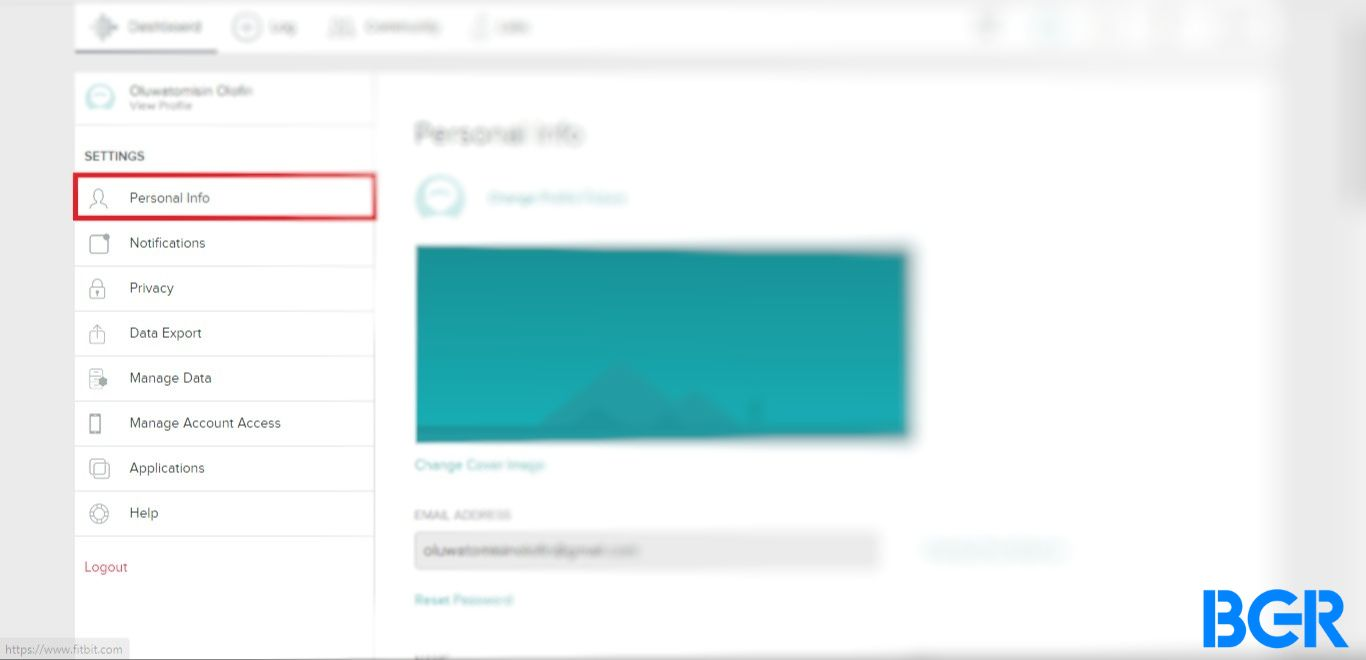 Go to "Advanced Settings" and find "Clock Display Time."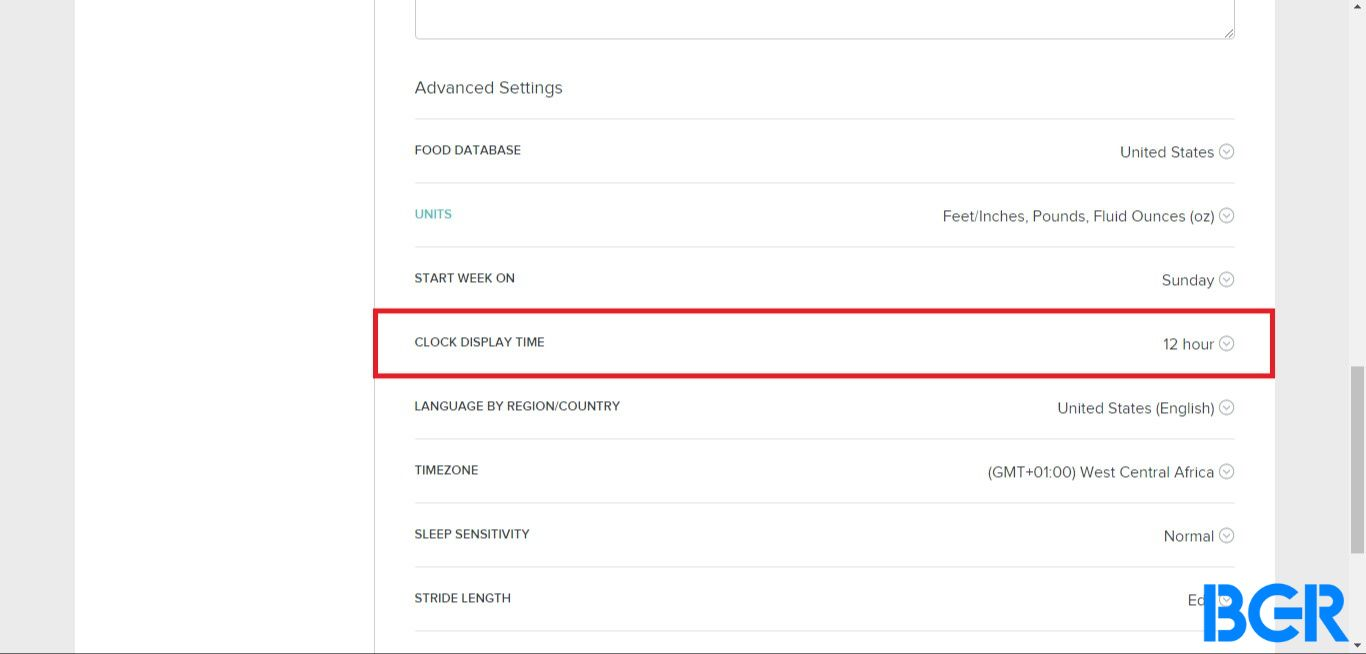 There will be a choice to display time in 12- or 24 -hour units. Choose the clock display time you prefer, and click "Submit" to sync your Fitbit tracker.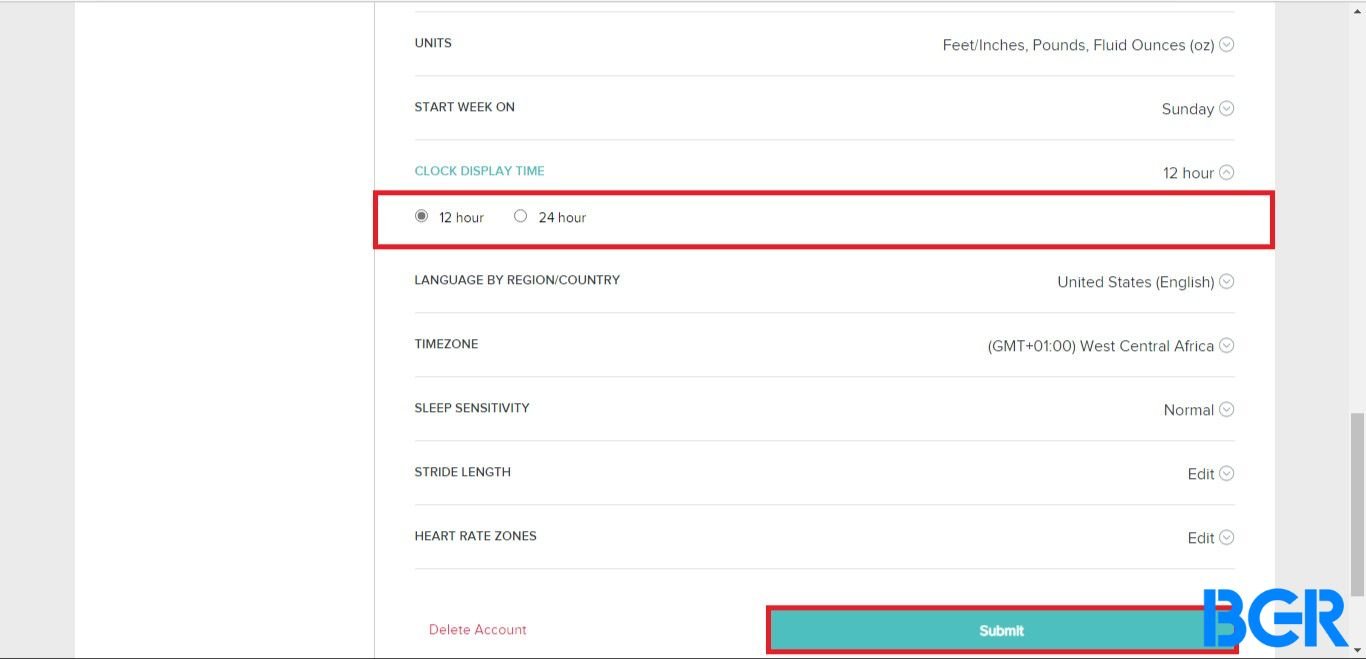 Tip: It is advisable to turn off your Fitbit device during this process.
FAQs
Why is my Fitbit showing the wrong time?
This might be because you do not have the automatic time zone feature in your phone's settings. You can rectify this by turning on the time zone option so that the Fitbit app can monitor the changes made and automatically set the correct time.
Will my Fitbit change time automatically?
Yes, it should, especially if you sync it with your phone or computer. Ensure you turn on the "set time zone automatically" option in your settings. If it is but still displays the wrong time zone, you can turn it off and manually set the correct time zone.
How do you change the time on a phone?
You can do this by going to Settings on your phone and selecting "System," then "Date and Time." Proceed to set the time and date according to your preference.
Why is my automatic date and time wrong?
This might be because you have the automatic date and time options off. To turn it on, go to Settings > System > Time & Date. Switch on the Automatic date and time option, and your device will correct the time automatically.
Why can't I change my time on my phone?
To manually change the time on your phone, go to Settings > System > Date & Time. Then, disable the "Set time automatically" toggle. You can now tap Date and Time to set them manually.
Why can't I turn off set time automatically?
Some mobile carriers won't let you turn off automatic date and time on your device. To fix this, try updating your carrier settings, then contact your carrier directly to find out.
How do you adjust time zones?
You can adjust time zones by opening the Clock app on your phone. Tap more and settings. Then, select "Change date and time" to set the time zone automatically.
Why did my phone time change today?
Smartphone clocks are liable to automatically change or adjust if your software is up to date. You may also have to update your clock once daylight saving time ends if you previously meddled with the settings and changed time or date defaults.