Believe it or not, it's been a whole year since Fortnite burst on to the scene and became the biggest video game on the planet. To celebrate the occasion, developer Epic Games is hosting a limited time in-game event starting on July 24th which will give every player a chance to complete birthday challenges to unlock free cosmetic items. The event will last through August 7th, so be sure to play within those two weeks to get the rewards.
Thankfully, you won't have to spend hours grinding for the rewards either, as the birthday challenges are even easier than the typical daily challenges. Play 14 matches to gain 5,000 XP, deal 1,000 damage to opponents to unlock the Fortnite Birthday! emoticon, and dance in front of ten different birthday cakes to unlock the Happy Birthday! spray. Once you've completed all three, you'll earn the Birthday Cake Back Bling for your character.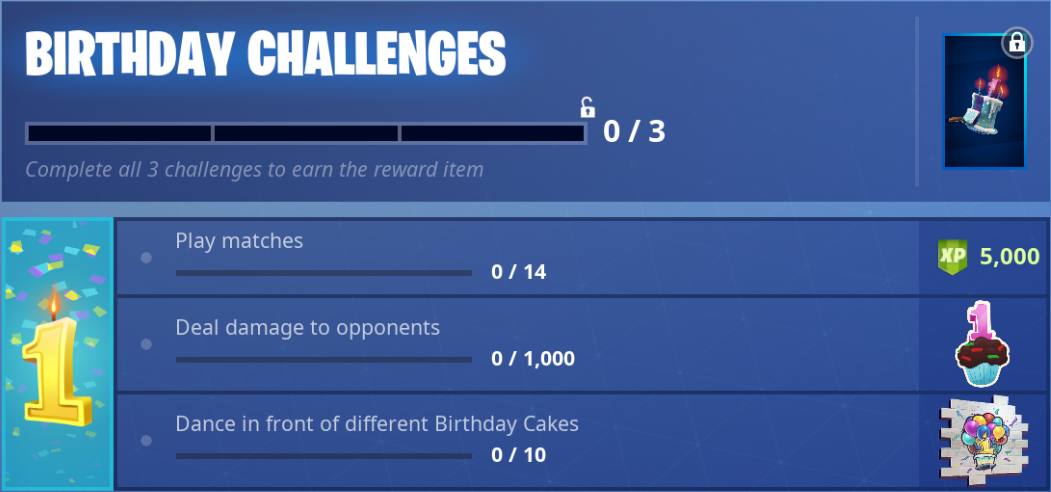 If you've bought the entire Fortnite experience, you can also unlock the Birthday Brigade Ramirez Hero by completing the Fortnite Birthday questline in Save the World mode. You can also earn tickets to spend on Birthday Llamas which can drop heroes and weapons from every event in Fortnite over the past year.
If you haven't played Fortnite in a while, this is a great time to jump back in. Season 5 just kicked off a few days ago and there are all kinds of new locations, new vehicles, and new weapons to check out. Just remember that the event doesn't actually begin until next Tuesday, so don't burn out over the weekend!