Pokemon Go might be one of the biggest mobile games of all time, but it's not the only Pokemon game on the App Store. This week, it was joined by a goofy game called Magikarp Jump, which won't make nearly the splash that Pokemon Go made, but is entertaining enough in its own right. That's one of eight free iOS games we're highlighting this week, all of which you can check out below.
Deadheads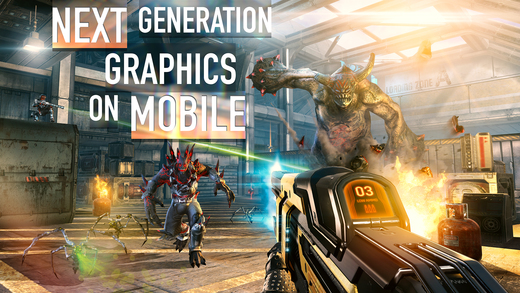 The FPS perfected for touch. Challenge players in huge online multiplayer battles, form a clan, compete in tournaments and fight your way to the top.

Collect cards to unlock weapons & characters and customize with amazing skins. Compete in Leaderboards and add other players to your friends to play private and public party games. Create or join a clan to share resources and build your own community. If you like shooter games, we've got you covered, with plenty more features being worked on behind the scenes!

FEATURES
– Battle with players from all around the world in real-time
– Skill based matchmaking favouring player skill and minimum wait time
– Intelligent controls including tap-to-shoot anywhere a customizable HUD
– Earn medals to increase your bounty and compete in global & local Leaderboards
– Progress through Leagues to reach legendary status and get regular rewards
– 4 Multiplayer game modes – Team Deathmatch, Elimination, Infected and Mayhem
– Train & practice in Single Player missions
– Build your card collection to unlock and upgrade weapons and characters
– Collect beautifully designed skins for your weapons and characters
– Build a community of players with Friends & Clans – share resources and create private matches
Download Deadheads free on the App Store
---
Fastlane: Road to Revenge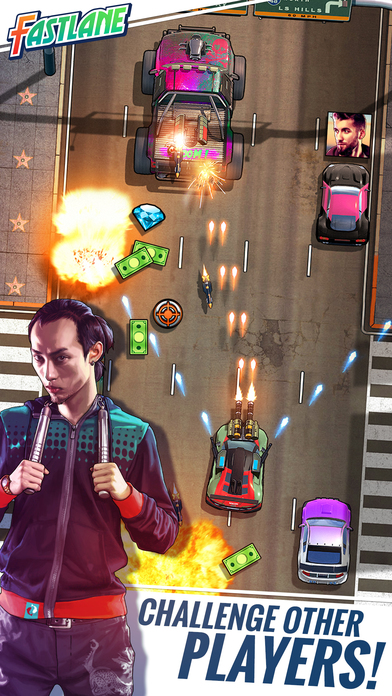 THEY TOOK YOUR CITY. THEY SHOULD'VE TAKEN YOUR CAR!

Reclaim your No.1 position as you blast past other players and outrageous gang bosses in Fastlane: Road to Revenge!

Pick-up this FREE classic arcade shooter and play anytime OFFLINE!

BUST OUT THE BIG GUNS
• 20 exotic cars to collect and upgrade.
• 10 unique & powerful UAVs.
• Game changing vehicle transformations to rain destruction on your rivals: Talon Gunship, Vulcan S-22, Tempest C-3.
• More gear and gadgets than Elon Musk!

CHALLENGE PLAYERS WORLDWIDE
• Blast your way past players the world over.
• Overtake rivals to steal their score bonus.
• Race through 30 player leagues with escalating difficulty.
• Challenging environments and lethal obstacles.
• Can you reclaim your status as top boss?

RICH STORY CAMPAIGN
• 11 crazed bosses out to stop you in your tracks.
• Complete the campaign and reveal the identity of the boss who took over your turf.

HUGE SOUNDTRACK
• Actual in-game radio allows you to select your own beats.
• Wide selection of in-game music.
• Customize your own game soundtrack.
Download Fastlane: Road to Revenge free on the App Store
---
Iron Blade: Medieval Legends RPG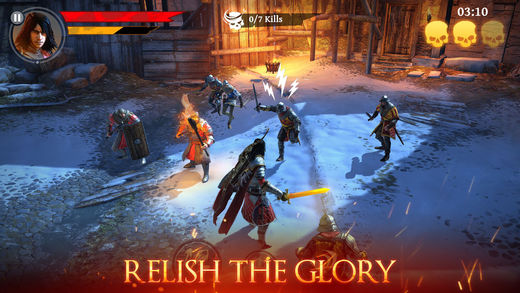 … To all Action-RPG fans:
The ancient prophecies were true. The Demon Lord Baal is set to return for his second attempt at claiming this world: The signs are everywhere, the darkness is emerging, the cultists are stronger.
The Templars need your help! Join millions of other players in a glorious quest to save all of humanity or spend eternity in the depths of Hell. Are you the Iron Blade-bearing savior the prophecy foretells?

EPIC MEDIEVAL ODYSSEY
o Defeat countless threats by battling possessed and demonic forces to complete the explosive story.
o Immerse yourself in the rich history and fantasy of the Middle Ages — a legendary world where cold, hard steel meets elusive arcane powers.
o Fight your way through scenic European landscapes to bring the light back to Notre Dame, defeat the undead hordes in Scotland, and banish the vampires in Transylvania.

CRISP, INNOVATIVE COMBAT
o Indulge yourself in our combat-focused gameplay, specially designed for mobile. Release your inner warlord!
o Develop your own combat style: Link up taps and swipes to perform unstoppable combos that will crush your foes.
o Amazing special attacks and finishing moves that end in decapitation, dismemberment and other mortal blows.

MASTER LEGENDARY POWERS
o Unlock, manage and upgrade a variety of weapons and armor to best express your fighting style.
o Unleash devastating spells and skills on your foes.

CASTLE-CONQUERING PVP
o Attack other players and crush their defenses to claim their resources.
o Manage your domain resources and improve castle defenses to ensure better odds of keeping them safe.
o Acquire and upgrade castle-defender units that protect your domain while you are away.
Download Iron Blade: Medieval Legends RPG free on the App Store
---
PES 2017 -PRO EVOLUTION SOCCER-
Experience the latest entry in the PRO EVOLUTION SOCCER series on your Mobile Device! Featuring official partnerships with club giants FC BARCELONA, LIVERPOOL FC, BORUSSIA DORTMUND, and official licenses with top teams and players from Europe, Latin America and Asia!

PES 2017 Has Gone Mobile!

THE PES 2017 MOBILE EXPERIENCE
Take total control of every action on the field in a way that only the PRO EVOLUTION SOCCER franchise can deliver!
Natural player movements, precision passing, and in-depth tactics bring the true experience of the beautiful game to your mobile device!

SWIPE TO PASS! TAP TO SHOOT!
Controller actions have been optimized to make playing on your mobile device feel as smooth and exciting as a PES action game should! Utilize PES "Advanced" controls for precise passing and controlled shooting. "Classic" virtual pad controls are also available.
Master your technique and feel the excitement of scoring the winning goal in the ultimate action soccer game!

OFFICIAL CLUB PARTNERSHIPS
Scout and recruit thousands of soccer stars from the best teams in Europe, South America, and Asia.
Prepare to feel what it takes to play with or against stars like Lionel Messi, Neymar, Luis Suarez, Andres Iniesta, and Gerard Pique.

THE OFFICIAL "UEFA CHAMPIONS LEAGUE"!
Experience official visuals from the "UEFA Champions League" as you compete against the top teams in Europe.

BUILD YOUR WINNING ELEVEN TEAM
Acquire players through Scouts, Agents, or the Scout Auction.
Choose the best players to fit your unique tactics (e.g. Giroud has excellent physicality and Ozil excellent balance)
Every player is unique and every match is a new experience!

PLAY VS IN REALTIME PVP!
Challenge Friends in "Local Match" or discover new rivals in "Online Match" mode. PES 2017 mobile now lets you play PES on-the-go, anytime and anywhere.
Download PES 2017 -PRO EVOLUTION SOCCER- free on the App Store
---
Pokémon: Magikarp Jump
You can raise the ultimate Pokémon!

What is this world coming to?! It's a Pokémon game all about the weakest Pokémon ever—Magikarp! Anyone can play this simple game in their spare time to create the most majestic Magikarp ever in this official Pokémon app!

What kind of Pokémon is Magikarp?
・ It's famous—for being pathetically weak, unreliable, and generally useless.
・ It can't learn any powerful moves—all it does is flop around and splash!
・ When it flops its way too high in the sky, it's sometimes snagged by the Bird Pokémon Pidgeotto—never to be seen again!

Many surprising events lie in store for this pathetic Pokémon. But don't worry—it'll just keep on jumping until it can jump no more!

What kind of game is this?
● Simple controls let anyone easily raise many generations of Magikarp
Tap the food that appears on the screen to feed your Magikarp, or have it complete training to increase its Jump Power! It's easy to do, and with each generation you raise, the next generation grows even faster!

● Discover all kinds of Magikarp to show your friends
In this app, you can fish up all kinds of Magikarp with unusual patterns like calico and polka dots! When you encounter a rare Magikarp, show it off to your friends on your social media networks!

● Pokémon like Pikachu and Piplup are here to help
A number of popular Pokémon can appear to help your Magikarp grow. Keep playing to find out which Pokémon you'll befriend!

● Spruce up your pond with Decorations!
Spruce up the pond where you raise your Magikarp. You can make the pond of your dreams, and help your Magikarp grow faster, too!
Download Pokémon: Magikarp Jump free on the App Store
---
Reckless Getaway 2
It ain't no cakewalk topping the most-wanted list. It takes hard work and a sweet ride… Dodge the heat and don't get dead!

– Free-roaming levels
– Loads of epic cars to unlock
– Simple controls
– Pretty awesome graphics and physics
… and stay tuned for:
– More Cars
– More Levels
– And a bunch of features we keep working on…
Download Reckless Getaway 2 free on the App Store
---
Skullgirls
Skullgirls is a 2D Fighting RPG packed with unique, colorful characters to collect, upgrade, and customize as you search for the mysterious SKULLGIRL!

STUNNING 2D ANIMATION
Thousands of frames of carefully hand-drawn 2D animation delivers one of the most visually polished games you'll play on mobile!

A FIGHTING GAME FOR EVERYONE
– Custom controls designed specifically for mobile allow you to effortlessly execute a wide variety of amazing moves and combos with a single tap or swipe.
– New Fighting Game player? Use Fight Assist and focus ONLY on strategic decisions.
– Experienced Fighting Game player? Discover deep tactical choices, unique combos, juggles, and more!
– Finally, a Fighting Game for everyone!

FULL RPG PROGRESSION
– RPG players will feel right at home!
– Collect dozens of Characters that can each be customized in a variety of ways to suit your playstyle!
– Level Up and Evolve your Fighters ot maximize their potential
– Unlock Special Moves and Blockbusters that can be upgraded and equipped before each battle – pick the perfect loadout!
– Build teams of up to 3 Fighters – find the best combination to maximize synergies!
– Explore an ever-growing collection of characters

GAME MODES
– Story Mode – Seek out the Skullgirl before she destroys New Meridian!
– Prize Fights – Compete with other players to unlock new Fighters!
– Daily Events – Character-specific events are added daily – can you conquer them all?
– Training – Practice combos, try different team combinations and perfect your technique!
– More modes coming soon!
Download Skullgirls free on the App Store
---
Zombie Gunship Survival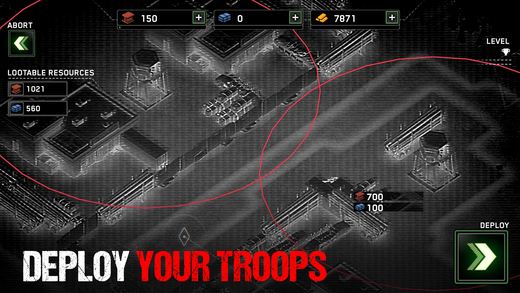 PROTECT HUMANITY. SHOOT ZOMBIES.

You are one of the few survivors of a devastating zombie apocalypse. To stay alive, take the gunner seat aboard a heavily-armed AC-130 ground attack aircraft and blow up the undead in this intense, high-definition shooter experience.

Zombie Gunship Survival is the newest follow-up to the #1 top-grossing hit shooter, Zombie Gunship.

● Shoot zombies from an AC-130 Gunship.
● Experience high-definition visuals, intense scenarios and realistic weaponry
● Protect your ground troops during risky scavenging missions
● Build up your remote airfield as a base for operations
● Defend your base against zombie assaults
● Survive in a hostile environment and unleash hellfire from your gunner seat!