With the holiday season right around the corner, you're probably trying your best to save up money to buy gifts for friends and family. Well, we've got something that might help: another selection of free apps for the iPhone, iPad and iPod touch.
DON'T MISS: Forget the iPhone 8, this all-screen iPhone SE is all the smartphone you need
These are paid iPhone and iPad apps that have been made available for free for a limited time by their developers. There is no way to tell how long they will be free. These sales could end an hour from now or a week from now — obviously, the only thing we can guarantee is that they were free at the time this post was written. If you click on a link and see a price listed next to an app instead of the word "get," it is no longer free. The sale has ended. If you download the app, you will be charged.
2Do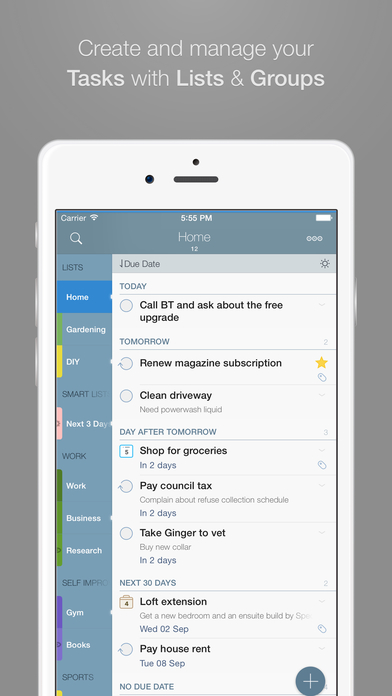 Normally $14.99.
2Do lets you take a completely different approach to managing your tasks. With its extremely simple-to-use interface and a comprehensive and flexible set of powerful features, it lets you focus on what's most important to you: your life. There is no wrong way of using 2Do, and unlike other to-do apps, it won't force you in adhering to a particular task management methodology.
hocus.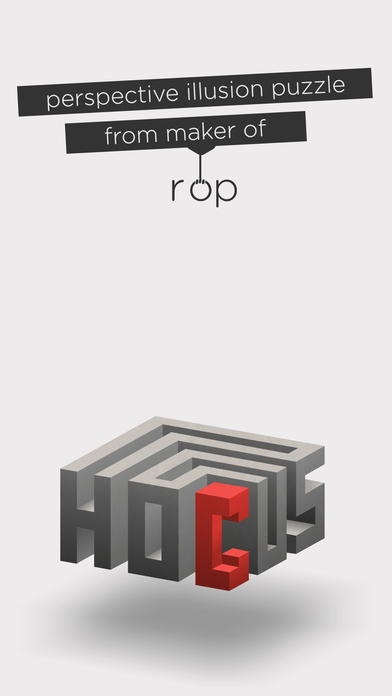 Normally $0.99.
New, polished, mind-bending, minimal puzzle game with dozens of levels and extra-ordinary design

Features:
– Beautifully crafted minimal puzzle game
– Create/share your own levels
– Load / take picture of levels cards
– 100 mind bending levels

Exclusive for iOS.
Optimized for iOS and human brains
Later
Normally $0.99.
Later lets you schedule reminders in natural way by choosing times like this evening, tomorrow morning or next week.

Download Later for Mac to sync your reminders and even add reminders that appear when you're back on your Mac.

*** Limited time offer: Get Later for Mac for just $4.99 (50% OFF). ***

Key benefits:
– Predefined presets saves time (you can change these in settings)
– 3x faster to schedule a reminder than iCal

If you send an email to yourself whenever you want to schedule a reminder or find that other reminder apps just have too many options to add a simple reminder, Later app will be ideal for you. It is dramatically simpler reminder's app that has the perfect amount of features.
Tactus Music Player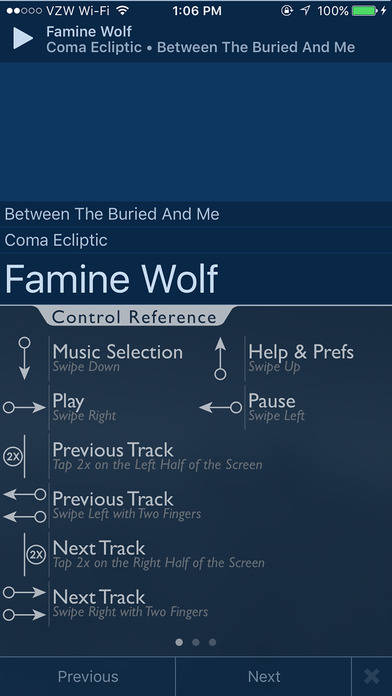 Normally $0.99.
Tactus is an alternative music player app for iOS that uses gestures to control playback. Forget hunting for all those small icons and controls. Experience the flexibility Tactus offers whether your device is mounted, in your hand, or even if you're not looking at the screen!

• Intuitive Gesture Control
– Play
– Pause
– Previous Track
– Next Track
– Seek (playhead tracks your fingers position)
– Jog (interactively change playback rate from -10x to 10x)

– Change Volume
– Change Repeat Mode
– Quick Track Select

– Music Selection
– Help & Preferences
– Display Control Reference
– Disable Sleep & Screen Lock
– Pocket Mode

• Learning Tactus
– Control reference in main interface
– Full help available with more detail

• Music Selection
– Albums / Artists / Songs / Playlists
– Classic list views with large rows
– Contextual options like search and shuffle in every screen
– Gestures to play, preview, and pause from any selection

• Music Tactus Works With
– Music transferred to your device from iTunes (ripped CD's, etc.)
– Music downloaded locally via iTunes Music Store

• Interface Features
– Designed with a clean interface for minimal distractions
– Full visual feedback for every gesture
– User selectable background color
– Interface colors compliment selected background color
– High contrast text to maintain readability
– Animation only when there is interaction, to keep distractions low
– Visual feedback kept to top of screen to always be visible
– Gestures leave marks when changing values for better tracking

Tactus will never ask for, or use, any personal information. There are no ads. There are no popups to remind you to review the app (reviews are of course very welcome). And of course, no in-app purchases!
Stopwatch+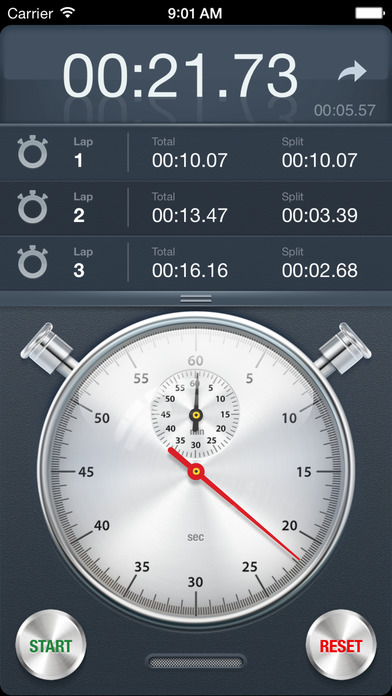 Normally $2.99.
Stopwatch Plus is the most professional and beautiful mechanical stopwatch in the App Store. Do not miss a perfect companion for sports and other activities!

Features:
· An identical and time-tested interface!
· Detailed lap history
· Share recorded laps by Email, Facebook or Twitter
· Copy records to clipboard
· Shake to undo Reset
· May run in background
· Localized for 11 languages
· Universal application: install once, use it across all devices
· Skeuomorphic design
· Keeps the device from going to sleep when you are timing
· Optional ticking noises
Don't Run With a Plasma Sword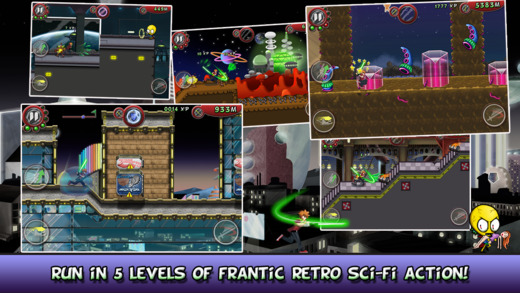 Normally $1.99.
Run to save the world in this humoristic tribute to retro sci-fi movies! A fun, challenging runner with tons of content!!

Start with a simple combat runner and evolve your gameplay to ultimately navigate masterfully through challenging level configurations and boss fights!!

For a long time Cornelius has been working at the local comic books stand shop. For about as long, he's been daydreaming about how somehow, someday, he'd become a Hero. After all, wasn't what the fortune cookie was saying, right? … right? Fortunately the Aliens invasion would come just in time to provide with this opportunity…

Don't Run is a breathtaking, retro sci-fi, combat based, funny sidescroller with tons of content.

Anyway, what more can you ask for than running with a plasma sword, slicing-up invading aliens?
Download Don't Run With a Plasma Sword
Aerium for iMessage
Normally $0.99.
Aerium for iMessage — another simple way to enjoy the world's most efficient iPhone weather app.

With fluid animations and a really colorful nowcast, Aerium for iMessage is brutally simple and efficient for your daily needs. Awesome, right? Its uniqueness stands in the weather descriptions that can help you out with the way you'll need to dress before going out.

= Awesome Features =
+ Unique weather descriptions for you. Your mom says hi.
+ Works everywhere. Worldwide. Supports both ºC and ºF.
+ A beautifully crafted visual experience.
+ Exact location based on weather data from Forecast.io
+ Designed to utilize minimal system resources as well as energy.
Minibudget Pro
Normally $1.99.
Establish a budget, record and manage your expenses by category.

"Shall we help to manage the couples dating spending(expenses)?" This was the idea that we started the Minibudget project.

Minibudget is a simple account book as household budget, subtract the expenses from the budget.
It can be used as build plans, managing budget, travel expenses, simple account book.

There is also "expected expenditure" feature to help more convenient use. You can simulate the dating and travel expenses in advance, and it can be used as a checklist when you go to shopping.

– Convenient manage the budget
– Manage spending by Category
– Check spending list more easily by graphs
– Intuitive user interface (Intuitive design)

We've been thinking how we give you the most easiest way to use in this universe and more intuitive user interface that gives you fun feelings.
Svep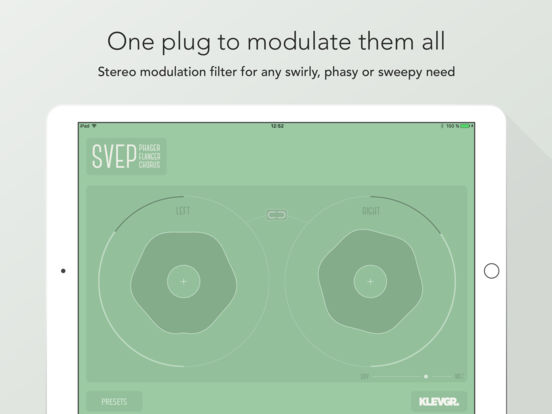 Normally $2.99.
Svep is a stereo modulation filter effect suitable for any sound. All parameters are easily editable in one screen and the clean and responsive user interface encourages creativity. Tweak it to produce anything from old-school phasers to subtle choruses.

Features:

– Works as a Audio Unit Extension (AUv3) with compliant hosts.

– Inter App Audio (IAA) compatible. Works fine with Garageband and other IAA compatible hosts.

– Supports Audiobus 2 including state saving.

– Load / Save presets

– Remembers IAA hosts (will automatically load last used settings when a host connects)

– Low cpu usage

– Simple but yet powerful user interface

Svep is developed by musicians for musicians.
Video Downloader for Vine
Normally $0.99.
"Video Downloader for Vine" will help you to download the coolest videos from Vine with no limits for you to be able to watch them, save to your Camera Roll and share to social networks.

Love watching cool Vine videos? Now you can not only watch those videos, but also download them to have offline copies with "Video Downloader for Vine" app! You just need to log in to "Video Downloader for Vine" and start downloading the funniest vines with no limits! You can save anything from your feed or private messages and watch them any time you wish even when you are offline!

Also you can save them to your Camera Roll and share with friends to Facebook, Twitter, Instagram or via e-mail.

Functionality:

•Download Vine video from the feed
•Download vdeo from private messages
•Watch downloaded videos in offline mode
•Log in "Video Downloader for Vine" easily using e-mail and Vine password
•User-friendly interface
•Save vines to your Camera Roll
•Share to Facebook, Twitter, Instagram
•iPad, iPhone, iPod Touch support

Now you can have the best Vine videos available to watch them anytime you wish even in offline mode!