If you purchase an independently reviewed product or service through a link on our website, we may receive an affiliate commission. Learn more.
Another day, another awesome roundup of the best paid iPhone and iPad apps on sale for free. We shared 10 different iOS apps with you on Wednesday, and a bunch of them are still freebies if you hurry. Today brings nine fresh new apps on sale though, and you'll find them all listed below.
These are paid iPhone and iPad apps that have been made available for free for a limited time by their developers. There is no way to tell how long they will be free. These sales could end an hour from now or a week from now — obviously, the only thing we can guarantee is that they were free at the time this post was written. If you click on a link and see a price listed next to an app instead of the word "get," it is no longer free. The sale has ended. If you download the app, you will be charged.
IntelliDrink PRO – Blood Alcohol Content (BAC) Calculator
Normally $2.99.
IntelliDrink is a sophisticated blood alcohol content (BAC) calculator. It has a simple user interface and uses a complex algorithm for precise calculations.

Watch your BAC rise and fall on the graph and analyze your consumption. Set a limit and get notified when you exceed or fall below your limit.

Dr. Gary Rosen, Professor of Mathematics, University of Southern California (USC):
"We used IntelliDrink to obtain estimated BAC in a research project aiming to calibrate sophisticated data analysis software for autonomous transdermal alcohol sensors. It has been ideal for our purposes, and we are planning on using it in a number of future studies."

User comments:

"As an expert in the field of BAC absorption and elimination, I am impressed by this app."

"Incredible. Absolutely wonderful and fascinating algorithm that takes into account absorption time."

"By far the best drink tracking app I've found… Cheers!"

"Way better (and easier to use) than expected. I can really, truly see this being a life-saver (or DUI)."

"Great app. I have been using it for a few weeks and tonight used it side by side with an Alco-sensor device that was just calibrated. It was within .001! I was surprised. This thing is accurate. Good job."

"This app is simply amazing. None of the other bac/drink tracking apps out there even come close!"

"A great deal. Seems very accurate. It really helps you get an idea of how long after a drink it affects you. The app looks great. The multi users is easy to switch between, letting you easily track friends. They seem to have the formula that is most accurate. Takes into account the time it takes you to have a drink. Real time graph is informative. 10 star A+++ app"

Here are some features of IntelliDrink:

– It uses a sophisticated algorithm for precise calculations based on scientific knowledge.

– It calculates the absorption and metabolism of alcohol over time.

– You can analyze your alcohol consumption using the statistics it provides.

– Apple HealthKit integration. Can read age, weight, height, sex and write BAC and calories.

– You own your data! IntelliDrink does not send any private data to the cloud.

– It features a BAC alarm that notifies you when you exceed or fall below your limit.

– It considers your age, weight, height, gender, drinking frequency and stomach content.

– You can create new drinks or modify existing ones.

– It's battery friendly, with no background calculations.

A lot of effort was put into IntelliDrink's algorithm for calculating the values. Most BAC calculators assume that you quickly downed your drink, and, even worse, they assume that you've already completely digested the drink. This is not how it works in real life.

The core concept of IntelliDrink is based on the scientifically accepted Widmark formula, which is used by the German justice system. This formula allows you to your BAC based on how many grams of alcohol you ingested.
But this formula does not consider the amount of time it takes you to ingest a drink, the content level of your stomach, or the speed of your metabolism.

IntelliDrink takes all of these factors into consideration because it uses a much more precise algorithm. When you use IntelliDrink, you can access data supported by solid scientific research in a beautiful and easy-to-use interface.

Please note that the values should be used only as a guide and should never be used to determine if you are able to drive.
IntelliDrink accepts no responsibility or liability for the accuracy or completeness of the information provided.
Silly Stickmen
Normally $0.99.
This will be the most fun you've ever had with stickmen. Tailored to work with iMessage, there's an animated stickman for every message. From just hanging around to heavy lifting – this is stickmen with a twist.

** Note**

To use the stickers, send your message first and then stick the stickmen on to the message by dragging them with your finger to the place you'd like to put them.

Thanks to our customers for the feedback.
Where To Go? PRO
Normally $2.99.
⊛⊛⊛⊛⊛ No matter if you need to find the closest bar, grocery store, pharmacy, taxi firm or historical point-of-interest, WhereToGo is the app you need. ⊛⊛⊛⊛⊛

It works globally, has over 500 location types and even provides turn-by-turn directions to your chosen destination.

Fully customizable, an incredibly simple interface hides a sophisticated engine that plugs into the largest Points of Interest database and global map on the market.

Can't decide where to go? Use our Shake-to-Suggest feature to explore and experiment!

√ Full Retina HD Graphics for iPhone and iPad.
√ Over 500 preset searches sorted into 12 common categories.
√ Search can be done within a few taps, no typing needed.
√ Fully customizable. You can sort, add, remove, rename all items.
√ Simple user interface and intuitive user experience.
√ Review your recent searches and most used searches.
√ Configure start-up view, choose between home, recents or last viewed.
√ Shake-to-Suggest, deciding on where to go can be just a shake away.
√ User Ratings and Reviews, sharing your experience with other users.

COMING SOON: Our team is already working on new features including offline database, user-ratings and translation into many languages. Stay tuned for the free update and feel free to contact us for any feedback so we can improve the app for you.
Instants – Instant Photo Maker
Normally $0.99.
Instant Photos are everywhere! Make yours without an instant Camera!

Give every photo a realistic Instant Photo effect.

As simple as:

1. Load a photo from the Camera Roll.

2. Choose frame.
– Swipe to add filters.

3. Share.

4. Enjoy your Instants.
Download Instants – Instant Photo Maker
ASCII Doodles
Normally $0.99.
You ask:
"ASCII Doodles? Really?!?"

We reply:
"Why not?"

:P
Waffle – Video Player
Normally $0.99.
Waffle is powerful YouTube client designed exclusively for iOS. Watch new uploads from your subscribers, view and post comments & replies, browse through categories, search videos without ads. Supports background playback, 3D touch, picture in picture mode and Side View & SplitView.
Download Waffle – Video Player
Breathing Zone
Normally $3.99.
Breathing Zone is a mindful breathing exercise that slows your breathing rate to calm you down and help you feel more relaxed.

With Breathing Zone, you can change your life one breath at a time.

• Lower Blood Pressure
Clinical studies have shown that daily guided breathing can help reduce high blood pressure.

• Recommended by over 90 top US doctors.

Featured In:
• Harvard Medical School's Harvard Health Newsletter
• Time Magazine
• New York Magazine
• The Huffington Post

Easy to Use
All you need to do is breathe in and out according to the guide. There are no complicated settings and no difficult breathing patterns to master.

Features:
• Log your Mindfulness Minutes to Apple's Health app.
• Easy to follow voice instructions.
• Intuitive animated breathing guide.
• Breathing Analyzer measures your breathing rate.
• Weekly Target tracks your therapeutic breathing minutes.
MovieSpirit – Professional Movie Maker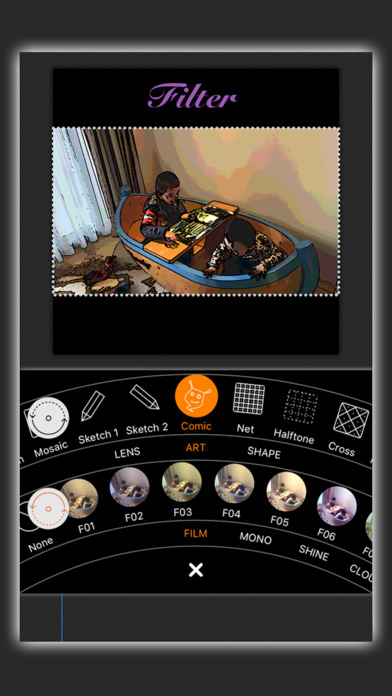 Normally $9.99.
Do you want to make your own movie?
Do you want to be a director, producer, starring…?

In MovieSpirit, these characters can be done by you!

Through MovieSpirit, You can combine all media elements such as video, photo, music, text and voice with your creative ideas. What's more, you can add various effects to them(scene switching effects, text animation, etc).

Super function

– Add multi-layer video (video in video effect)
– Add slow motion/fast motion effect to video
– Add text (Expression icon can be added, too)
– Record voice
– Add music
– Add Gif
– Various scene switching effects
– Various shapes for video/photo
– Painting directly on the movie
– Chroma Key for overlay video/photo
– Color Splash
– Warp video/photo freely
– Motion Point for creating amazing movement of video/photo/text
– Import video/photo/music/gif from computer directly for editing through Wi-Fi
– Create and share movie to Instagram, Youtube, Vine, iCloud, Facebook, etc
Download MovieSpirit – Professional Movie Maker
Note-Ify Notes
Normally $0.99.
«Note-Ify Notes» – is a simple and convenient note-taking app. Organize your notes, ideas, shopping lists, tasks and different reference information. It features user-friendly and customizable interface.

Key features:
– FOLDERS – for easy grouping of notes
– ICLOUD-SYNC – Your notes are available on the iPhone, iPad, Mac OS X *
– COLORS – if you want to highlight the different types of notes just mark Important notes as red, Affairs – as green (for example)
– Favorite Notes – select and group important to you notes
– PASSWORD on a separate note – you can lock notes with password that contain confidential information (passwords, card numbers, love letters ;-))
– MAIL-TO-SELF – fast "one-click" sending of notes to the selected email-address, don't waste your time on typing your email. Just click on the button and note is in your mailbox
– SKINS, FONTS, COLORS – configure the application so as you want

= PRESS ABOUT US =
APPADVICE.COM:"This application provides you with an elegant and easy way to keep your thoughts "

APPPIPE: "Simple, efficient and beautiful, FNotes might just be the best iOS notes app you've never heard of"

APPSAD: "Note-Ify – minimalistic replacing to standard notes"

APPLEDIGGER: «Note-ify – this is the best alternative to the standard notes"

APPLENEWS: "Note-Ify – a new look at the minimalist notes that fit perfectly into the new design of the Apple"

YABLOCHNO.COM: «Note-Ify – a new look at familiar application notes … Note-Ify is quality and useful … synchronization and customization of appearance make it a viable alternative to the standard" Notes ".

APPLEMAGAZINE.COM: "… application in its current form is certainly the easiest way to create notes, and will make a great addition to your performance"

APPPICKER.COM: «Note-Ify features a very basic interface, and I actually prefer Productivity apps of this kind which keep things nice and simple. I definitely think the streamlined layout is a huge benefit for busy bodies like you and I!»

APPPICKER.COM: «I've used a fair few apps that are similar to Note-Ify in that they attempt to keep things simple and streamlined. Some developers manage to pull it off, while others fail miserably, and I would say that Note-Ify Notes definitely falls into the former category, with a fantastic minimalist interface and some of the smoothest overall functions you'll ever see»
---
Our deals and product reviews are picked by BGR's expert editors and team.

Follow @BGRDeals on Twitter to keep up with the latest and greatest deals we find around the web. Prices subject to change without notice and any coupons mentioned above may be available in limited supply.