Prime Day 2017 was massive, but Amazon isn't the only game in town when it comes to hot deals. There are also plenty of bargains to be found in Apple's iOS App Store, and today we've got eight paid iPhone and iPad apps to share that are all on sale for free for a limited time.
This post covers paid iPhone and iPad apps that have been made available for free for a limited time by their developers. BGR is not affiliated with any developers. There is no way to tell how long they will be free. These sales could end an hour from now or a week from now — obviously, the only thing we can guarantee is that they were free at the time this post was written. If you click on a link and see a price listed next to an app instead of the word "get," it is no longer free. The sale has ended. If you download the app anyway, you will be charged by Apple.
Planett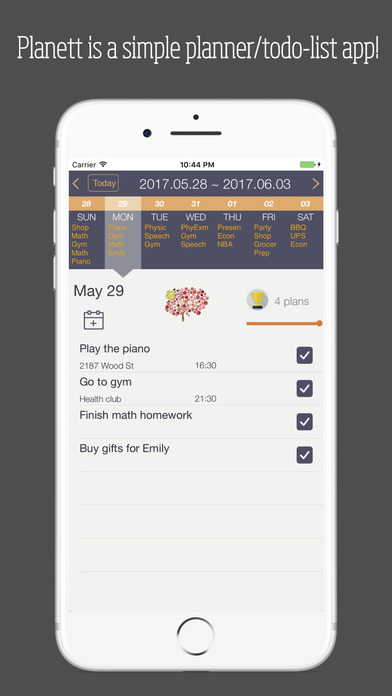 Normally $1.99.
Planett is a simple planner/todo-list app!

◊ Week-at-a-glance interface makes it easier for you to keep track of your plans ◊

The top bar shows all your plans in that week with abbreviated tags. Too lazy to create a tag for each plan? No worries! We will automatically create tags for you! Of course, you could also customize it yourself!

◊ No confusing options and complicated instructions ◊

Frustrated with planner apps that have too many unnecessary options that only confuse you? Planett is here to save you! Planett gives you the same feeling of simplicity as writing with a paper planner. With the minimum input, Planett plans your day with the most user-friendly designs like no other app does.

◊ Decorate your daily list by posting a picture of the day ◊

Make your lists extra special by uploading a memorable photo each day! By clicking on the default picture, you could change the picture and display a photo of your own. All your pictures are saved locally, which gives you a private place to record your day!
Timeline – World history
Normally $5.99.
A world timeline app that show important world event to you.
after play game or watch tv, get some time to find what happened in the real world,maybe you will find something different.
Download Timeline – World history
Cloud Hub
Normally $0.99.
Cloud Hub is a simple documents reader and manager for iOS platform.

It allows to download or upload files from clouds services like Box, Dropbox, OneDrive, Drive, iCloud. Built-in FTP client. Import media files from Photo Albums. Manage all local files stored in the app; change name, move, copy, delete, create directories, view the content of the most common file types like PDF, PNG, JPG, MP4, iWork, MS Office files. Share files using social media accounts like Facebook, Twitter etc.

• Cloud Hub reads files:
– PDF
– MS Office: Word, Excel, Powerpoint (doc, docx, xls, xlsx, ppt, pptx)
– iWork: Keynote, Pages, Numbers
– text (txt, rtf)
– images (jpg, png, gif, tiff)
– MP3, WAV
– MP4, H.264
– html, css

• Access Services (download/upload):
– Dropbox
– Box
– OneDrive
– Google Drive
– iCloud
– FTP

• Local file operations:
– Copy
– Move
– Delete
– Change name
– File details
– Send via e-mail
– Share using social media (Facebook, Twitter etc.)
– Upload to server (Dropbox, Box, OneDrive, Google Drive, FTP)
– View the content of the most common file types
– Image viewer
– Video player (MP4, H.264)
– Music player (MP3)

• Local directory operations:
– Create directory
– Delete directory
– List chosen directory
Visual Show Cam
Normally $1.99.
This is a simple and easy-to-use filter applications, included a total of 350+ models commonly used filters and professional special effects shots, with professional photo output and image processing technology, powerful easy to use and can quickly deal with all photographs,your photos more exciting and moving!

◉ KEY FEATURES
• Enhance your photo with 350+ sleek filter.
• Professional photo output and image processing technologies.
• Unique style photo post-production image processing functions.
• Filter effects to make your photos more exciting and moving.
• Crafted style special effects to make your photos more expressive.
• The powerful easy-to-use, can quickly deal with all the photographs.
P – Ringtones
Normally $2.99.
P- Ringtones app feature: free easy to download, ringtones, notifications, and alarm sounds.
• Browse categories with thousands of high quality ringtones that match every personality for all your friends and family.
• Find fun sounds effects, classic ringtones and something for every holiday and event you can think of
* Ringtones
* Text Tones
* New Voicemail Tones
* New/Sent Mail Tones
* Calendar Alerts
* Reminder Alerts
* Tweet Sounds
Share ringtones with your friends on Facebook, Twitter, Instagram and more.
And:
– Built-in music player for pre-listening
– Create ringtones from your favorite songs
– Universal application: install once, use it across all your devices
Beginner Runner
Normally $1.99.
Get off your Couch and start your journey toward running your first 5k feeling strong, confident, and ready for the challenge, with Beginner Runner.

****Prepare for your first 5k with Beginner Runner ****

If you're an apparently healthy adult, 8 weeks is all you need to prepare for a 5k. Our straight-forward plan is designed for "First Time Finishers", to ease them into training by gradually increasing the volume over the course of 8 weeks. Our plan begins with several weeks of walk/run/walk workouts

————————————————
APP FEATURES
————————————————

• Our Beginner Runner 5k training app will get you in shape, and help you cross the finish line

• All Features fully enabled and workouts included with purchase, and no ads

• Audio and visual cues to guide you through each workout

• Works perfectly even if your device is locked

• Social – Share your progress and your completed rides on Facebook and Twitter

• Speed, distance & pace and map your routes with GPS support

• Workouts indoors or outdoors

• Easy-to-follow workouts for 8 weeks, 3 times a week

• Simple, attractive and easy-to-use

• Integrated with Apple Health for Calorie calculation & saving workouts

• Listen to your music and the coach will alert you

• Control music through the app or headphones
Taskful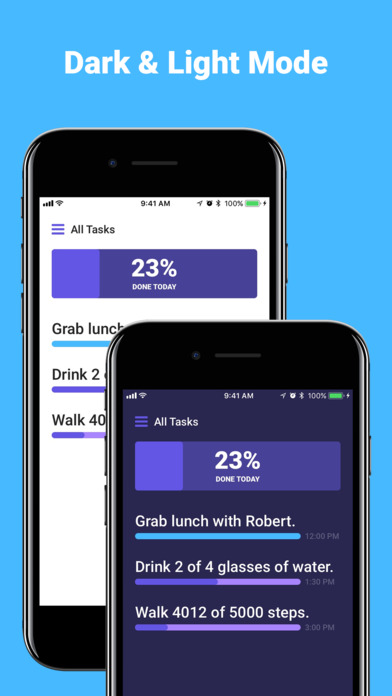 Normally $1.99.
Taskful is a smart to-do list and task manager app that helps you stay on track and meet your deadlines. It breaks down all of your tasks and only shows you what you need to do today, so you can stay focused and motivated. Whether you are trying to track your steps, drink more water, or read that book you haven't picked up in a while, Taskful is designed to help you get stuff done.

Featured as the one of Apple's *New Apps We Love* in the United States, the United Kingdom, Canada, Australia, New Zealand, and Poland!

Featured as the *iOS App of the Day* on Product Hunt!

"Competing in the world of task managers and to-do lists is a tough gig on the App Store, yet it appears as though Taskful has found the sweet spot to prevail."
– Steffen Reich, iDownloadBlog.com

FEATURES:
-Automatically tracks steps with HealthKit
-Works in landscape & split screen mode (iPad only)
-A daily progress bar to keep you motivated
-Breaks up long tasks into daily tasks
-Daily progress reminders & encouragement
-Select days of the week to work tasks
-Set tasks to repeat forever
-Set task reminders
-Color categorize tasks
-View only one category at a time
-View only what you need to do today
-View upcoming tasks
-Dark & light modes
-Sort tasks by reminder time or category
-You can turn "Keep Device Awake" on
-The clean user interface allows you to stay focused
iWilde Collection
Normally $1.99.
iClassics: Beyond Engrossing

iClassics unites the old and the new to create immersive experiences that inspire and move everyone.

iClassics Productions has become famed for its Immersive Entertainment apps that specialize in the horror genre.

But with the iWilde Collection, an entirely different genre is given the same artistic and technological treatment as with the works of Edgar Allan Poe and H.P. Lovecraft.

In this moving creation, three of Oscar Wilde's most compelling short stories are made yet more magical by iClassics Productions, which includes The Selfish Giant, The Nightingale and the Rose, and The Happy Prince.

In this innovative Immersive Entertainment app, Wilde's allegorical tales are lovingly and artistically enhanced with interaction, illustration, animation, FX, and OST.

By casting a modern glare on Oscar Wilde's works, the result is a spectacular and wholly original experience that utilizes every feature of modern mobile devices (gyro-perspective, flash, vibration).

TILT to see more

TOUCH to transform

TURN to discover what's off screen

With the lovingly constructed enhancements for which iClassics Productions has become famous, this colorful and creative Immersive Entertainment app offers the modern reader the possibility of experiencing Oscar Wilde's beautiful short stories in a wholly original way.

▶ APP FEATURES:

Main features:

Available in 4 languages: English, Spanish, French and Portuguese.
3 stories, more than 61 illustrations, 120 animations and 53 interactive pages. Illustrated by Cesar Samaniego and directed by David G. Forés.
Over 40 minutes of Original Soundtrack by Gerard Pastor. Interactive Soundtrack: experiment and discover it!
Extras: Oscar Wilde biography.
Original tales from the writer – no adaptations.

Additional features:

Jump to any page in the book with our handy table of contents.
Page Memory. Leave the app at any moment, and come back to the same page.
Universal App. Pay once, run on iPhone and iPad.
Easy to use interface