Apple's new iPhone 7 and iPhone 7 Plus are two of the sleekest and most powerful smartphones the world has ever seen. And while we won't have any firm sales numbers from Apple until it reports its September-quarter earnings later this month, we have every indication that the company's latest iPhones are already two of the most popular phones of 2016. Not everyone is happy about the success Apple is seeing with its new phones though, and we're not just talking about Android trolls here.
BGR just issued a strong recommendation against buying Samsung's new Galaxy Note 7 in light of news that a "safe" replacement phone may have exploded aboard an airplane. Meanwhile, some companies are issuing even stronger recommendations against buying a new iPhone 7 or iPhone 7 Plus. In fact, there are companies out there that have gone as far as to threaten to fire employees who purchase a new iPhone.
DON'T MISS: Under no circumstances should you buy a Galaxy Note 7
Patriotism is a big deal in China, and some companies feel that buying a smartphone from a foreign company — specifically Apple — is not patriotic. As a result, they've issued warnings to employees: Buy an iPhone 7 and you'll be fired.
These aren't idle threats made to individuals in passing, either. Instead, companies are issuing formal written warnings against purchasing an iPhone. For example, the BBC found the letter below on Weibo and confirmed its authenticity: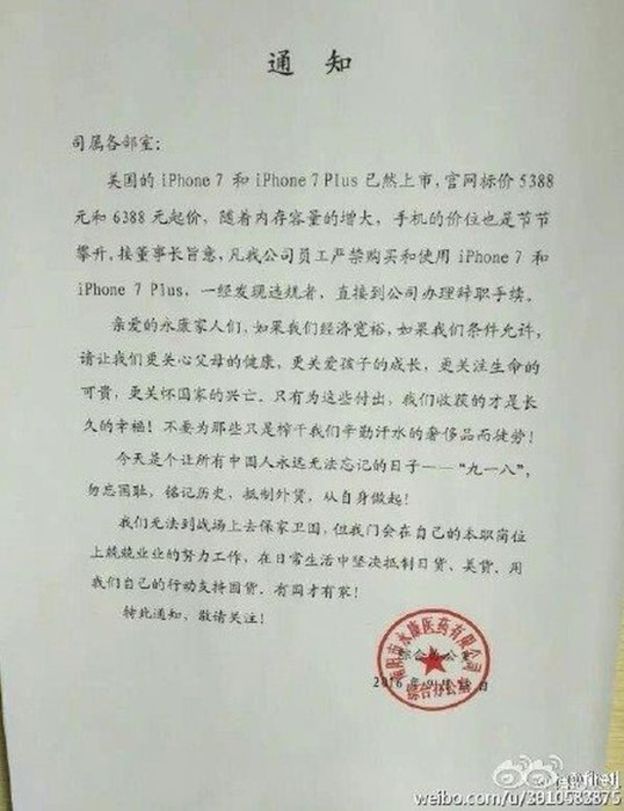 In the letter, Nanyang Yongkang Medicine Company explicitly told employees that they should not purchase Apple's new iPhone 7 or iPhone 7 Plus. What happens if they decide to ignore the warning and purchase a new iPhone anyway? "If you break this rule, then just come to the office straight way to hand in your resignation," the letter says.
That's not even the worst one. CNET points us to a report from China.org, which discovered that Fuling Xinjiuzhou Gynecology Hospital issued an even more strongly worded warning to its staff.
"The administrative office of the hospital has decided not to allow any staff members to buy the iPhone 7 or iPhone 7 plus," the hospital wrote in a memo to employees. "Anyone who insists on purchasing one will be removed from candidacy for annual rewards of outstanding performances. And those who could not afford an iPhone 7 cell phone but still bought one will be asked to resign."