If you purchase an independently reviewed product or service through a link on our website, we may receive an affiliate commission.
If you're looking for N95 masks for sale, don't — only healthcare professionals and first responders have a real need for N95 masks, and you're going to pay gouged prices for them anyway.
Instead, a huge mistake at Amazon means anyone is able to buy Honeywell RWS-54000 face masks right now for just $1.68 each, which is the best price we've seen since the novel coronavirus pandemic began.
The genuine Honeywell face masks are supposed to be available only to hospitals and government agencies, but someone made a mistake so they're now available to all Amazon shoppers.
These Honeywell face masks will definitely sell out soon and shipping times are already slipping, so order a few 5-packs now while you still can.
---
UPDATE: After briefly appearing back in stock, Honeywell masks are sold out again. MagiCare KN95 face masks are the most popular alternative, and they're cheaper right now at $2.50 each than they've ever been before:
Price:$49.95 ($2.50 / Mask)
Available from Amazon, BGR may receive a commission Buy Now
EARLIER: As everyone knows at this point, coronavirus face masks from top brands like 3M, Milwaukee, and Honeywell aren't available to just anyone on Amazon. Instead, they're "prioritized for organizations on the frontlines responding to COVID-19" like hospitals and local governments. Such is the case with Honeywell RWS-54000 face masks, as you can plainly see in this screenshot: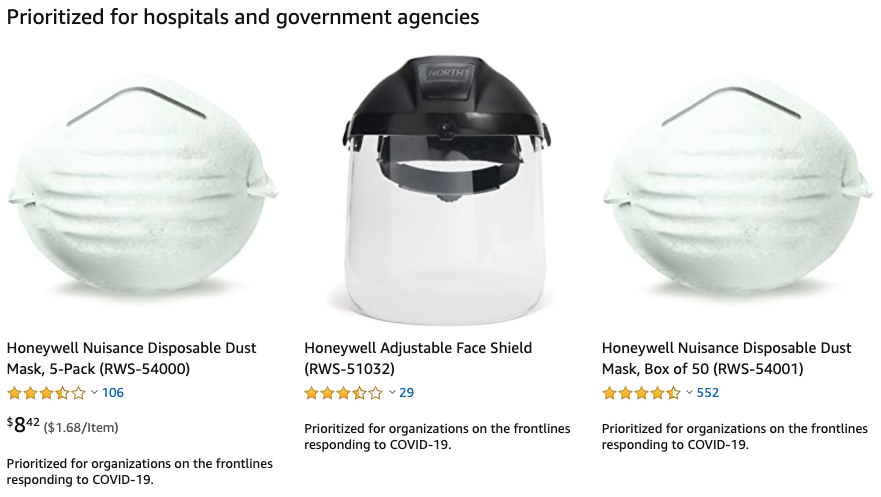 The first masks shown on the left there are Honeywell's RWS-54000 face masks, and you can clearly see that message that we've all become far too familiar with. We're not complaining, of course, since healthcare workers battling the novel coronavirus have a far greater need than we do for PPE like high-quality face masks.
As it turns out, however, someone seems to have made a mistake over at Amazon. Visit the Honeywell RWS-54000 page and you'll find that the masks are actually in stock and available for anyone to order!
We would normally keep this information a secret rather than encourage people to purchase face masks intended for healthcare workers, but this is a unique situation. These are not N95 face masks, they're not NIOSH-approved, and they're not even on the list of non-approved face masks that NIOSH has tested. These masks provide better protection than simple face coverings like Amazon's best-selling face masks, but they shouldn't be worn by doctors or nurses treating COVID-19 patients.
You can definitely continue to wear regular 3-layer face masks on a daily basis as long as you practice social distancing and good hygiene. But for higher-risk situations like public transportation, flying on an airplane, or visiting a doctor's office or hospital, we definitely recommend picking up som Honeywell RWS-54000 face masks — especially when they're genuine masks sold by Honeywell for just $1.68 each. That's about half of what you'd pay for the no-name KN95 masks that are sold on eBay and Craigslist!
We first told our readers about this awesome opportunity yesterday and thousands of people took advantage. Shipping times are now starting to slip but they're still available to order, so we wanted to give everyone one last chance to stock up before these Honeywell face masks inevitably sell out.
Honeywell Retail Nuisance Disposable Dust Mask, 5-Pack (RWS-54000), White Price:$8.42 ($1.68 / Mask)
Available from Amazon, BGR may receive a commission Buy Now
Here's some more info from the product page on Amazon:
Stay Safe from Toxic Fumes and Dust: Based on your specific needs, the Honeywell Retail Nuisance Disposable Dust Mask is designed to keep away airborne irritants such as non-toxic dust, pollen, mold, dander, and other common airborne irritants. Not only can you keep yourself safe from dust, but also keep yourself safe from irritants and allergic particles in the air.
A Secure and Snug Fit: Designed for a comfortable fit, the lightweight yet utilitarian breathing mask has a single strap construction and adjustable nose bridge for the ultimate comfort. The strap is adjustable, allowing you to secure the mask to cover your nose and mouth.
Breathe Easily: The filter material that the Honeywell Retail Nuisance Disposable Dust Mask is engineered to offer lower breathing resistance. The mask is latex-free to help lower the chances of allergic reactions to the material. This disposable and one size dust mask and is specifically designed for protection against non-toxic particles.
Honeywell Retail Nuisance Disposable Dust Mask, 5-Pack (RWS-54000), White Price:$8.42 ($1.68 / Mask)
Available from Amazon, BGR may receive a commission Buy Now
---
Follow @BGRDeals on Twitter to keep up with the latest and greatest deals we find around the web. Prices subject to change without notice and any coupons mentioned above may be available in limited supply.