For as much as we talk established companies like Porsche and BMW going after Tesla in the EV market, it's important not to overlook the fact that Tesla's Model S continues to dominate the U.S. luxury sedan market on the whole.
With Tesla Model S sales on the rise, and having increased by nearly 60% year over year, the Model S during Q3 of 2016 was more than 4 times as popular as the BMW 7-Series.
DON'T MISS: This $17 gadget is the best thing that ever happened to your HDTV
As the chart below (via Bloomberg) demonstrates, the only real competition facing the Model S comes from the Mercedes-Benz S-Class which moved approximately 5,400 units over the last three months.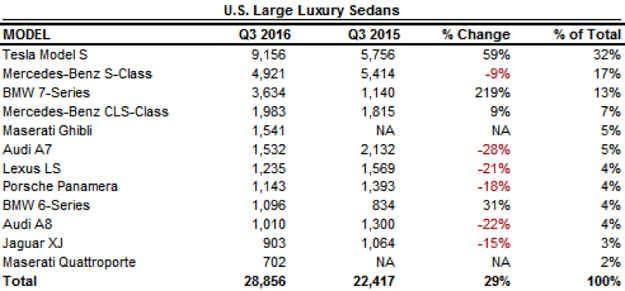 "Tesla says it's now responsible for almost a third of all sales in the segment," the report notes.
Interestingly, a common narrative we've seen over the past few months is that Tesla needs to be worried because every luxury automaker is now targeting them specifically. Looking at the chart above, though, perhaps a more appropriate narrative is that luxury automakers should remain exceedingly worried about Tesla further encroaching onto their turf.
Looking ahead, the Tesla saga is poised to get much more interesting once Model 3 deliveries begin — if Elon Musk is to be believed — in late 2017. Priced at $35,000, Tesla is betting big that it can make significant inroads in the non-luxury segment of the auto industry. With the cumulative number of Model 3 reservations reportedly close to reaching 400,000, it stands to reason that it's only a matter of time before Tesla's big bet pays off.