Sony isn't generating the same buzz in the phone business like Apple or Samsung, or OnePlus for that matter, but the company has consistently improved its devices over the years. At IFA 2016, Sony came out with a couple of new smartphones, including its first Xperia XZ flagship and a Xperia X Compact model. Aside from top specs, the phones also propose an innovative camera experience, featuring some tricks that some of its competitors might lack. The new Xperia phones may very well be some of the best iPhone 7 competitors when it comes to camera experience
DON'T MISS: This is the huge iPhone 7 leak we've been waiting for
According to Sony, the cameras pack one of the most advanced cameras in smartphones. Both devices have an all-new triple image sensing technology, a combination of Sony's Exmor RS technology (high-quality image, autofocus speed, and Predictive Hybrid AF) with two additional sensors, for color sensing (RGBC IR sensor) and distance sensing (Laser AF sensor). Other features include manual focus and shutter speed.
The main camera can capture pictures of up to 23-megapixel resolution, going "from standby to capture in 0.6 seconds" thanks to its dedicated shutter release buttons. The Xperia XZ packs a 13-megapixel front facing the camera with ISO 6400 and a 22mm/90-degree wide-angle lens.
Finally, when it comes to video recording, the cameras offer the "world's first 5-axis image stabilization," and the Xperia XZ supports 4K video recording.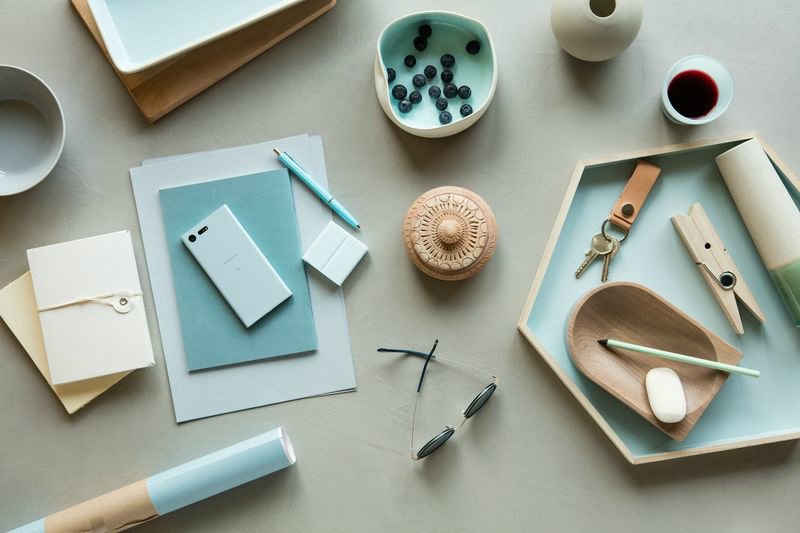 The Xperia XZ features a 5.2-inch display and a Qualcomm Snapdragon 820 processor, while the Xperia X Compact has a 4.6-inch screen and a Qualcomm Snapdragon 650 CPU. The bigger phone is made from Alkaleido metal and comes in Forest Blue, Mineral Black, and Platinum. The Xperia XZ is also the water resistant model of the two. The Xperia X Compact ships in Universe Black and White.
Other features include Qnovo adaptive charging technology, dual microphone and speaker system with integrated noise cancellation and 3D stereo sound, and USB-C connectivity (for the Xperia XZ).
The Xperia XZ will be available in the US on October 23rd, with the Xperia X Compact set to launch on September 25. Prices have not been announced.
The full press release follows below.

Sony's first flagship Xperia™ XZand Xperia™ X Compact with triple image sensing technology

· Xperia smartphone
o Two new models in the new X series: the flagship Xperia XZ (5.2" display) and the Xperia X Compact (4.6" display)
o Enhanced camera experience with innovative triple image sensing technology for capturing blur-free photos, even with subjects in motion
o Photos illustrated with beautiful true-to-life color in any situation
o Unified design with loop surface for a convenient and aesthetically appealing fit in the hand
o World's first 5-axis image stabilization feature with SteadyShot® and 4K video recording for Xperia XZ[i]
· Updated stereo microphone system with integrated noise cancellation to ensure that the sound quality matches the outstanding picture quality
· Both smartphones are optimized by learning and adapting to usage habits to provide an enhanced user experience
· Type-C™ USB for ease of use when charging
· Xperia Smart Products
o Xperia Ear, Sony's in-ear and hands-free "personal assistant" Smart Product (available for purchase starting in November 2016)
o Xperia Projector and Xperia Agent Smart Products – Partnering with Yahoo Japan and Nestlé Japan to provide a glimpse of potential user experiences of the future

IFA, Berlin, September 1, 2016 – Sony Mobile announced the addition of two new models – its first flagship and compact models – to its X series smartphone line. Continuing the vision set out at Mobile World Congress in February, the flagship Xperia XZ and Xperia X Compact offer an even more intelligent, personalized experience, combining Sony's excellence in audio and visual technology with the company's relentless drive to deliver world-class craftsmanship, intelligence, and performance in a smartphone.

"With Xperia we want to assist you when and where it matters most, making your everyday lives more convenient, more effortless, more spontaneous," said Hideyuki Furumi, Executive Vice President, Global Sales and Marketing, Sony Mobile Communications. "With Xperia XZ and Xperia X Compact you can capture every moment as you see it, with blur-free images day or night and with true-to-life colors thanks to our new triple image sensing technology."

Capture the action laser-fast with true color
Leveraging Sony's heritage in camera technology and built in collaboration with Sony's digital imaging engineers, the all-new Xperia XZ and Xperia X Compact models feature one of the most advanced cameras in a smartphone. Both models feature Sony's all-new triple image sensing technology, which combines Sony's acclaimed Exmor RS™ image sensor with two additional sensors – color sensing and distance sensing. Sony's Exmor RS for mobile image sensor provides a powerful blend of high-quality image and autofocus (AF) speed combined with Predictive Hybrid AF to intelligently predict and track subjects in motion for blur-free results. Added to this are the Laser AF sensor with distance sensing technology, which captures beautiful blur-free photos in challenging low light conditions, and the RGBC-IR[ii] sensor with color sensing technology, which accurately adjusts the white balance based on the light source in the environment. The three sensors combined allow the user to capture beautiful images in motion with true-to-life color in virtually any lighting condition.

The powerful 23MP main camera can capture photos very quickly, going from standby to capture in 0.6 seconds[iii] with the touch of a dedicated shutter release button, ensuring users are ready to take the perfect shot in the flash of a moment. Xperia XZ also sports a 13MP front camera with up to ISO 6400 super high sensitivity and a 22mm/90-degree wide-angle lens that will capture great portraits even in low lighting.

Advanced features such as manual focus and shutter speed have been added to further enhance the shooting experience and maximize the creative possibilities.

Both Xperia XZ and X Compact offer significant advancements in the evolution of video recording, with the introduction of the world's first 5-axis image stabilization cultivated in Sony's Handycam® camcorders, with Sony's SteadyShot Mode, which allows the user to shoot smoother videos[iv] even when walking or capturing extreme close-ups[v]. In addition, Xperia XZ features 4K video recording capability for capturing astonishing scenes that are sharp, crisp, and full of detail and nuance.

Immersive sound quality
Xperia XZ and Xperia X Compact feature an updated stereo dual microphone and speaker system with integrated noise cancellation to ensure that the immersive 3D stereo sound quality and reduced background noise match the outstanding picture quality. Both models also support Hi-Res audio capability with DSEE-HX, LDAC, and automatic headset compensation support.

Premium design to fit in your life
With its stunning loop surface design, the 5.2" glass display and metal back of the Xperia XZ unite to provide a perfect fit and beautiful feel in the hand. The loop surface is inspired by a monolithic form, and the ALKALEIDO™ metal provides shine and a feeling of depth with high brightness and purity, all of which enhance the premium design. Xperia XZ is available in a brand new blue color (Forest Blue) inspired by the beauty of nature, along with stylish classics Mineral Black and Platinum. Sony's expertise in functional design is carried through to the Xperia XZ with a water resistant[vi] design that allows the smartphone to overcome sudden spills or unexpected showers.

Adding a popular Sony form factor to the X series, the Xperia X Compact packs mighty technology into its small frame. Its 4.6" screen and loop surface design make it extra comfortable to hold and ideal for operating with just one hand. Xperia X Compact's premium design can be clearly seen in its high-gloss finish and solid feel. It also follows our new signature blue color expression with a Mist Blue color hue together with timeless Universe Black and stylish White.

Learning your habits to improve the user experience and optimize performance
Intelligent features have been incorporated into Sony Xperia smartphones so they can assist with making daily life more convenient, efficient, and enjoyable. Both models feature Qnovo adaptive charging, which keeps battery healthy and makes the lifespan last up to twice as long[vii] as its predecessors. Qnovo adaptive charging monitors and adjusts the charging current to avoid damage and promote battery longevity. Xperia Tips recognizes user habits to provide personalized tips and recommendations, helping to optimize the user experience on the smartphone. Meanwhile, Sony's custom Smart Cleaner intelligence app cleans the cache from certain apps by learning their usage, which helps to achieve optimal performance at all times.

Xperia XZ is driven by its Qualcomm® Snapdragon™ 820 processor to provide a seamless experience on users' phones. As one of the most cutting-edge mobile processors ever created, the Snapdragon 820 processor with X12 LTE supports the ultimate in connectivity, graphics, photography, power and battery efficiency. Xperia X Compact runs on a Qualcomm® Snapdragon™ 650 processor, delivering optimal processing speed for activities such as streaming music and video at a moment's notice.

Xperia Smart Products

Sony continues to explore the unlimited possibilities for product innovation in the area of communications, and we are advancing Smart Products to enable users to interact and connect in closer, more human ways. Xperia Ear, Sony's in-ear and hands-free "personal assistant" Smart Product will be available for purchase starting in November in select markets. Xperia Ear responds to verbal commands with intuitive operations and gives consumers information and assistance in a natural, authentic voice interaction via a companion app on each user's smartphone. Equipped with Sony Agent Technology and a proximity sensor, Xperia Ear provides each user with useful information such as his or her schedule and other personalized updates when placed in the ear, enabling consumers to face forward and get things done. Sony will also display Xperia Projector and Xperia Agent as concepts at IFA, along with new partnerships with Yahoo Japan and Nestlé Japan that will provide a glimpse of potential user experiences that will be offered by Xperia Smart Products in the future.

Availability and specifications

Xperia XZ will launch in the United States starting October 23, 2016, and Xperia X Compact will launch on September 25, 2016[viii]. Xperia XZ will include the new USB Type-C™ charger for easy charging.[ix]