Apple will likely advertise the iPhone 8 as the all-screen iPhone you've been waiting for, but the device will still feature an unsightly notch at the top that will house all of the front elements that can't be hidden under the display. However, a day before Apple launches the iPhone 8 and all the other goodies it prepared for this year's iPhone event, Xiaomi will hold an event in China to introduce an all-screen handset of its own.
That's some major trolling from the Chinese smartphone maker, teasing a smartphone announcement ahead of Apple. The Mi Mix 2 is the handset in question, the successor to the first Mi Mix (which didn't have much in the way of a bezel either, as you can tell from the image at the top of this post).
The company posted an image on Weibo to tease the event, GSM Arena reports, and — surprise! — we don't see any top notch on this phone. Are you paying attention, Apple?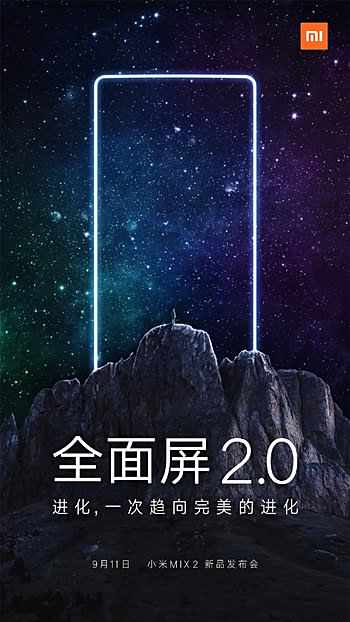 Unfortunately, Xiaomi doesn't give us much more to go on when it comes to the phone's design. The image above only shows a part of the phone to suggest the Mi Mix 2 will not have top and side bezels. But the phone will almost definitely feature a bottom bezel. That's why it's hidden behind those rocks.
The phone is expected to have a 6.4-inch display with 2560 x 1440 resolution, Snapdragon 835 processor, 6GB of RAM, 128GB/256GB of storage, and a 4,500 mAh battery.
Apple, meanwhile, is expected to announce the iPhone 8 on September 12th at a media event in California, although the company has yet to issue press invites for the keynote.