Yes, you read the headline correctly: Verizon on Tuesday announced that it is lowering the price of its prepaid unlimited plan from $75 per month to $70 per month — and you can get an additional $5 discount by using Auto Pay. That brings the price of Verizon's unlimited plan down to $65, which, as Engadget points out, is more competitive with T-Mobile's $45 unlimited plan. It's still somewhat pricey, but cheaper is always better.
And that's not all, as Verizon is also introducing a new 8GB plan for $45 with the Auto Pay discount (taking the place of its 7GB for $50 plan), and is slashing its 3GB plan from $40 to $35 with the discount. While these aren't substantial changes, it's not often that we get to report on a carrier actually lowering its prices.
"With Verizon Prepaid, you can now also have up to 10 lines (up from five) on your account, and for the first time, add tablets and Jetpacks for the same monthly price as smartphones," Verizon says. "All of our smartphone plans include unlimited U.S. talk & text and international text to more than 200 destinations."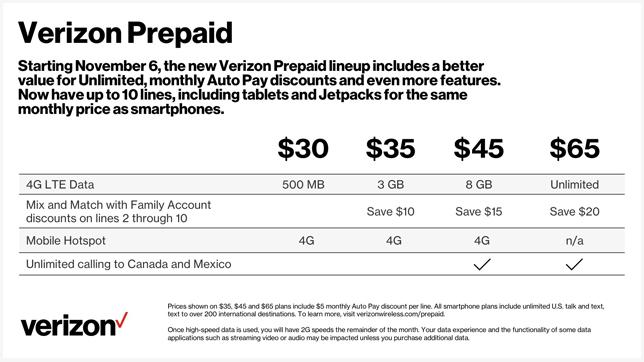 As you can see in the chart above, Verizon's unlimited prepaid plan doesn't include a mobile hotspot. The plan also limits video streams to 480p resolution, and prepaid plans are subject to deprioritization if the network is congested. If you're already on the unlimited plan, this is good news, but it probably won't do too much to convince those who have other viable options in their area to opt for Verizon's plans, which are generally more expensive.