A startup called Nikola Motor Company recently filed a $2 billion lawsuit against Tesla for patent infringement. Nikola's claims specifically allege that the Tesla Semi design infringes upon a number of their own patents which were granted years ago.
Nikola's complaint includes a few photos of the Nikola One, the company's hydrogen-electric truck that was initially unveiled in mid-2016. The suit adds that photos of the truck yielded more than 210,000 page views and that Elon Musk himself had seen the photos by May of 2016. The suit notes that Tesla at the time did not have any plans to develop a semi-truck and that the company just so happened to announce its plans in July of 2016.
Nikola included the following snapshot of a May 2016 tweet with the complaint: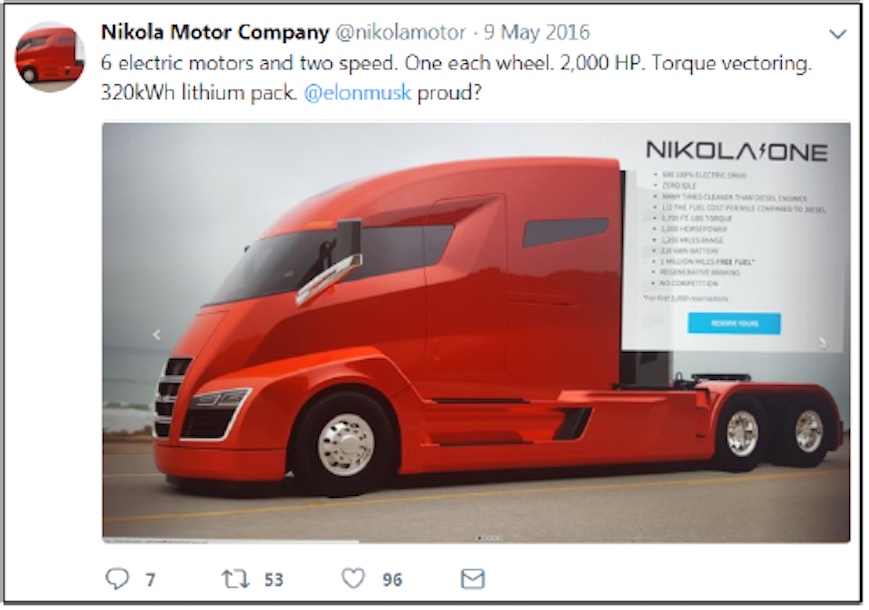 Interestingly, the suit claims that Tesla went so far as to try and recruit Nikola's chief engineer for its own efforts with the Tesla Semi.
The suit reads in part:
On 22 September 2016 –four months after Nikola published its design, Aaron Hoyos, a recruiter for Tesla, reached out to Kevin Lynk (Nikola's Chief Engineer). In that email, Hoyos told Lynk that "Tesla is building a new team to focus on development heavy trucks." Hoyos said that "[b]ased on [Lynk's] background at Nikola, it seems like your background would be a great fit."
Now as to the patents at issue, the suit cites six design patents which cover Nikola's wrap-around windshield, a mid-entry door, along with design patents that encompass the fuselage, fender, side cladding, and "the overall design of a semi."
Below is a photo from the complaint.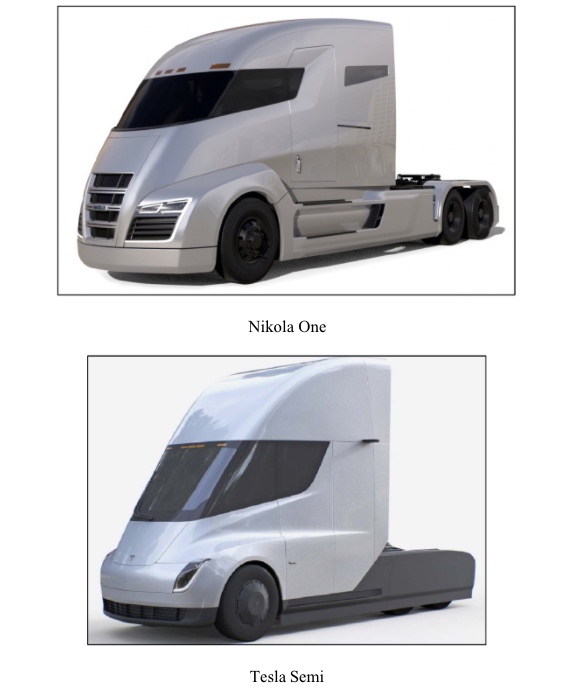 "Nikola designed the wrap windshield," the complaint reads, "a unique feature in the trucking industry. The design is identifiable from a distance. The wrap windshield provides drivers an unobstructed view of the road. Tesla copied the wrap windshield, and advertised the view drivers had in its vehicle."
Notably, Electrek does a great job of pointing out that wrap windshields on trucks have been around forever and is hardly a unique design stumbled upon by Nikola.
Commenting on the suit, a Tesla spokesperson explained: "It's patently obvious there is no merit to this lawsuit."
The full complaint can be viewed over here.