The biggest — well actually, the most unique — selling point of Tesla's Model X also happens to be the feature that has caused Tesla the most headaches. Of course, I'm referring to the Falcon Wing doors that Elon Musk so adamantly insisted ship with the company's crossover SUV.
DON'T MISS: Foxconn spy shot reveals new iPhone 7 details no one saw coming
In stark contrast to traditional car doors that open in an outward and horizontal fashion, the Model X's Falcon Wing doors employ a double-hinge design which allow them to open up vertically, even in situations where there's just 12-inches of room available on each side. The Falcon Wing doors are undoubtedly eye-catching, and a whole lot of engineering work went into their design and to ensure that they operate flawlessly in every situation imaginable.
In fact, the Model X is outfitted with a whole suite of sensors — capacitive, sonar, and inductive — which all work in unison to prevent the Falcon Wing doors from opening up in situations when they shouldn't. Of course, sometimes there's simply no accounting for human error as one unlucky Tesla owner in Lisle, Illinois recently found out the hard way.
Per the website WreckedExotics, we came across this photo of a Tesla Model X with its Falcon Wing door completely smashed. Given all of the gadgetry that underlies the design, we imagine replacing or fixing the door is no small feat.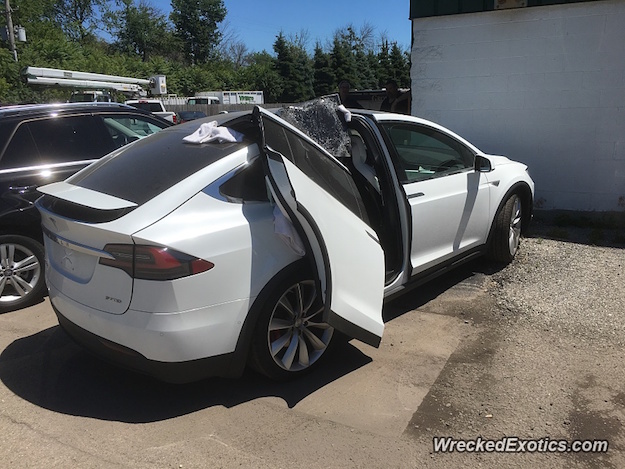 The caption for the photos above reads, "Forgot that the door was open when driving out of own garage. Nobody hurt."
On a more positive note, Tesla earlier this year released video footage showcasing the advanced robots responsible for assembling the Model X.