Tesla is currently investigating what may have caused a Model S P85 to catch fire while at one of the company's Supercharger stations in Shanghai, China. The incident occurred late last week, and curiously enough, initial reports indicate that the car wasn't actively charging at the time the fire began to spread.
The fire was ultimately put out and thankfully no one was harmed during the incident. Addressing the matter in a statement provided to Electrek recently, Tesla said that it plans to conduct a full investigation into the matter.
"No one was harmed in this incident," a Tesla spokesperson said. "We're undergoing a full investigation and we'll share our findings as soon as possible."
Tesla, to its credit, has a history of being extremely transparent when it comes to providing full details about serious incidents involving its growing fleet of cars.
A few photos of the charred out Tesla Model S P85 can be viewed below, courtesy of Reddit user JayinShanghai.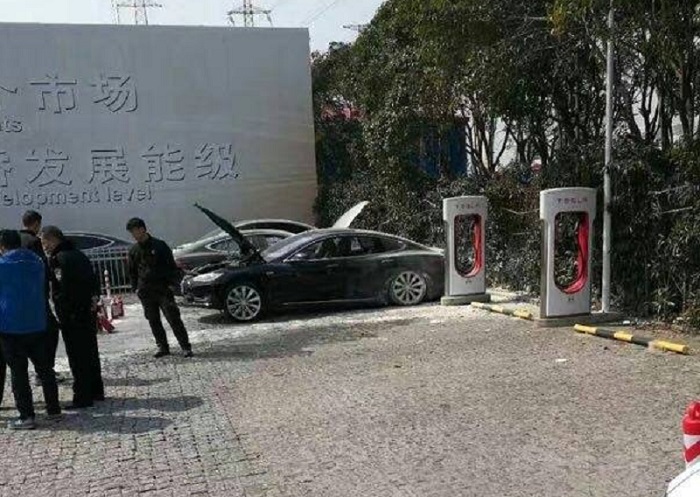 While we certainly don't want to draw any sweeping conclusions about the incident until Tesla figures out exactly what went wrong, it's worth noting this isn't the first time we've seen a story involving a Tesla seemingly catching fire for no reason. This past August, for example, a driver taking a Model S 90D for a test drive heard a loud noise before noticing a message on the dashboard which read, "Problems with charging."
Shortly thereafter, the driver pulled over whereupon the car reportedly burst into flames just one minute later. All of the passengers managed to escape unscathed and firefighters quickly arrived on the scene and put the fire out. A sensational photo of the burning Tesla can be seen below.