The wearable device market looks set to grow almost 26 percent next year compared to 2018, with worldwide shipment of wearable devices reaching 225 million. That's according to a new forecast from research firm Gartner, which predicts that of the estimated $42 billion that end users will spend on wearable devices next year, a little more than $16 billion of that amount will be on smartwatches.
Smartwatch dominance of the wearables market, however, will apparently be short-lived. According to Gartner, there will be 74 million smartwatches shipped next year, which makes the device far and away the market's segment leader. But Gartner expects a slow transition over the years after that until 2022, when ear-worn devices take over. That year, the firm is forecasting 158 million so-called "hearables" to be shipped compared to 115 million smartwatches.
Another interesting shift the firm sees unfolding, relative to smartwatches, is a subdividing of the product category into specialized areas of focus. We'll slowly start to see watches emerge from four main kinds of providers, in other words. They include watches from leading consumer electronics brands, along with watches from fashion and traditional watch industry players as well as children's watches and special-purpose and startup brands. Regarding the latter, those refer to products such as those that cater to people with medical needs.
"Traditional watch brands such as Fossil and Casio will gain market share by offering more style and choice in their portfolio than the technology brands," said Gartner senior director Alan Antin. "We think that fashion and traditional watch brands are likely to account for up to 20 percent of unit shipments by 2022."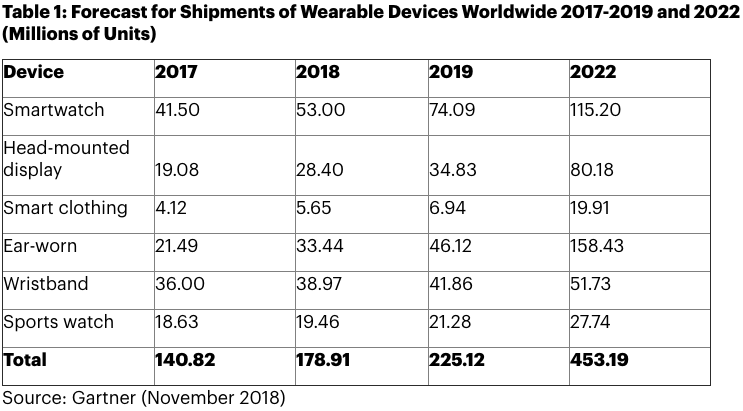 Meanwhile, Gartner is forecasting that by 2022 we'll see ear-worn devices like Apple's AirPods account for more than 30 percent of all shipped wearables. At the moment, the firm notes that the main use cases for such wearables are fitness, communications and entertainment, but their shipments are expected to start picking up especially as their capabilities expand beyond those uses.
"Future generations of ear-worn devices will be able to accommodate virtual personal assistants and subsequently be used for a multitude of tasks such as queries and hands-free directions," the firm notes. "Moving forward, advanced ear-worn devices can reduce smartphone use, as they will take over many tasks that users solve with the help of their smartphones today."