Now that the FBI and other law enforcement agencies have started forcing suspects to unlock their iPhones with Face ID, a forensics company is warning authorities that they would be well advised not to look at Face ID-equipped iPhones. The reason? An iPhone X device, after a number of unsuccessful face scans, can only be unlocked via a passcode. This is a key distinction because a number of courts have ruled that requiring a suspect to tell authorities his passcode constitutes a violation of the 5th amendment. In contrast, having a suspect simply look at his device to unlock is perfectly fine.
Originally brought to light by Motherboard, Elcomsoft — a forensics firm based out of Moscow — recently delivered a presentation highlighting how authorities can inadvertently force an iPhone X or XS to disable Face ID and subsequently require a passcode.
In a slide obtained by Motherboard, Elcomsoft warns: "don't look at the screen, or else… the same thing will occur as happened on Apple's event."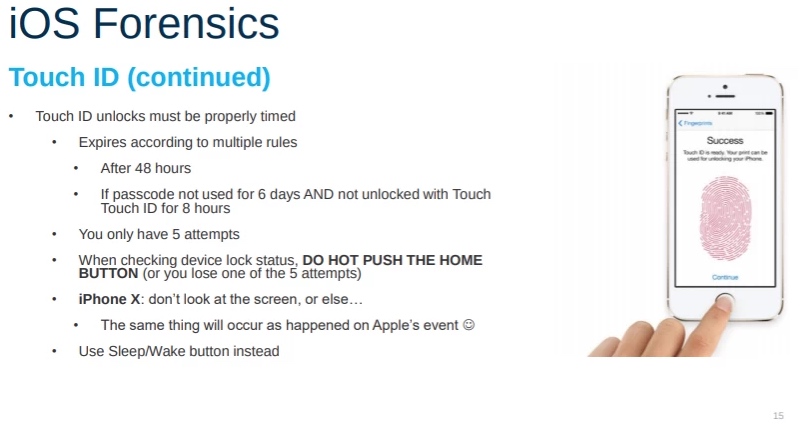 In case you're unfamiliar, the Apple event Elcomsoft mentions above refers to last year's iPhone X unveiling when Craig Federighi, somewhat embarrassingly, was unable to unlock an iPhone X via Face ID during the middle of Apple's keynote. As far as Apple keynote fails go, this one is definitely up there.
You can relive the cringeworthy moment in all its glory below.
In light of Federighi's misstep, some pundits were quick to raise issues about the efficacy of Face ID. Apple, though, subsequently revealed that because a few assistants were handling the phone backstage, a number of failed Face ID login attempts were detected.
Apple even went so far to issue a statement on the matter:
People were handling the device for stage demo ahead of time and didn't realize Face ID was trying to authenticate their face. After failing a number of times, because they weren't Craig, the iPhone did what it was designed to do, which was to require his passcode.
This of course isn't new information, but given that the number of iPhone devices equipped with Face ID is likely to explode with the impending release of the iPhone XR, it makes sense why Elcomsoft would make a point of reminding law enforcement authorities about this particular iOS behavior.