A teaser earlier this week practically confirmed that Samsung will indeed show its first ever foldable handset at its developer conference on November 7th, and we have more proof that the Galaxy F, or whatever Samsung ends up calling the device, will be the star of the keynote.
According to SamMobile, Samsung will unveil Android Pie at the SDC18 event, as well as the new user interface for the foldable handset.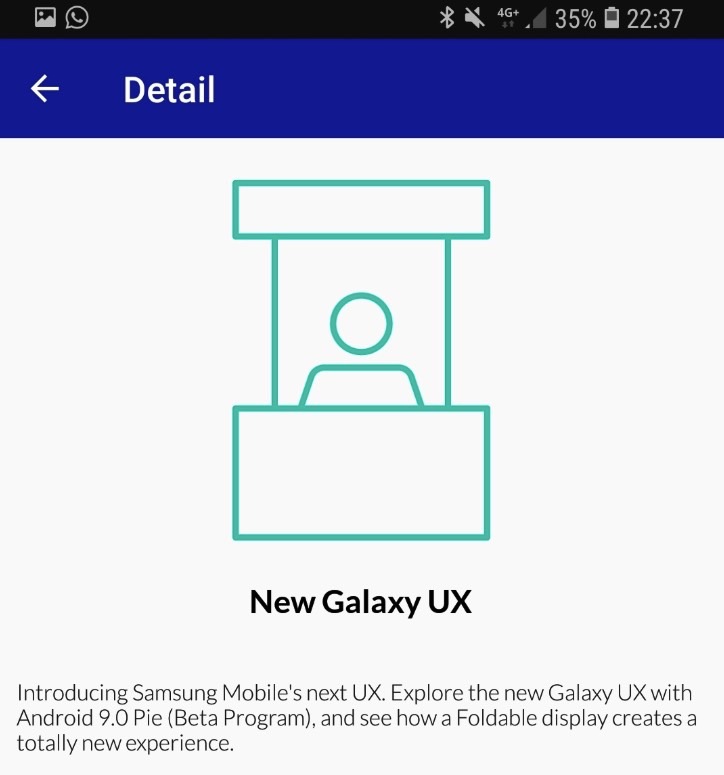 Samsung updated the SDC18 app with more information about the show, as seen in the screenshot above.
The "New Galaxy UX" session will introduce "Samsung Mobile's next UX," the description above reads. "Galaxy UX with Android 9.0 Pie (Beta Program)" will be on display, but the most exciting thing coming out from this event is seeing "how a Foldable display creates a totally new experience."
We already knew that Samsung is about to kick off the Android Pie beta launch for the Galaxy S9 series, and SDC is the perfect place to launch it. As for that foldable Galaxy UX that Samsung is teasing, a Bloomberg report a few days ago claimed that Google and Samsung have been working closely on developing a user experience for the new smartphone form factor, which should be exciting news. That report also said that the SDC18 launch would be more of a soft launch, as Samsung may not actually show the full device during the keynote.
A different report from Reuters on Tuesday brought the second confirmation that a foldable handset will be shown at SDC18.
Reuters says that Samsung will "depart from its usual policy of keeping product plans highly secret" and reveal some details about the phone's key features for app developers this week. First of all, Samsung phones are never secret. But the Galaxy F is indeed the kind of new technology that may need plenty of feedback from developers well before the foldable device is ready to hit stores.
"Unlike our flagship products, the foldable phone is a completely new concept in terms of design and user experience, which requires a different approach," a Samsung official said. "Before we take it to the market, we want to share with developers what we've done so far and see what they think of it."
A different Samsung official told Reuters that it'll be the first time that detailed images of the new phone will be presented to the public. But the actual phone might not be on display during SDC.