A report from a solid source that just hit the wire on Friday morning suggests that Samsung may finally have a launch schedule in place for its mysterious new Galaxy X. The company first confirmed that it was working on a smartphone with a foldable display back in 2017. At the time, a Samsung executive said that the company was targeting 2018 for the phone's release, but numerous reports have since stated that the phone's debut has bene pushed back to 2019. Honestly, that's a very good thing, and it's uncharacteristic for Samsung. The company has been known to rush out new products long before they're ready for primetime, so it's refreshing to see Samsung take a step back and make sure it gets things right before releasing the Galaxy X.
According to this new report, the phone will have a 3.5-inch screen on the outside and the approximate equivalent of two 3.5-inch displays on the inside. When it folds open, its total screen area will be in the high 6-inch range. It's a nifty idea and the Galaxy X could be truly impressive if Samsung manages to use a folding OLED panel so there's no seam where the hinge is placed. But to be frank, it's really not all that appealing to me. The device is bound to be awkwardly thick, and I'm not sure gaining a diagonal inch is worth dealing with the large size, the inevitable hit to battery life, or the weird aspect ratio.
As it turns out, Samsung is in the early stages of working on a radical new smartphone design that would be completely unlike anything we've seen before.
Before we get into Samsung's exciting new design, check out this video from all the way back in 2016:
Did you catch that part that began at the 57 second mark? Panasonic demoed a television with a display that is completely transparent when it's turned off. It's absolutely incredible, and I need 10 of them right now. If you go back a bit to the 37 second mark, you can see another awesome design that puts a transparent display on the front of a wine cooler, but this time Panasonic only lights up part of the screen at a time. This way, the panel can display information but you can still see the wine inside the cooler.
By now you probably see where we're going with this. What would happen if Samsung took these technologies and shrunk them down so they could fit in your pocket? Well, you would end up with one of the most exciting and novel new smartphone designs the world has ever seen.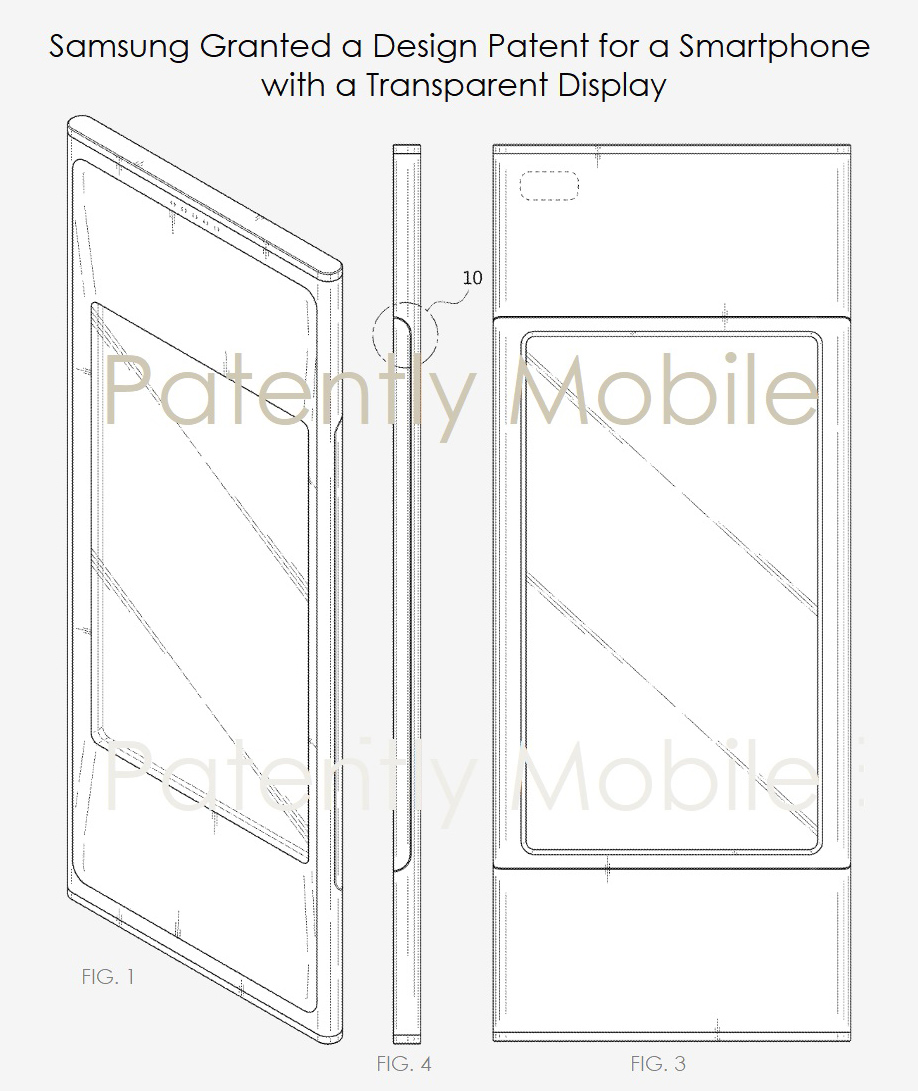 The regulatory filing hawks over at Patently Mobile just dug up a pair of patents that were awarded to Samsung this week by the Unites States Patent and Trademark Office. As illustrated in the technical drawing above, the patents cover a smartphone with a transparent design. That would be… awesome.
As you might have surmised after watching the video above, a Samsung phone with a transparent display could light up the entire screen and be used just like a regular smartphone. But portions of the display could show graphics while other portions remain transparent, resulting in an augmented reality experience the likes of which the world has never seen on a smartphone.
Samsung first showed off fully functional transparent displays all the way back in 2015, so the company has been working on this technology for quite a while now. Of course, that doesn't mean a smartphone with a transparent display will launch anytime soon. In fact, even with these new patents brought to light, Samsung may never launch a phone with a transparent display. Companies constantly work on new technologies that never see the light of day — bet let's hope that's not the case here, because this device could be the most exciting smartphone the world has ever seen.