Samsung's stunning QLED Q9F TV is nothing short of incredible.
The evolution of television has carried us far in a short span of time. Just a couple of generations ago, families would huddle around the tube to watch the nightly programming together, making it a cherished ritual in houses all across the world. The television was a revered centerpiece in the living room that was nothing short of a luxury; after all, as Marty McFly was told in Back to the Future, no one had two television sets.
Although the television itself isn't considered a luxury anymore, that doesn't mean there aren't luxurious TVs.
The flagship QLED Q9F smart TV is Samsung reclaiming the essence of what a television was supposed to be, and it succeeds with flying colors. Let's dive into our full review of the Samsung QLED Q9F television.
Overview
Let's get started by looking at what exactly "QLED" means. Yes, the history of television is one rife with ever evolving technologies and the confusing acronyms that accompany them; from CRT, to LCD, to LED, then OLED, and now Samsung's QLED. The "Q" in QLED stands for Samsung's proprietary Quantum dots, which offer "100% color volume" according to Samsung. QLED from Samsung allows the company to differentiate it from the competitive OLED televisions, and there is a noticeable difference in range of color from traditional LCD/LED televisions. We'll dive further into that in a bit.
Like just about every television on the market these days, the Samsung QLED Q9F is a smart TV, loaded with Samsung's well-designed Smart Hub interface. With the Smart View app, any phone can control the smart TV functions, as well as cast content from the phone to screen. For those who aren't as keen on the idea of using your phone as a remote control, Samsung's OneRemote is an intelligent remote control that's designed to detect any compatible systems on the same Wi-Fi network, whether it be a cable box, sound bar, or Blu-ray player, and allow complete control from one remote.
As for the nitty-gritty technical specs, the Samsung QLED Q9F model offers 4 HDMI inputs, 3 USB, an ethernet port, and a digital optical audio out, all located on the included OneConnect box. It's also loaded with a quad-core processor, voice interaction, Supreme UHD dimming, Bluetooth, and a low-latency game mode.
Now let's break down the specifics of the Samsung QLED Q9F TV, including its design, picture quality, sound quality, and more.
Design
At first glance, the design of this flagship TV from Samsung is a thing of beauty. After further inspection, it's also ingenious.
This television strikes a perfect balance between a low-profile and sturdy design. Samsung's "Boundless 360 degree" design makes the bezel virtually undetectable, giving it an unmistakably minimalist feel. If coupled with the add-on "No Gap Wall Mount," the QLED Q9F becomes as one with the wall as a painting or mirror would — a far cry from the CRT titans we used to play Super Mario World on.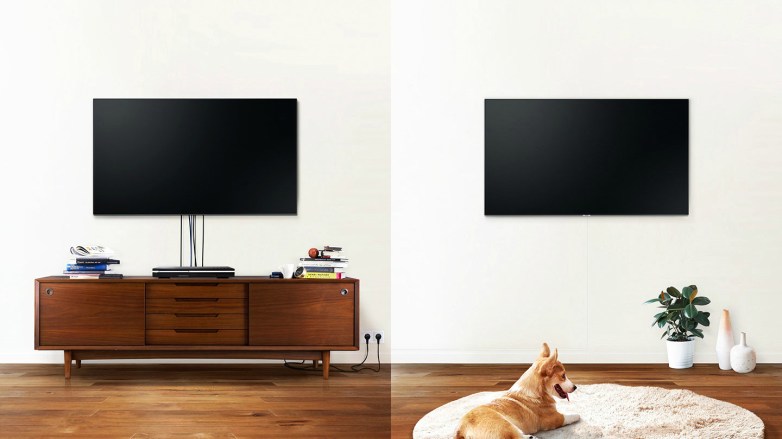 The ingenuity comes into play with utilization of the "Invisible Connection" cable, which is a single optical cable that runs from Samsung's OneConnect box to the TV, streamlining the connection process and helps make the final product a clean and non-intrusive addition to any living room. Aside from the obvious design perk of the OneConnect box, it also makes managing HDMI inputs, or inserting a USB drive immeasurably easier than trying to maneuver the backside of a mounted television.
From the actual design of the TV itself to the thought that went into making it utterly low-profile, you'd be hard pressed to find a more well designed TV today.
The Picture
A television is worth no more than its picture quality. So how does the Samsung QLED Q9F fare?
With a few minor exceptions, this TV's picture quality is dynamic and robust, offering a wide swath of breathtaking colors, deep and uniform black, and stellar contrast. In particular, Samsung's proprietary Q |4K HDR Elite and Q |4K Elite Black+ features offer a stunning gamut of colors and shadows that simply aren't matched on cheaper 4K televisions. The bright spots on this TV (and they are bright) are vivid and dramatic, but never get painful to look at.
Of course, this TV was made to deliver top-notch Ultra HD HDR, and does it ever. Whether in a bright or dark room, the Q9F adjusts to its surrounding to consistently deliver realistic and vivid color replication that are unlike virtually anything else you can put in your home. If you do have your TV in a bright setting, the Q9F's display does a pretty good job of handling harsh reflections coming from any windows in the room.
The only drawback to the picture quality in the Q9F TV that we have found, is that the optimal viewing zone is fairly limited, despite their website boasting a great view from all angles, as well as less-than-stellar local dimming that doesn't serve the purpose of making dark zones darker. Still, those are fairly minor detractions considering all the good grace this TV's picture quality has earned.
The Sound
Although most people who care enough to drop over $3000 on a television are likely going to have external audio for their setup, we still need to look at the onboard sound system. Unfortunately, the Samsung QLED Q9F falls a bit short here.
It's not that the speakers here are necessarily bad, it's just that they don't match the price tag attached. The small attached traditional front firing speakers don't just lack bass, which is to be expected, they also don't have a uniform frequency response, giving into uneven compression at higher levels. The speakers are also susceptible to distortion, although its hard to detect with an ear alone.
While all of this won't make the sound unbearable to the everyday TV viewer, it certainly won't match the quality of the picture being displayed. Although these front firing speakers are far from actually sounding bad, they're not on the same level as virtually anything else on this television.
The Downsides
While more and more impressive 4K TVs are dropping into an affordable price range every day, Samsung's QLED Q9F does retain a higher price tag as a luxury item. Although deals crop up every once in a while, the 65-inch Q9F TV typically runs around $3,500, classing it out of many customers' price ranges.
Another downside is that the QLED line of Samsung TVs suffer from many of the same old issues that have plagued LCD and LED TVs for years, namely imperfect local dimming and a limitation on viewing angles. Also, as mentioned above, the sound quality isn't necessarily bad, but it's certainly not up to the standard set assumed by Samsung's steep price tag.
Still, despite its few technical flaws and not-so-affordable pricing, the Samsung QLED Q9F outclasses virtually all of the competition in performance and design.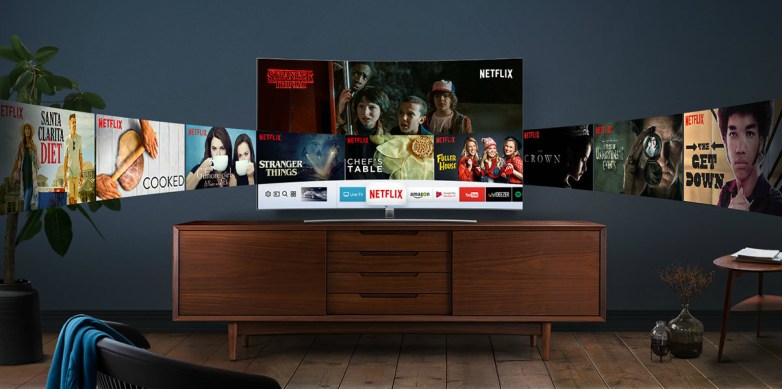 Conclusion

Samsung is a pioneer in the television for a reason, and the QLED Q9F proves it. Although as a top-of-the-line set the price is a bit higher than bargain TV sets, and isn't flawless in all its aspects, this flagship television is about as close as it gets. With a brilliant 4K picture displaying a stellar gamut of vivid and realistic colors, a sleek and low profile design, and one of the best onboard smart TV interfaces ever, the Samsung QLED Q9F firmly establishes itself as the best television on the market.