Following months of anticipation, Samsung will finally unveil its flagship Galaxy S8 smartphone today at an Unpacked event in New York City. The subject of countless leaks, the Galaxy S8 and Galaxy S8+ have been all but completely spoiled in the weeks leading up to the event, with images and specifications of the phone surfacing on a near daily basis. But the Galaxy S8 and the S8+ aren't the only devices on display today at the event. Samsung is also updating its line of smart home products, its VR headset and more.
Below, we've rounded up each and every device that Samsung announced on stage at the Unpacked event aside from the Galaxy S8 and Galaxy S8+ smartphones (you can read all the phone details here):
Gear VR with Controller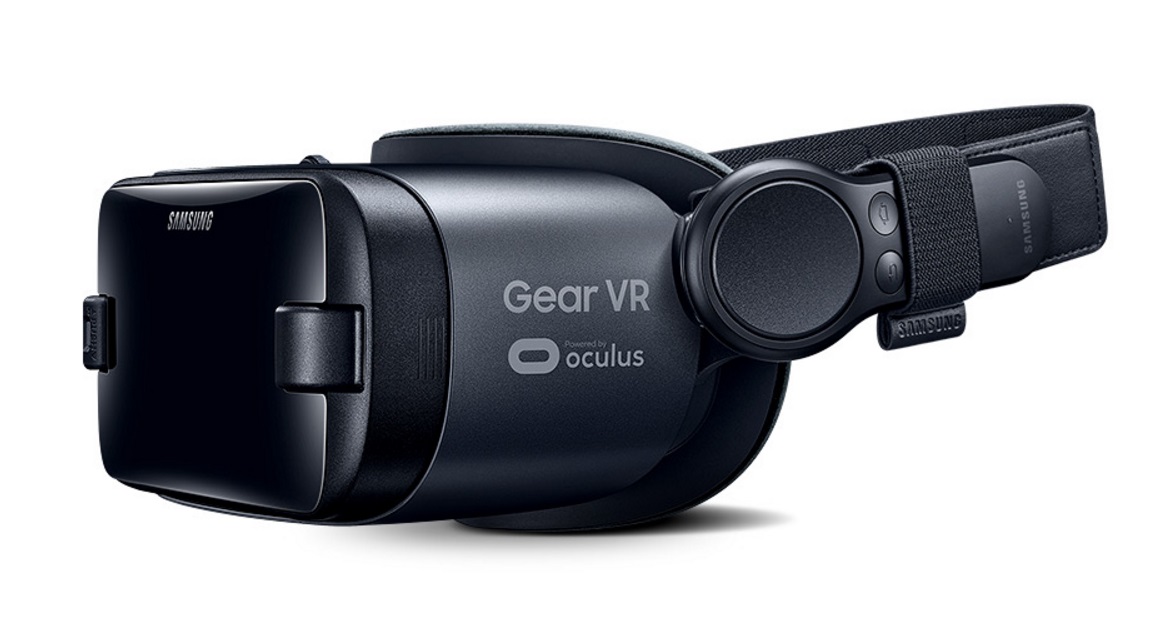 First and foremost, we have the Gear VR with its new wireless controller. Samsung actually revealed the bundle last month at Mobile World Congress, but now we know that it will cost $129.99 and ship on April 21st. While the hardware itself is the same (save for the color), the controller is new, with 20 games supporting the controller at launch. Over the next few months, that number will increase to 70.
The new Gear VR is compatible with the Galaxy S8, S7, S6 and Galaxy Note 5. The controller comes bundled with new Gear VR, but will be sold separate as well for $39.99 if you want one for your old Gear VR. And if you preorder a Galaxy S8 or Galaxy S8+, you will receive the Gear VR with controller for free.
New Gear 360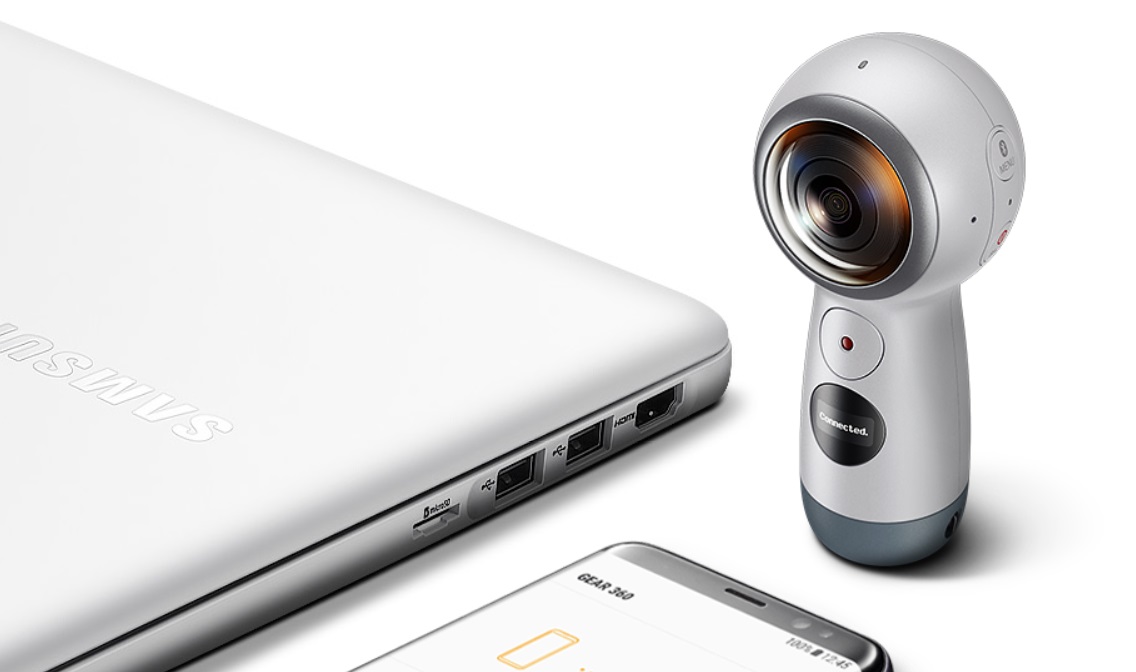 About a year ago, Samsung introduced its own take on a 360-degree camera to the world. At Wednesday's Unpacked event, the company shared an updated version of the Gear 360 with the crowd in New York City — a camera that is more compact and just generally easier on the eyes than the 2016 model.
Unlike the previous version, the new Gear 360 is capable of recording 4K video and live streaming 2K video to YouTube. The camera also support iOS for the first time, which means that anyone with an iPhone can use the Gear 360 now as well. Samsung has yet to share pricing or release information.
Samsung Connect Home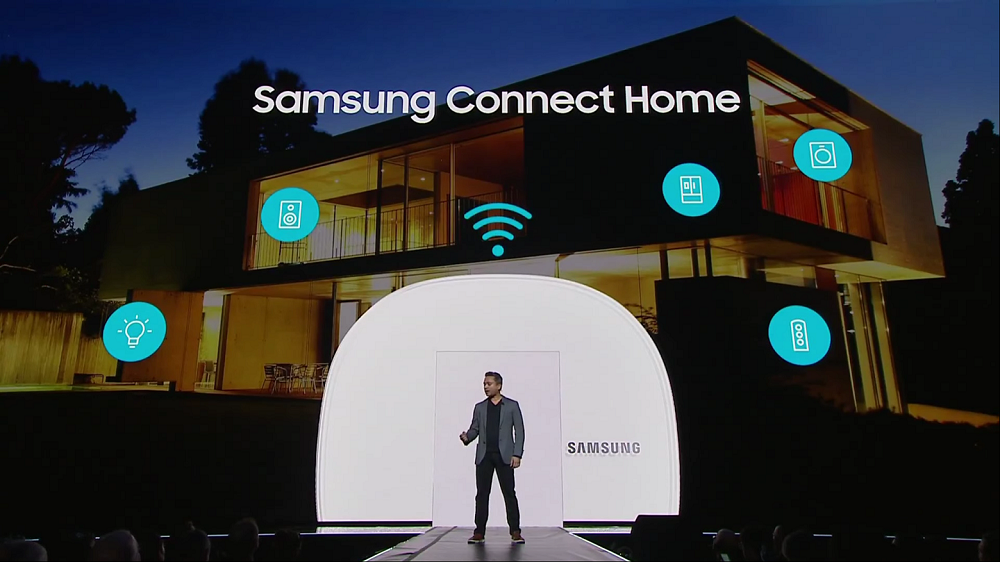 For years, Samsung has been building up a respectable suite of smart home devices. That trend continued on Wednesday when the company unveiled the Connect Home — a Wi-Fi mesh router that will connect to and interact with all of Samsung's SmartThings connected devices as well as third-party devices.
The Connect Home is the first of two routers that Samsung showed off on Wednesday. It features a 2×2 MU-MIMO antenna, 710 MHz quad core processor, 512MB of RAM, and 4GB of flash storage. It offers speeds of up to 866Mbps at 5GHz and 400Mbps at 2.4Ghz. A single Connect Home has a range of up to 1,500 square feet, while three can cover an area of 4,500 square feet.
Samsung also unveiled the Connect Home Plus, which features an upgraded 4×4 MU-MIMO antenna and 1.7 GHz dual core processor. It's twice as fast as the standard Home (1,733Mbps at 5GHz, 800Mpbs at 2.4GHz), but looks the same and covers the same range. Pricing and availability information are unknown.
Samsung DeX
Of all the devices Samsung announced at Wednesday's Unpacked event, the DeX might be the most intriguing. As reported in leaks leading up to the event, the DeX docking station turns your Galaxy smartphone into a full-fledged PC. Just slot your Galaxy S8 into the DeX dock, connect the dock to a monitor, and you have a working desktop PC that looks comparable to a Windows or Chrome OS desktop.
Of course, a desktop experience wouldn't be of much use if it didn't support common applications, but Samsung has that all figured out as well. Samsung has partnered with Microsoft and Adobe to bring native versions of apps like Word, Excel, PowerPoint and Lightroom to DeX. Plus, virtual desktop support from Citrix, VMware, and Amazon means that you can actually run Windows 10 on DeX as well.
The DeX features an HDMI port, two USB-A ports, an Ethernet port and a USB-C port for charging. Once again, Samsung did not share any pricing or release information during the event.