Samsung is just weeks away from another big Unpacked event where it's expected to unveil a new Galaxy Note 9 smartphone, and a brand-new Galaxy Watch wearable to go alongside. We say "expect," but given the volume of leaks we've already seen, this thing is a virtual certainty. Pricing, color, and spec details have all come out for the Galaxy Note 9, alongside some leaked press renders because Samsung's security department really doesn't seem to be on its game.
We've received slightly less information about the Galaxy Watch, as you'd expect for a wearable that will generate decidedly less hype. But thankfully, Samsung's leaky ship has filled in yet another blank, as a listing for a Galaxy Watch showed up on Samsung's US website this afternoon.
The listing — which is still up as of the time of writing! — is on Samsung's wearables listing page. Clicking the link on the wearables page takes you to an error page, but we were able to get one single hi-res image out of Samsung's publishing system to show you.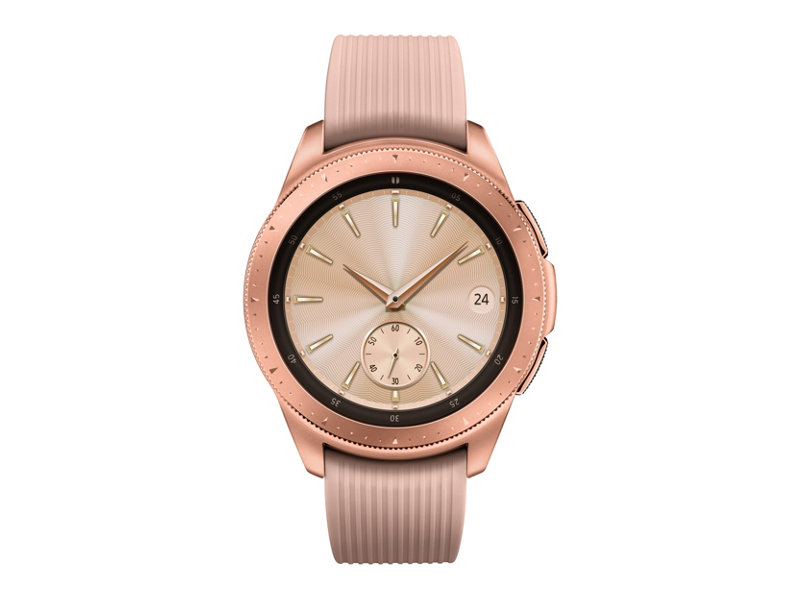 The listing says that this is the Galaxy Watch (42mm) in Rose, and it's the Bluetooth version. Previous rumors about the new Galaxy Watch have suggested that it will come in two different sizes, so the emphasis on 42mm suggests that there will be two different sizes available for sure.
Other rumored details include the suggestion that the Galaxy Watch will run Tizen, Samsung's own operating system, rather than Android Wear. There is also reportedly a focus on voice control using Bixby, Samsung's own virtual assistant. Other than those details, all we're really expecting is an unveiling on stage next to the Galaxy Note 9. The Unpacked event will be happening in New York City on August 9th, with pre-orders reportedly opening August 14th, with devices finally hitting shelves on August 24th.