This has been a pretty uninspired year for Samsung's flagship smartphones, and the company's bottom line is taking a hit as a result. Samsung is a massive company with several thriving businesses, and sky-high profits from its successful components division have definitely helped soothe the sting from weak high-end phone sales. Poor premium smartphones sales are definitely dragging down the company's overall performance though, and the Galaxy S9 is expected to be Samsung's worst-selling Galaxy S phone series since 2012. Why? Simple: it looks just like last year's Galaxy S8, and it doesn't have any compelling new features that might pique any interest. The soon-to-launch Galaxy Note 9 is cut from the same cloth, but we're hoping it fares a bit better since there are at least one or two interesting new features on board. Then again, as we mentioned in our Galaxy Note 9 review, buying a Note 9 now might throw a wrench in your plans when Samsung starts launching exciting new phones early next year.
That's right, Samsung's flagship phone drought will be short-lived. We've heard all sorts of great things about several of the new smartphones Samsung plans to release in 2019, and it all starts with the Galaxy S10. Samsung is supposedly working on a big overhaul to its Galaxy S line that includes a better all-screen design, a triple-lens rear camera, an ultrasonic fingerprint sensor embedded right in the display, and plenty more. But there's another exciting new Samsung phone we want to focus on today — and if it ends up looking anything like the renders you're about to see, you'll want to focus on it too.
It's called the "Galaxy F," as rumor has it, and it's going to be Samsung's first ever foldable Galaxy phone. No, we're not talking about an old school flip phone from the 2000s. We're talking about an Android-powered smartphone with a display that actually folds in half.
Why would anyone want a foldable phone, you ask? It actually makes perfect sense. Bigger is better when it comes to smartphone displays, but we've already gotten to a point where phablets are too large to use comfortably. Some recent smartphones don't even fit in your pants pocket without poking out the top. All-screen designs are helping, but a foldable phone could be the best of both worlds. It could have a screen that's even larger than any phablet out there now, but it would still be compact enough to carry easily when folded.
Samsung has openly discussed the fact that it's working on a foldable Galaxy phone for years, but we still only have a few rumors to go by when it comes to figuring out the phone's design. That didn't stop Dutch blog Nieuwemobiel.nl from imagining Samsung's upcoming Galaxy F in a series of renders, and the result might just be the folding Samsung phone of your dreams.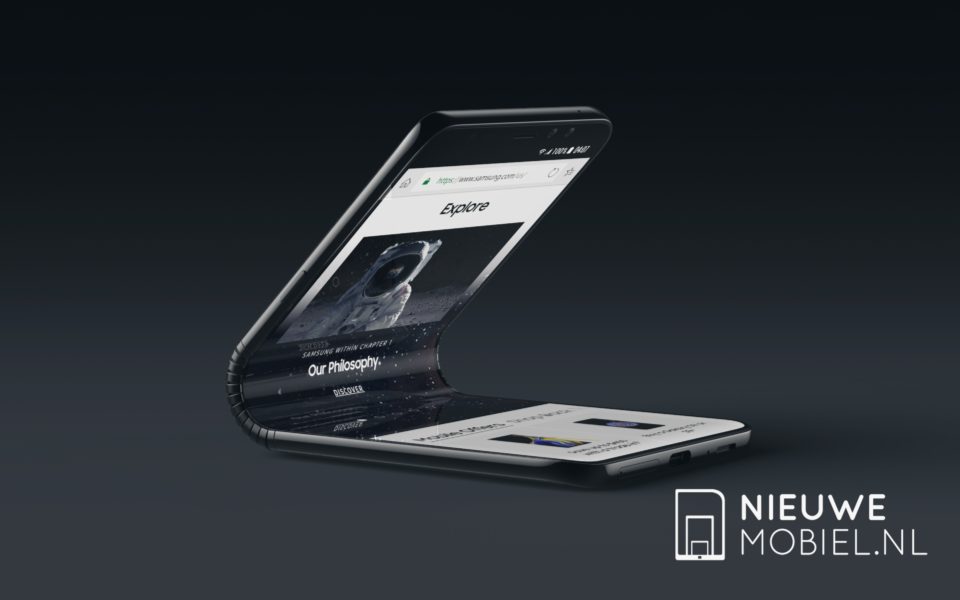 We've included a pair of images here, and you can see the rest in the site's blog post. It looks incredible, and if the real thing is anywhere close to this, it might actually warrant the astronomical price tag we've heard rumblings about. That's right… when the Galaxy F is finally released in limited quantities next year, it could cost close to $2,000 if recent reports pan out.