It was unveiled this year at CES, and now here it is: Samsung's new ultra-wide, 34-inch curved monitor that sports Intel's Thunderbolt 3 connectivity that will retail for around $900 when it's released next month and is aimed at businesspeople and creatives.
Samsung says the CJ79 monitor is compatible with both PCs and Macs and features two Thunderbolt 3 ports that transmit data, display and power at 40 Gigabits per second. That, for those of you keeping score at home, is eight times faster than USB 3.0, and it can simultaneously charge devices up to 85W through a single cable.
"Over the years, Samsung has revolutionized the viewing experience for professionals alike," said Seog-gi Kim, executive vice president of Samsung's visual display business, in a released statement. "The CJ79 is our latest endeavor in taking curved monitors to the next level that highlights our commitment to innovation."
Among the specs for the CJ79, the display measures 3440×1440 and boasts a 21:9 aspect ratio. There's a "Picture-by-Picture" feature aimed at letting professionals multitask in a workspace and allows for the resizing of a second source to up to 25 percent of the screen. And it can be positioned anywhere for a more readable format.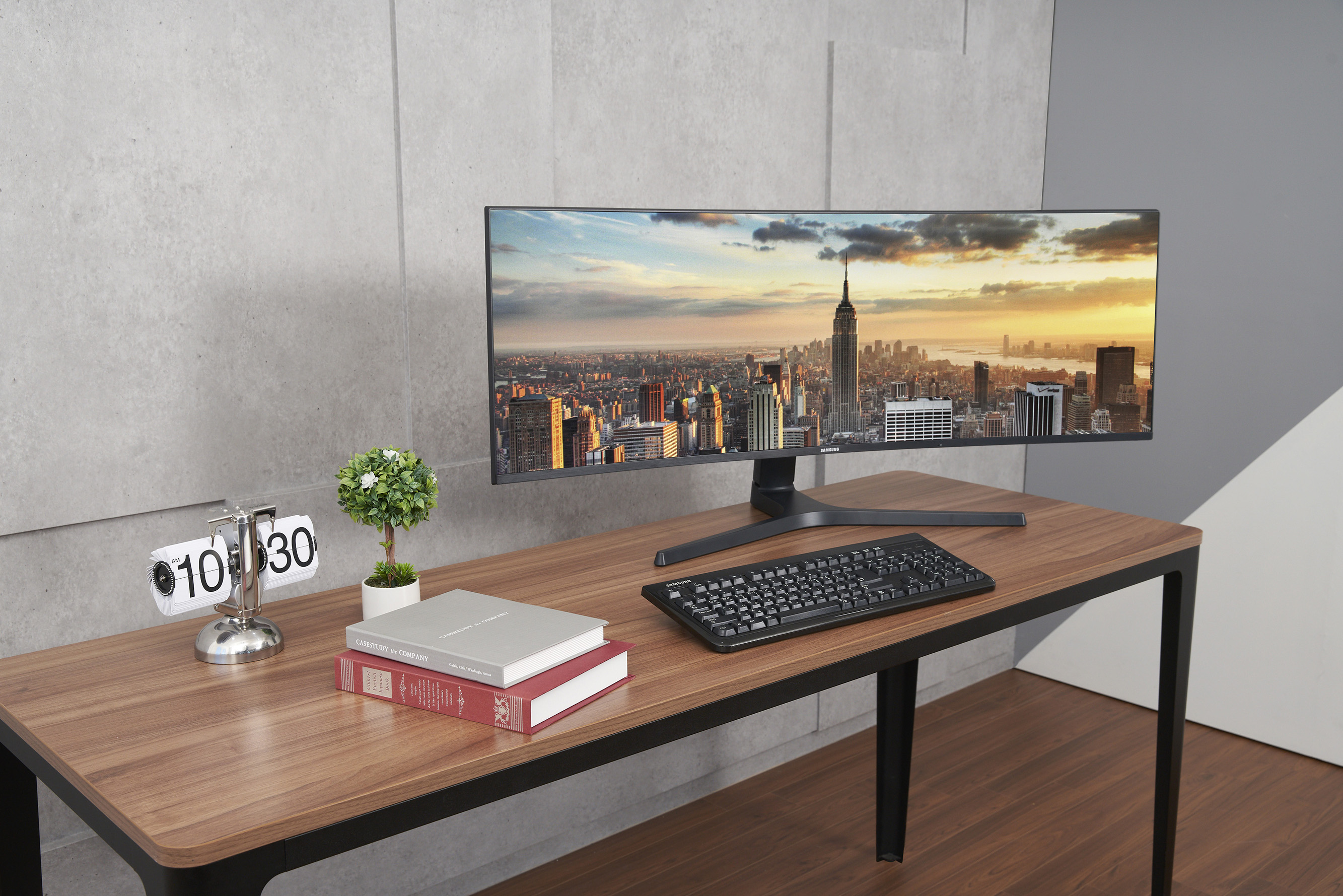 Samsung says the screen has been engineered to follow the natural curve of the eye "for a more immersive and comfortable viewing experience." It also incorporates Quantum Dot technology with realistic detail across a 125 percent sRGB color spectrum. The company claims its display panel's contrast ratio also far surpasses that of a conventional monitor and amplifies otherwise hidden detail across the entire screen through clearer shading, deeper blacks and brighter whites.
Jason Ziller, general manager in the client connectivity division at Intel, says the new monitor delivers superior performance "while enabling a powerful new display with integrated docking capabilities for a simple and easy to use solution." The monitor also supports AMD FreeSync which synchronizes the refresh rate of graphic cards to reduce image tearing and stutter, providing seamless gameplay and uninterrupted video playback.
In its announcement of the CJ79, Samsung also gives a passing mention to another display that's coming — the CJ89, which is 43-inch but is USB-C only and doesn't include Thunderbolt 3 connectivity. Both models are available in Europe now and apparently coming elsewhere in September.