The future will feature a lot more pizza bots instead of pizza boys if London-based delivery robot maker Starship Technologies has anything to say about it.
The robot-focused startup – founded in 2014 by Skype cofounders Ahti Heinla and Janus Friis – is on something of a tear at the moment, having just raised $17.2 million from investors that included Daimler. That funding, says Starship marketing and communications manager Henry Harris-Burland, will support the company's pilot programs in current and new markets as well as "technological development moving forward."
The company is manufacturing – and currently testing in local markets around the world – robots that can deliver up to three shopping bags' worth of goods within 30 minutes to homes within a 3-mile radius. The company, according to CEO Heinla, is "reinventing" the so-called last mile of transportation, and it's currently running tests with commercial partners such as London's takeout food delivery service Just Eats that involves the robots ferrying meals to customers.
"We're testing in multiple cities around the world with partners in the grocery industry, parcel industry and food takeaway industry," Harris-Borland said. "Each has their own specific challenges, and we're overcoming them from extensive testing.
"The long-term vision of the company is to be completing millions of deliveries every day in thousands of cities around the world. (And) we're aiming, in the long run, to offer on-demand delivery for $1 in the future."
Some observers and news reports have likened them to resembling beer coolers on wheels. That was the quirky reaction upon their arrival stateside, for example, when Starship hooked up with food delivery service DoorDash and the courier service Postmates to kick off more tests with commercial partners in Redwood City, Calif., and Washington D.C. in recent days.
Ok, so they can zip along at a top speed of just about four miles per hour. They can ferry a few bags' worth of goods. But they're also one more reminder that we're living in an on-demand economy – one that even the robots want a piece of.
"They are made in Tallinn, Estonia," Harris-Borland said. "All made in house. They have nine cameras round the front and back, they have sophisticated obstacle detection systems, and they carry around 10 kilograms of goods, or 3 shopping bags … (also) the robots have to map an area to start driving autonomously, they can go up and down curbs, they can deliver within 15 to 30 mins in a 3-mile radius and travel 4 miles per hour on sidewalks."
Starship isn't the only startup in this space, of course. Dispatch is another such enterprise; it landed $2 million in funding in 2016 from Andreessen Horowitz, and its team includes robotics and AI experts who've done stints at major institutions like MIT and UC Berkeley.
Dispatch's idea is similar to Starship's. The former's vehicles – which sport the cute nickname "Carry" – are programmed to likewise traverse sidewalks and other pedestrian-heavy areas. Users unlock the vehicle when it arrives with their delivery, grab the waiting items, and Carry scurries off to continue its rounds.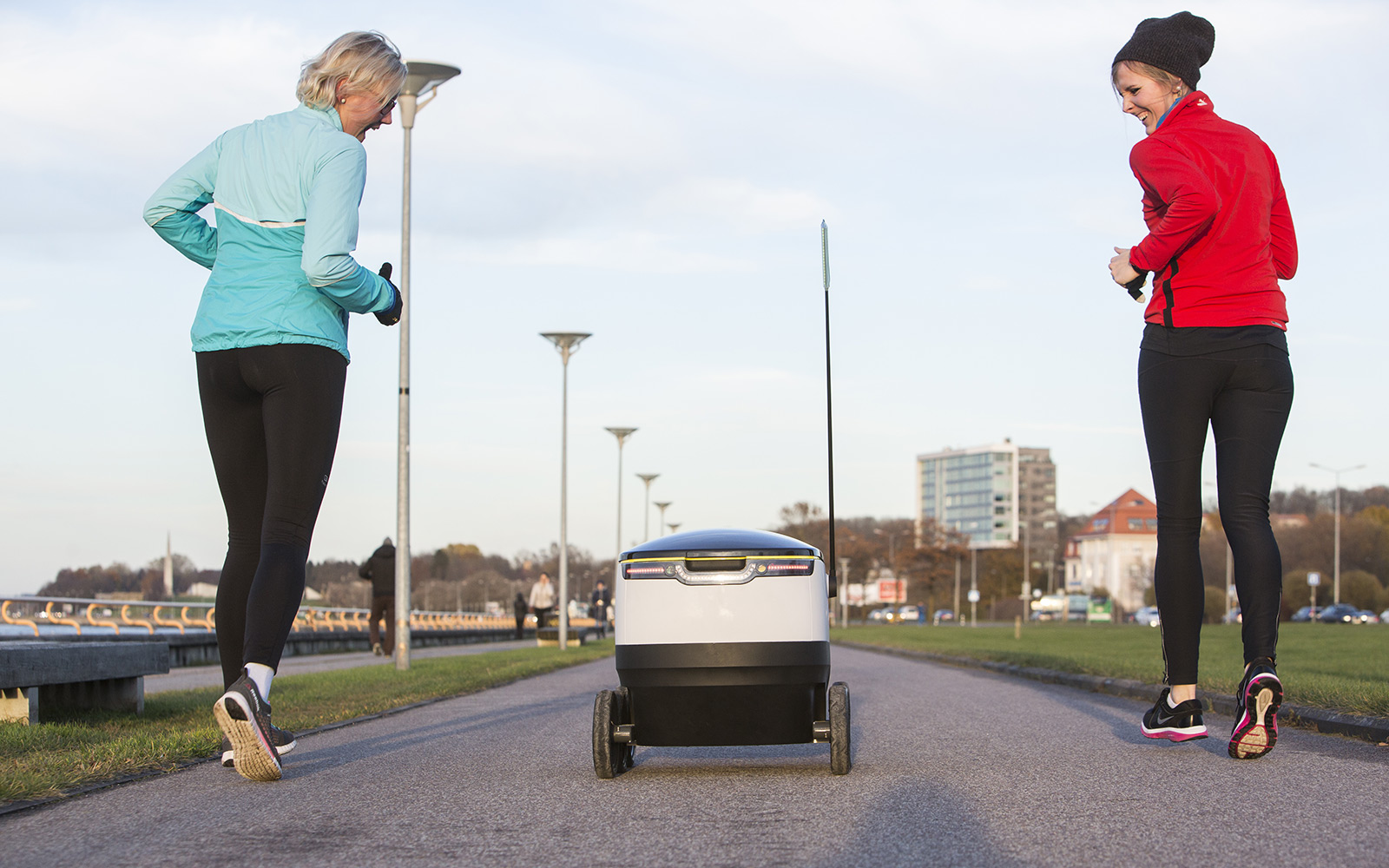 "Delivery remains a challenge with no convenient, affordable, and simple solution," Dispatch explains in a company blog post. "A fleet of autonomous delivery vehicles paves a clear path toward such a solution, and promises savings of time and money for both consumers and businesses … Artificial intelligence has advanced significantly, and now is the time to develop a fleet of autonomous delivery vehicles."
Startups built around a model focused on robo-butler-drones may be a winning formula for delivery enterprises, or at least a useful one. The robots don't need time off; raises; overtime pay; training sessions; or have many of the other limitations that traditional delivery companies are stuck with working around.
As of October, Starship's robots had visited 56 cities in 16 countries, encountered 1.7 million people and driven 10,000 miles. Spec-wise, the robots are fitted with 9 cameras and sensors that include a 360-degree view, among other features. The company also has a message to anyone worried about loss of jobs to robots – the effect might not be what you assume.
"Last mile delivery is the largest bottleneck in growth of the e-commerce industry, especially local e-commerce such as groceries and food delivery," according to Starship. "By removing this, we will provide a new lease of life to retailers, and therefore increasing deliveries from warehouses using trucks and vans."
All of which is to say – we already knew robots and the like will loom large in the future. Thanks to companies like Starship, that future will also in all likelihood be landing directly on our doorstep soon, and weaving in and around us as we go about our day.