If you're not a hardcore PC gamer, chances are that you've never heard of Razer. It's a company that made its name with accessories for hardcore PC gamers, complete with blinking LED lights and typewriter-noise-level keyboards. In other words, not the place you go to look for an alternative to Beats.
But Razer's been trying to go mainstream recently, and not doing a half-bad job either. Its recent thin-and-light laptops have been setting trends in the PC industry for non-gamers, and now the accessory lineup is trying to follow suit.
This is where the new Razer Hammerhead BT come in. Simply put, they're a $100 pair of Bluetooth headphones that rival anything out there from other headphone companies. They're light, have an awesome all-metal construction, adequate sound quality and all-day battery life.
Now, a quick note: these aren't outrageous audiophile headsets that compromise everything else for sound quality. You can certainly find better-sounding headphones for $100, and some $100 over-ear wireless headphones might even provide better sound quality. But if you view headphones as an accessory for your devices where sound quality is just one of a number of important features, these headphones are the best you can buy.
Let's start with the best thing: the physical design. The earbuds themselves are made of aluminum, with a textured finish on the outside dial for grip. The cables connecting everything are flat and difficult to tangle, and the battery and guts are contained in a pod in the middle of the cable, which sits behind your neck.
So far, so usual. But the attachment system for the pod — a surprisingly important and difficult-to-get-right thing — is clever. There's a magnetic clip which you put on the other side of your shirt, and it holds the bigger pod in place.
It's a clever system because you don't actually have to use it. A lot of the time, if you're just using the headphones on the train, you don't need everything to be physically attached to your body and you don't have to bother fiddling. But when you're working out and you don't want a pod bouncing up and down, you can take the extra ten seconds to attach it.
Battery life, another important feature, is also spot-on. The internal battery charges over microUSB and lasts for a good eight hours of use, which is basically just enough for a full day. I'd say it's exactly average for most wireless earbud headphones, and that's not a bad thing. I wish there was a quick-charge feature like in the new BeatsX, but that would likely require a slightly different connection thanks to the power limitations of microUSB, and I'd rather have a slower charge time with a standard connection than rely on a weird proprietary plug.
Finally, we should talk about the sound quality. Bluetooth headphones always start at a disadvantage to wired headphones, as you're trying to compress an audio signal and send it over a low-bandwidth connection. The Hammerheads do use Qualcomm's AptX technology to make the sound quality slightly better, and it shows.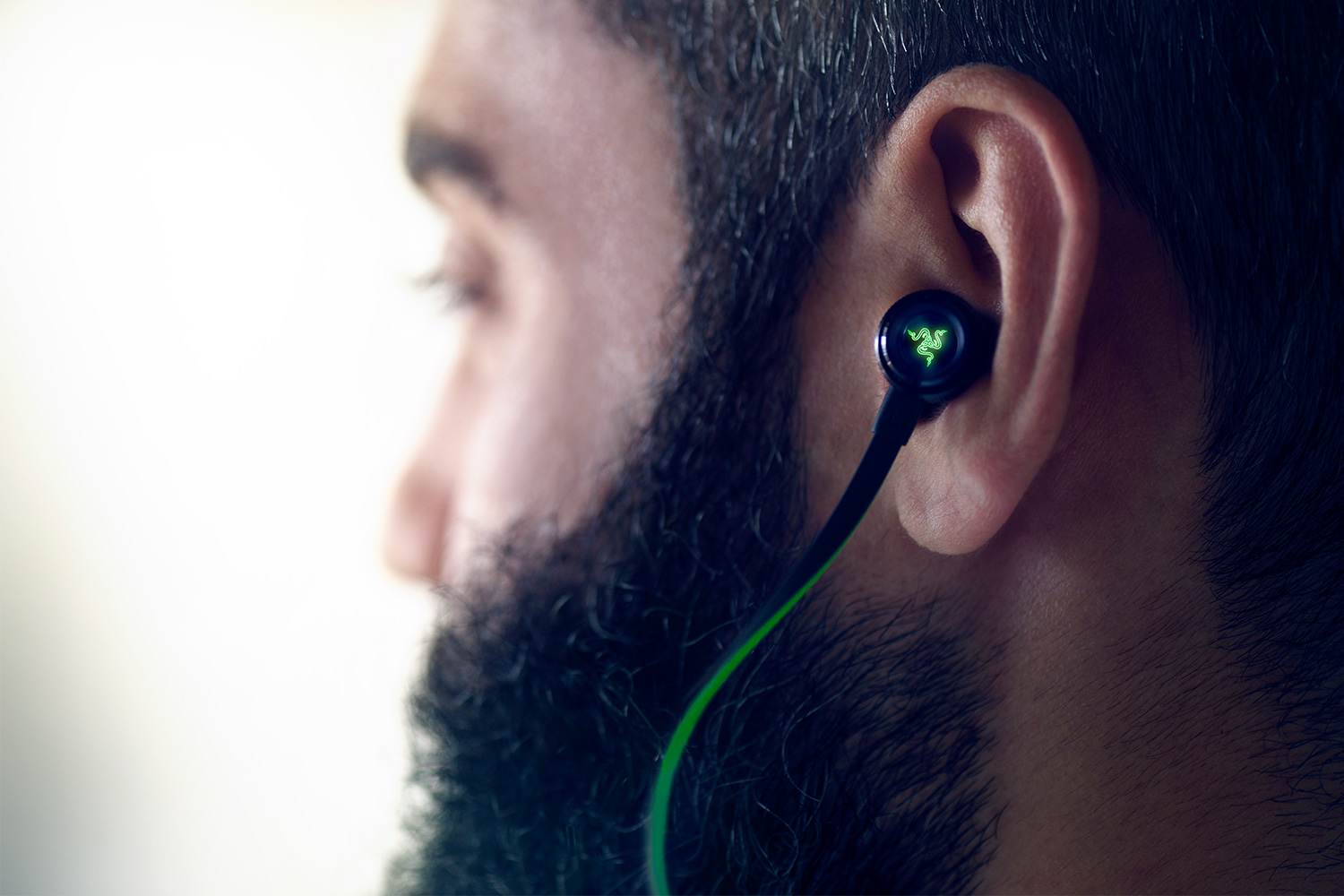 The sound is well-rounded and clear, with the only real criticism being a tiny amount of harshness on higher notes and percussion like cymbals. In practice, I'd compare them to the kind of $50 wired earbuds you can get from Best Buy or Amazon, and that's not a bad thing. It's not harsh, you can hear detail well, and while the audio quality isn't going to blow you away, it's also pleasant to listen to for an entire 8-hour workday.
Ultimately, there's not a lot to complain about, and a lot to like. Comparable Bluetooth speakers generally cost around $150-200, which means that you're saving a bunch by buying the Hammerheads. They manage to squeeze good battery life and practical features into a metal body that feels far more expensive than it really is.
If there's one complaint, it's that Razer still hasn't managed to shed its look-at-me gamer roots. There are still green LEDs on the earbuds that illuminate Razer's logo, and while they don't scream for attention, it's still not understated. If you're OK with non-black headphones and you're in the market for wireless, there's no better affordable option.